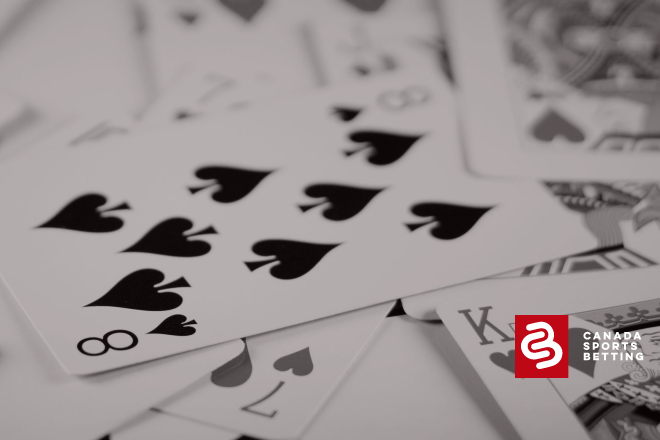 Learn how to play online casino war with our helpful guide.
Casino war is a straightforward, fun, and fast-paced card game. Learning how to play casino war at online casinos is easy with our explanation of the rules and strategies below.
The Rules to Casino War at Online Casinos
Before you start playing at the top-rated 2021 online casinos in Canada, you need to know how to play casino war.
Step One: Pick a Table
Picking a table is simple. Just find one with space (if it is a live casino), check the minimum and maximum bets, and decide. Once you pick a table, you are ready to start playing casino war.
Step Two: Place Your Bets
Once you are at your table, it is time to bet. You will have to bet the minimum to stay at the table. Decide how much you want to bet in the time allotted by the dealer. You can also decide if you want to wager on a tie. A tie is a bet on whether you and the dealer will have the same card. A tie bet pays 10:1 at odds of 7.4%.
Step Three: Play the Hand
The dealer will now deal you, themselves, and everyone else at the table one face-up card each. If your card is higher than the dealers', you win the bet. If it is lower, the dealer wins the bet. If the cards are tied, you go to war.
Step Four: Go to War
There are two options when you go to war. You can either surrender half of your wager or double your wager and go to war. If you surrender, you get back half of your ante and the table resets back to "Step Two: Place Your Bet."
If you do to war*, the dealer gives you one more card (face down) and burns the next three cards. The dealer then gives themselves one more card face down and burns three more. Now you both flip your cards. If you have the higher card, you win your war wager and push your original bet. If the dealer has the higher card, the player loses both wagers. If there is another tie, you win both wagers.
*There are different variates to war depending on the casino. Above are the most casino rules used at online casinos. Make sure you check the rules beforehand.
Overall, online casino war is a fun game. While the game is not quite as popular as blackjack, roulette, and craps – it trumps the popularity of some games such a chuck-a-luck which is a strange online casino game.
Now that you know the rules, you can start playing casino war online at some of the line casinos below or continue reading for some tips and strategies.
Advice to Help You Play and Win Online Casino War
Although the game does not involve as much strategy as other card games, there are some casino war tips you should always follow when playing the game.
Know How many Decks are Used
While the standard number of decks used is six – it is always good to double-check the table and casino rules. The more decks the better the advantage is for the house. The fewer decks the better the percentages are for the player.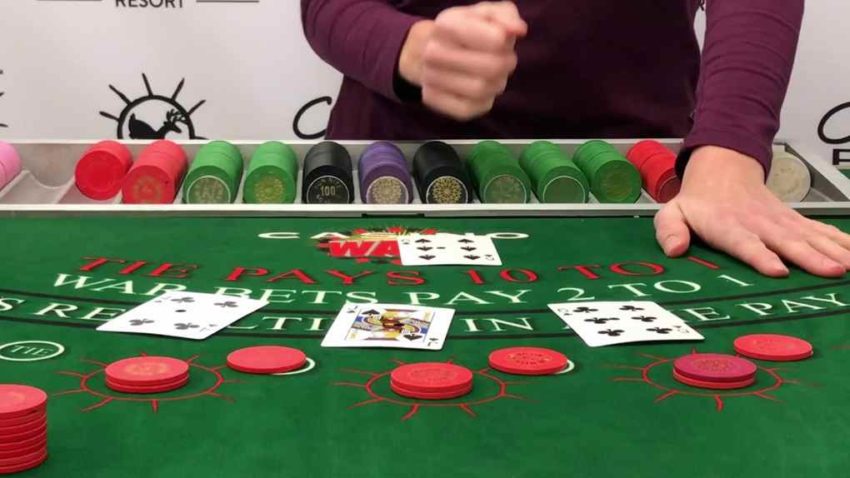 Set Limits on How Much you Bet
Casino war – both online and offline – is a fast-paced game. Hands are played quickly – especially at smaller tables where there is a lower chance at war. Make sure you set a budget and keep track of how much you are betting.
Understand this is a Luck-Based Game
War is a popular casino game because it is simple and based on luck. You bet before you get a card and cannot do anything else until your card is flipped over. Keeping track of what was played in previous hands is irrelevant.
Do not Bet on Ties
While the 10/1 odds on a tie may sound tempting, it is not a good bet. For example, if played 100 hands and bet $10 on a tie each hand, you theocratically lose $260. Why? Because the probability of a tie is 7.4%, over 100 hands would result in 7 or 8 ties. That means you bet $1000 to win either $700 or $800.
Do You Recognize Casino War? Maybe You have Played it Before.
If the name and game seem similar it is probably because you played a version of it before. There is another version of war – played more often in classmates than casinos – that involves splitting a deck in half and flipping cards over. The person with the high card wins.
If there is a draw you go war (and this is where the game variates depending on how you are playing). The game ends when someone collects all 52 cards.
If You Online Casino War You may also Like…
One of the best parts of online casinos is the flexibility to quickly switch before tables and games. A game we recommend to fans of casino war is Keno. Learning how to play online Keno is easy and quick – and the game itself is simple and fun. Of course, you are welcome to play any game at an online casino once you have signed up through the links below.