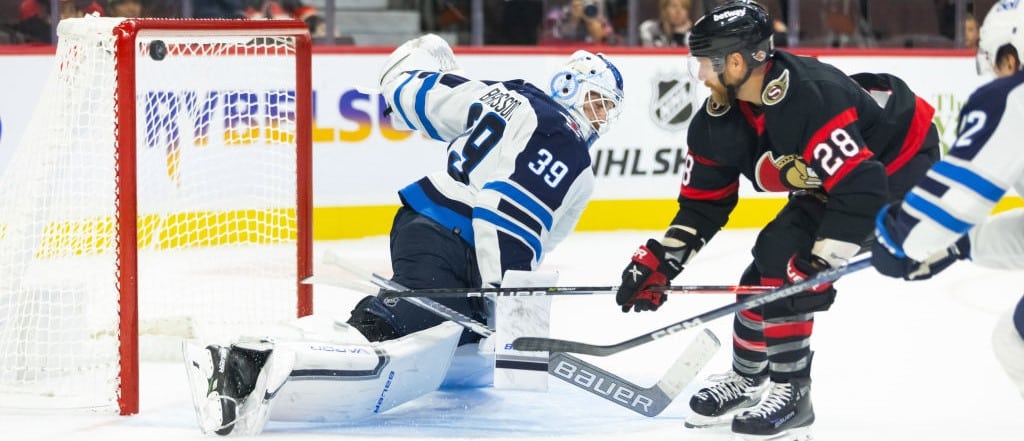 Following an eventful offseason, the Ottawa Senators fell short of both fan and pundit expectations during the 2022-23 season. Despite their efforts, they concluded the season in the sixth position within the Atlantic Division, accumulating a total of 86 points. But, those who placed bets on the Senators surpassing their regular-season point projection of 86.5 likely had the greatest cause for disappointment.
However, no one's holding a grudge against this young team. After showing signs of improvement last season, the Senators are once again a popular pick to make it back to the playoffs for the first time since 2017. The difference this time? Well, it seems like those who believe it might actually happen could be onto something.
Still, it's worth wondering, is there too much hype surrounding the team? They've got the talent and potential, but as any fan knows, turning that potential into actual results rarely comes without its fair share of challenges. The upcoming season will determine whether this optimism is well-founded or if I should remain cautious in labelling them as a good bet to make the playoffs.
2023/24 Season Forecast
Every season, I run extensive simulations, crunching tens of thousands of scenarios to predict the point totals for all 32 NHL teams. These projections factor in various elements like team strength, scheduling, and historical patterns. This method helps me assess how likely it is for each team to hit specific milestones, whether it's winning their division, making the playoffs, or even gunning for the Stanley Cup.
Take a look at the graphic below to see what we're expecting for the upcoming Ottawa Senators season. It lays out a range of potential outcomes and gives you a sense of their chances of snagging the Atlantic Division crown, clinching a playoff spot, and even making a run at the Stanley Cup.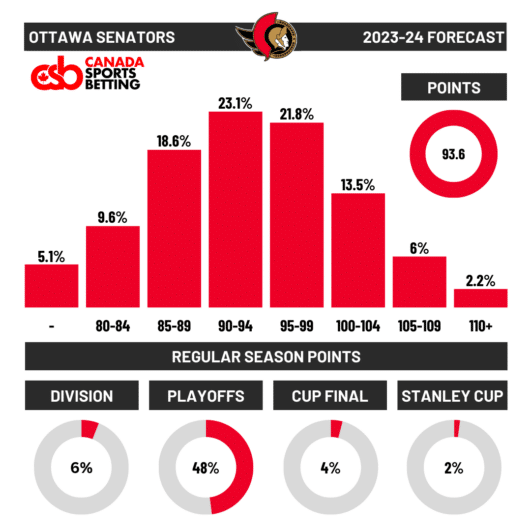 It's been meme'd to death, but that scene from "The Empire Strikes Back" where the good guys are attempting to fly through an asteroid field, C-3PO chimes in with, "Sir, the probability of successfully navigating an asteroid field is approximately 3,720-to-1." And, Han Solo, responds, "Never tell me the odds," which describes exactly how Sens fans will react to their projection for the upcoming season.
Ottawa did have its fair share of bad luck. In terms of even-strength play, the Senators ranked ninth in expected goals per 60 minutes, according to Evolving Hockey. Surprisingly, though, 22 other teams found the back of the net more frequently than the Senators did, which, quite frankly, seems like a case of poor puck luck.
You'd naturally expect the Senators to be in or around the top 10 when it comes to scoring. Instead, they ended up in the bottom 10, with only Tim Stutzle and Claude Giroux standing out as notable players who exceeded expected goals at even strength. However, apart from generating numerous scoring opportunities, a significant portion of which failed to find the back of the net, they didn't truly excel in any facet of the game.
And, is it not worth considering whether young players like Stutzle might plateau or take a step back, even if only for a season, while a player like Giroux might start to decline? Player growth isn't always straightforward, a fact that applies to Stutzle, among others, and Giroux turns 36 this year.
Now, there is cause for optimism regarding the goaltending duo of Joonas Korpisalo and Anton Forsberg, but how much of a boost can reasonably be expected from either of these goaltenders? Korpisalo had five subpar seasons in Columbus with the Blue Jackets until his strong performance last season, leading to his trade to Los Angeles. His strong play continued during his brief stint with the Kings, but will that translate to success in Ottawa?
Forsberg has had strong stretches since joining Ottawa, too, but has also had seasons that weren't as impressive. Moreover, the Senators, at best, were an average team on defence last season. Consequently, I believe several aspects of the team need improvement, and the goaltending will need to be not just good, but possibly great, for the Senators to make a real impact in the regular season.
To Win The Atlantic Division (+1100)
Depending on who you ask, the Senators are live contenders for the Atlantic Division title, resembling the surprise success of the New Jersey Devils last season. They've shown promising signs of improvement, with the projection model now giving them a 48% playoff chance, up from just 22% last season. If that's not bullish, I don't know what is.
But when it comes to winning the Atlantic, that's a whole different ball game. Take a peek at the far end of that graph up there. The Senators managed to hit the 105-plus point mark in only about 6.2% of our simulations, and that's roughly what they'll need to aim for if they want to pull it off.
So, in order to entice me to bet on the Senators to win the Atlantic Division this season, I'd currently be looking for odds somewhere around 19-1 or 20-1, not 11-1. Just give the division crown to the Toronto Maple Leafs already.
To Make The Playoffs (+115)
Buffalo, Detroit, and Ottawa have the three longest playoff droughts in the league, and the forecast suggests that the Senators have the best chance of ending their dry spell. But, does that necessarily mean they're a good bet?
When converted into probability, the odds imply that the Senators have a 46.5% chance of making the playoffs. That means my 'edge' is about 1.5%, so technically, there's enough value to make a bet here. However, I believe there's a better and safer bet to consider.
How Many Points Will The Ottawa Senators Score In The Regular Season?
If you want a safer bet, then backing the Senators to go over their regular season points total, which is currently sitting at 91.5, is an option. The projection model sees the Sens finishing with around 94 points, and based on my calculations, that means Ottawa should hit the 92-point mark approximately 60% of the time. Whereas making the playoffs might require them to finish with more than 92 points.
Ottawa Senators Over 91.5 Regular Season Points

-115
In other words, despite appearances, the -115 odds on over 91.5 regular season points actually provide much better value than the +115 odds for betting on the Senators to make the playoffs because the latter is a moving target, and the former is not. Use our sports betting calculator to find out how the potential payouts of the two bets differ.
Expect to see more season betting previews here at Canada Sports Betting in the coming days as we continue our countdown of the seven Canadian teams and examine the NHL futures market to find value bets to consider.