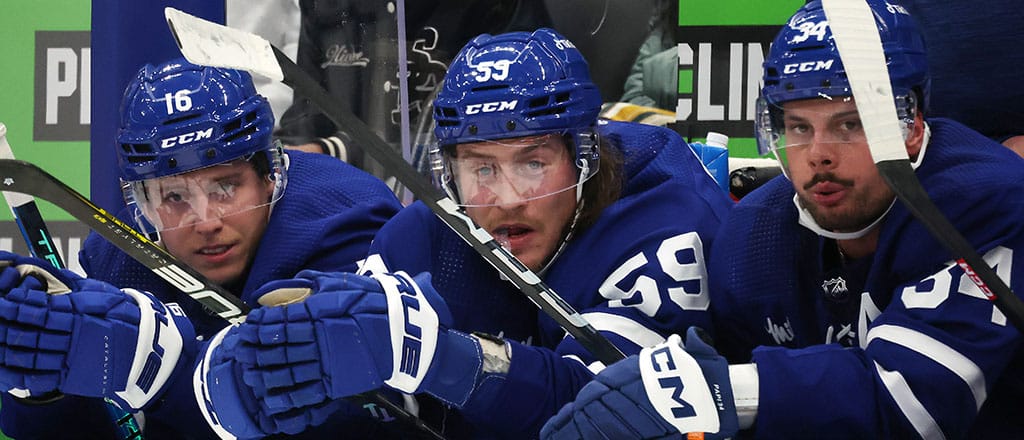 After a thrilling victory over the Lightning to earn their first series win in 19 years, the Toronto Maple Leafs faced disappointment in Round 2 against the Florida Panthers. Their struggle to penetrate the goaltending of Sergei Bobrovsky, who boasted a remarkable .943 SV%, resulted in an unexpected and swift exit from the playoffs.
Shortly thereafter, general manager Kyle Dubas, who was in the midst of contract negotiations with the team, made a series of decisions that ultimately led to his dismissal following a falling out with president Brendan Shanahan.
Enter new GM Brad Treliving. Fresh from his nine-year stint with the Calgary Flames, he wasted no time in initiating a significant roster overhaul by bringing in the likes of Tyler Bertuzzi, Max Domi, Ryan Reaves, and John Klingberg. However, at first blush, the roster doesn't look to be any stronger than the one that came before it. In fact, many believe it might even be weaker.
2023/24 Season Forecast
As the NHL season approaches, predictions are all the rage. But projections can actually be helpful. That's why I run simulations, lots of them, to guess how many points each of the 32 NHL teams might score. I consider things like how good the team is, their schedule, and how they've done in the past. This helps us understand what could happen, and then we can use that information to look for good futures bets.
Below, you'll see what's expected for the Toronto Maple Leafs' season. We'll show you a range of possibilities, like how likely they are to win their division, make it to the playoffs, and maybe even win the Stanley Cup.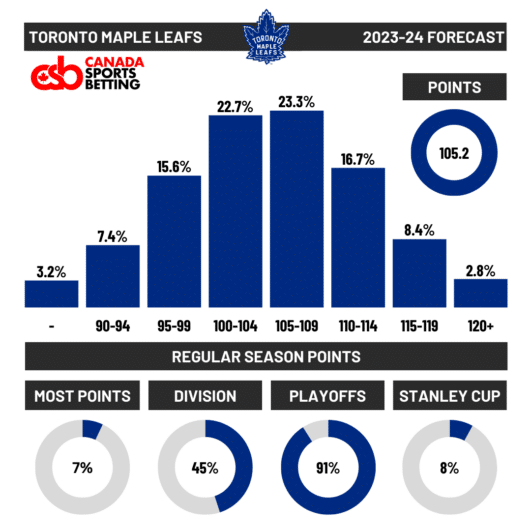 As shown, there are scenarios where the Maple Leafs crush expectations, and secure 120-plus points, but there are also instances where they fall short, or even fall apart and miss the playoffs. Neither event should be expected to happen. The Maple Leafs round out the tier of teams that have a legitimate chance at making a deep playoff run, but they also act as a buffer between the pretenders and the contenders and that's where they belong. At least for now.
Toronto's roster might not be as deep from top to bottom, but they didn't lose scoring that can't be replaced, and that means they'll be as dangerous as ever on offence. There could be some growing pains, but more than half of the Maple Leafs' goals were scored by Auston Matthews, Mitch Marner, William Nylander, and John Tavares last season and Bertuzzi, Domi, and Klingberg might help provide more secondary scoring, Toronto's new look isn't a bad one.
The Maple Leafs have good team defence, overall, but the backend doesn't look like it has the strength to shoulder as much of the load as it has in past seasons, at least on paper, and that gives me pause. And, although goaltender Ilya Samsonov was great in 2022-23, especially through the lens of Evolving Hockey's expected goals model, he must prove that last season wasn't a flash in the pan, as does the rest of the team.
Bets To Consider
Switching back to a free-wheeling style of play could be a good thing, though, if it forces the Maple Leafs to play more to their strengths, but only time will tell. In the meantime, here is a futures bet to consider, and a few to avoid.
To Win The Atlantic Division (+220)
The Atlantic Division has an intriguing mix of teams on different trajectories. Some, like Ottawa, Buffalo, and Detroit, are seemingly on the way up. Conversely, traditional powerhouses such as Boston and Tampa Bay have undergone changes that hint at a potential shift in their competitive landscape.
The Maple Leafs, however, are very much in 'win-now' mode, and they're the only team in the division that I expect will put up more than 100 points (and then some) this season. While it is worth noting that other teams are also in the running for the top spot in the Atlantic, my evaluation of the odds, as displayed below, indicates that Toronto is currently undervalued at +220.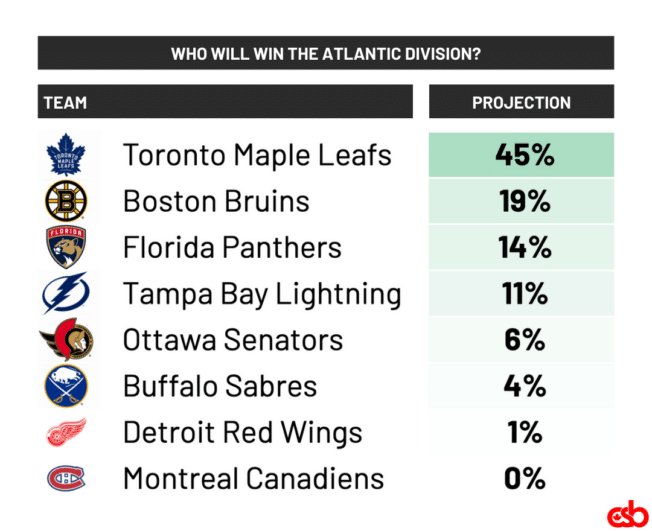 The odds (+220) offered by the sportsbook imply that Toronto will finish atop the division around 31% of the time. So, while the Maple Leafs are still projected to lose to the field 55% of the time, and the potential payout won't be life-changing, a 45% chance provides me with more than enough incentive to make this bet. Use our Sports Betting Calculator to find how much a winning bet pays.
To Win The Presidents' Trophy (+750)
Right away, the Maple Leafs' odds to win the Presidents' Trophy jumped off the board. Only the Carolina Hurricanes have better odds to finish with the most points, which doesn't match my predictions. Toronto might be in the best position to win their division but believe it or not, the top three teams in the Metropolitan Division (Carolina, New Jersey, and the Rangers) are all projected to finish with more points.
Not to mention, there are several Western Conference teams, like the Edmonton Oilers, who I project will finish with more points than Toronto, and the Oilers are actually a good bet to win the regular season. The Maple Leafs can win the league, but since the forecast calls for that to happen just 7% of the time, they're not a good bet at +750.
Maple Leafs To Score 110+ Regular Season Points (+125)
There's no option to bet against the Maple Leafs' finishing the regular season with 110 points or more, but if there was, I would consider making that bet if there was. With a projection of 105.2 average points in the forecast, there's only a 29% chance that Toronto will reach the 110-point mark, which means there's a 71% chance that they won't. So, unless you have reason to believe that Toronto reaches that mark considerably more than 45% of the time, don't go chasing waterfalls, or else your bankroll might need some TLC at the end of the season.
Can The Maple Leafs Win Now?
The answer is: Maybe. The Maple Leafs have some elements of a Stanley Cup champion, and as a result, only two teams in the Eastern Conference have a better chance of winning it all. But, with an 8% chance of winning the Stanley Cup, according to the model, it would only make sense to bet on Toronto if their odds were much longer than +1000. So, while I don't have a crystal ball, and therefore, I can't tell you whether the Maple Leafs will go all the way, what I can tell you is that I wouldn't bet on them to break the 56-year drought this year. At least not at the current odds.

Besides, is anybody really going to care what any projection model says about the Maple Leafs' playoff chances?
Sure, their first-round win over the Lightning did instill confidence, but Toronto fans want results, and the Maple Leafs are going to have a lot of detractors until they go on a deep playoff run. And, even if they do finally find a way to reach the final, or even win the Stanley Cup, it still won't be good enough for some fans.
Expect to see previews of all seven Canadian NHL teams on Canada Sports Betting in the coming days. And keep an eye out for our full 2023-24 NHL projections, where we'll give you an in-depth look at what to expect from each team in the upcoming season. Stay in the loop with the latest analysis as you gear up for the NHL season.