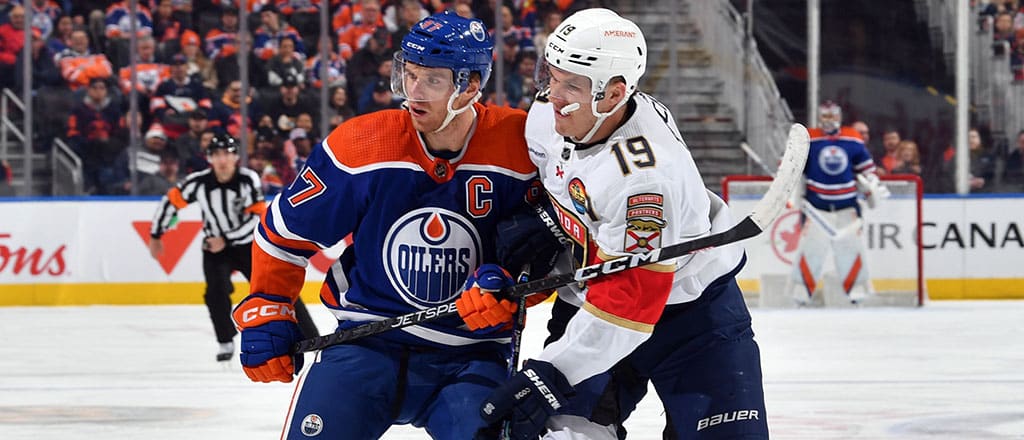 Welcome to another week of National Hockey League action! Every Monday, Canada Sports Betting will be providing a breakdown of the NHL schedule, in collaboration with our friends at Northstar Bets. This breakdown includes a look at rest days, a massive difference-maker when it comes to betting implications, that you won't find anywhere else! Figure out who has a mismatch, who is going to be tired, and who might be too rested and out of sync with our day-by-day dissections! Without further ado, here's a look at this week's schedule.
NHL Games on Monday, November 20th
Rest Notes: There are seven games on tap today, with a couple really fun matchups. I've got my eyes on Oilers/Panthers and Sharks/Canucks tonight. As our own Andy MacNeil noted on today's edition of The Puck Portfolio, there's a big rest mismatch between San Jose and Vancouver, and two teams that started ice-cold and red-hot are starting to move a little closer to the middle. Vancouver are still heavy favourites, but it's hard not to wonder about an upset here.
NHL Games on Tuesday, November 21st
Rest Notes: The people getting the most rest on Tuesday will be us. There's no NHL action on Tuesday! Catch a breather, maybe check in with the Raptors as they take on the Pacers (and check in with us as we offer our usual pre-game coverage!).
NHL Games on Wednesday, November 22nd
Rest Notes: It's a heavy night on the schedule, with just four teams out ofaction. The only significant mismatch here by rest involves the Hurricanes being up two days on the Oilers, which should perk the favourite even further ahead.
NHL Games on Thursday, November 23rd
Rest Notes: Once again, we don't have any action on Thursday, this time for American Thanksgiving. Hey, that sounds like a great time to check in with our NFL coverage, as we'll break down the three games going on that day early on Thursday morning!
NHL Games on Friday, November 24th
Rest Notes: If you thought Wednesday was packed, Friday steps it up even further, getting one step away from Frozen Frenzy. Why the league is going for a front to back schedule on Black Friday, a day that's technically not a Holiday, I'm not really sure. But hey, it's a lot of hockey! Toronto, Ottawa, and Minnesota, who were three of last week's Global Series teams, get schedule mismatches here as a rest reward for their time in Sweden, while the Kings get two extra days over the Ducks.
NHL Games on Saturday, November 25th
Rest Notes: You get a back to back! You get a back to back! Everyone gets a back to back! Yes, this is what happens when almost everyone plays on the Friday. There's not going to be a lot of rest going on here, and the two exceptions are equally matched against each other.
NHL Games on Sunday, November 26th
Rest Notes: We have no mismatches here, at least as far as rest goes. Every team that's playing on Sunday played their last game on Friday.