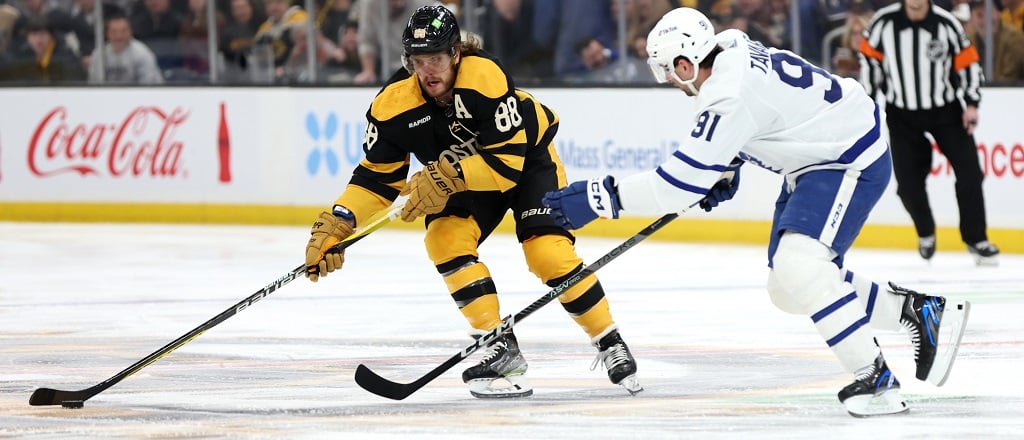 While the Boston Bruins have been the Toronto Maple Leafs' playoff nightmare over the past decade, that's not something that the team will have to worry about unless both move on to the second round (Leafs fans, I'll explain what the second round is another time). For now, we get two great teams, one vying for history and one vying for home ice, closing off a season series against each other on a Thursday night. Is there anything better? Some things, sure, but not many. Let's have a look at what's at stake tonight.
Maple Leafs vs. Bruins odds
All odds courtesy of

Previous matchup
The last game between these two top Atlantic Division teams was on Feb. 1, where Boston took the lead in what has been a pretty close season series. A shorthanded goal from Derek Forbort kicked the game's scoring off midway through the second period, and while Mitch Marner quickly brought the Leafs all square, that's as close as it would get the rest of the way. Brandon Carlo restored Boston's lead in short order, and in the third, AJ Greer added insurance. Calle Jarnkrok gave a brief bit of light to Toronto's hopes halfway through the third period, but was met with a Pavel Zacha goal thirty seconds later, and one more from Zacha for good measure three minutes after that.
About the Maple Leafs (46-21-10, 34-43 ATS, 35-38 o/u)
Toronto returns to the ice after a quality night at the office on Tuesday, which is to be expected against a team like the Columbus Blue Jackets, but is always welcome. The Leafs outshot their opponents by a whopping 49-26 margin and never felt like a team that was losing sight. If there's anything left to play for at this point, it's securing home ice advantage – they have a magic number of three in that regard, meaning that either they need to gain or Tampa needs to drop a total of three points the rest of the way to lock it in. Two tonight would go a long way, especially if Tampa has tough sledding against the Islanders.
Player to watch: Zach Aston-Reese
The fourth-line forechecker has started to find his groove of late, most noticeably with a pair of goals against Columbus. He has five tallies in his last 10 games, also picking up a pair against Carolina and one against Florida, equaling the total he had in the 62 games prior. Toronto will need scoring from all parts of the lineup down the stretch, and "ZAR" will need to show he's capable of that if he wants to be on the playoff roster.
About the Bruins (60-12-5, 43-34 ATS, 33-39 o/u)
I'm not sure what's left to be said about these Bruins at this point. Expected to be the third seed in a competitive Atlantic Division at the start of the year, Boston instead has a different goal to chase in these final five games – the best regular season team in history. Seemingly everything has gone right for the group this year, with only two somewhat slumps at any point since opening night. Boston enters this one having won 10 of its last 11, albeit with a pretty light schedule in that stretch.
The NHL record for wins in a season is 62 (Detroit 1995/96, Tampa 2018/19), and the record for points is 132 (Montreal 1976/77). Boston has already set its status in the history books, but if the Bruins want to make it as close to inarguable as possible, wins in the next three games would do them a lot of good. That would set the wins record outright, and put them one point short of the Habs, who hit their total in an 80-game schedule. If it takes them to Game 82 to get to 63 or 133, it'll still be historic – heck, any 60-win season already is, even if they lose out. But the no-doubter is in their hands this weekend, so expect them to play hard.
Player to watch: David Pastrnak
Speaking of 60, the Czech-born Bruins superstar is making a late push towards the 60-goal mark to close out this year, scoring 10 times in his last 10 games. This includes a hat trick against the Penguins on April 1. Toronto has long been a team he steps up for, having some of the best games of his career against the Leafs, inspired by divisional rivalries, playoff matchups, and his best bud on the other side of the ice, William Nylander.
Probable goaltenders
Maple Leafs: Ilya Samsonov (25-10-4, 2.45 GAA, 0.915 SV%)- confirmed.
Bruins: Jeremy Swayman (21-6-4, 2.24 GAA, .919 SV%)- confirmed.
Noteworthy Absences
On the Maple Leafs' end, some excitement is in the air as Ryan O'Reilly is expected to return from his finger injury that has kept him out of the lineup in recent weeks. Goaltender Matt Murray remains day to day.
On Boston's end, Patrice Bergeron returns from some load management time, but David Krejci and Taylor Hall remain out of the Boston lineup, along with longer IR cases Nick Foligno and Forbort.
Betting trends to watch
These two teams tend to line up pretty close with each other, for all the fretting. In their last 10 games, the two teams have split the straight-up results 5-5. Toronto is 4-6 on the puckline and the two sides combine for a 7-3 over/under on total goals.
While Boston is red-hot in the wins column, the Bruins have lost their last three games on the puckline, along with four of the last five.
TD Garden, nonetheless, has been a good venue for the Bruins when they face the Leafs, winning two of their last three, three of their last five, and seven of their last 10 at home.
Wagers to consider
I'm feeling like David Pastrnak's stick is going to stay hot. A milestone is within reach, team history is within reach, and he loves these games. +110 for anytime, +600 to score first, +650 for a pair or more.
bet365 has some Ilya Samsonov props tonight, specifically a save line of 26.5 with -120 in both directions, and a shutout line of +850 with -2800 if you want to play it really safe. While Boston's spot at the top is clinched and Toronto's defence has been stingy, I still think the Bruins take enough shots to force Samsonov into 27 saves. Then again, the last time I said this, he just barely missed the mark.
John Tavares has been man-advantage magic of late, with three power play goals in his last five games. The whole Toronto unit has been pretty effective as well, so I'd be intrigued by him at +170 to get a power play point.
Other NHL Games Tonight
There are thirteen additional games on the NHL schedule tonight. Here's who we've got on tap:
| Home Team | | | Away Team | Time (ET) |
| --- | --- | --- | --- | --- |
| Pittsburgh Penguins | -135 | +115 | Minnesota Wild | 7:00 PM |
| Florida Panthers | -245 | +325 | Ottawa Senators | 7:00 PM |
| New Jersey Devils | -450 | +350 | Columbus Blue Jackets | 7:00 PM |
| Detroit Red Wings | -105 | -115 | Buffalo Sabres | 7:00 PM |
| Montreal Canadiens | +140 | -160 | Washington Capitals | 7:00 PM |
| New York Islanders | -140 | +120 | Tampa Bay Lightning | 7:30 PM |
| St. Louis Blues | +145 | -165 | New York Rangers | 8:00 PM |
| Nashville Predators | +165 | -185 | Carolina Hurricanes | 8:00 PM |
| Dallas Stars | -275 | +225 | Philadelphia Flyers | 8:30 PM |
| Vegas Golden Knights | -125 | +105 | Los Angeles Kings | 10:00 PM |
| Vancouver Canucks | -235 | +195 | Chicago Blackhawks | 10:00 PM |
| Seattle Kraken | -360 | +280 | Arizona Coyotes | 10:30 PM |
| San Jose Sharks | +200 | -240 | Colorado Avalanche | 10:30 PM |