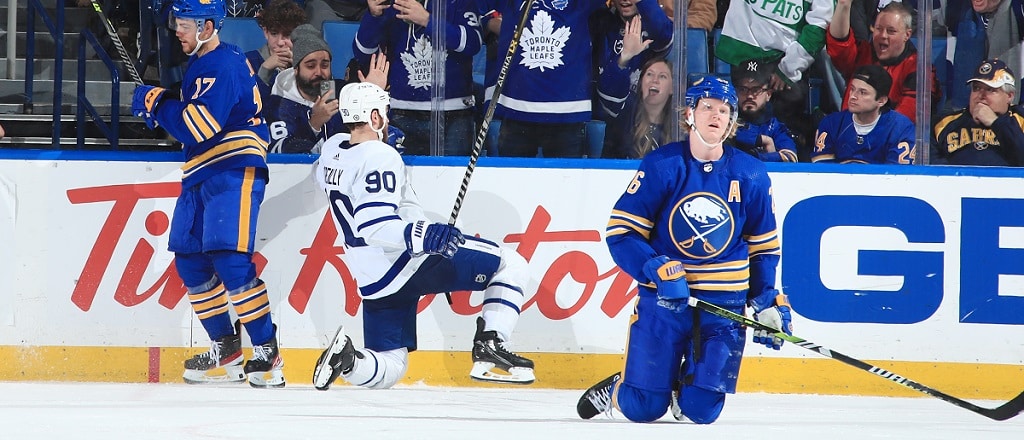 The Battle of the QEW goes across the highway tonight, as the Toronto Maple Leafs and Buffalo Sabres face off for the last time in this National Hockey League regular season. Toronto comes in a little banged up but hot on the schedule sheet, while the Sabres look to snap out of a losing skid. Who comes out on top, and what action can you get yourself involved in tonight? Let's break it all down.
Sabres vs. Maple Leafs odds
All odds courtesy of

Previous matchup
For the Leafs and Sabres' last matchup, you only have to go back about a month to Feb. 21, when the two teams faced off in Buffalo. This one was best known as the Ryan O'Reilly show, as the team's top trade deadline acquisition exploded for a hat trick and an assist, setting the tone with two goals in the first four and a half minutes and ultimately securing the game with an empty-netter. Mitch Marner popped off for five assists, and John Tavares had a four-point night of his own. On the Buffalo side, Ukka-Pekka Luukonen was pulled after 12 minutes, 10 shots against, and four goals conceded, and their own production was spread out. Alex Tuch, Jeff Skinner, and Jack Quinn scored the Sabres' goals, which gave the Leafs a third period scare after going up 5-0, but they weren't enough to be a serious threat.
About the Sabres (32-28-4-1, 37-28 ATS, 36-27 o/u)
The NHL's highest-octane team is in a bit of a rut right now. After that last game against the Leafs, Buffalo responded well with three wins in a row against Tampa Bay, Florida, and Washington, but have won just once in its last seven. Most concerningly, the Sabres were thrashed 7-1 by Boston on March 2, and 10-4 by Dallas last Thursday. Scoring has remained a constant for the team even in defeat, but 33 goals against in seven games is a recipe for disaster.
Player to watch: Jeff Skinner
It's hard to say enough good things about the 30-year-old winger this season, after how his time in Buffalo has gone. Skinner joined the team in 2018/19 and immediately popped off for a 40-goal, 63-point season, but struggled mightily in the two years that followed. Since the team changed philosophically in the front office and behind the bench, however, Skinner has found new life. This year, just 62 games into the season, Skinner has already set career highs in assists (37) and points (66), with lots of time to go. You have to feel happy for the guy, looking at where he was not too long ago.
About the Maple Leafs (40-17-7-1, 28-37 ATS, 28-34 o/u)
The Maple Leafs have been a roller coaster of emotion, wavering between rock bottom and almost good enough in the eyes of the market since the last time the two faced. Since they last beat the Sabres, the team has only won five of seven games, causing people to seriously wonder about the team's direction.
…hold on a second.
In seriousness, a bad 4-1 loss to Vancouver on March 4 threw a real wrench of doubt into a lot of people's minds, but the team has found ways to win in the big picture. Games against New Jersey and Edmonton started sloppy but finished with shining stars, so you hope the vibes in the room are better than the ones on the streets.
Player to watch: Auston Matthews
Toronto's megastar has produced decently well of late, with seven points in his last six games and only the Vancouver game sitting in that run with a zero next to his name. Nevertheless, we're all still waiting for him to pop off and go from all-around superstar back to his MVP form. A pace of 90 points would be spectacular for a Toronto player before the start of this era, but now that the bar has been raised, we all want to see him chase it again. It's hard to say if this is a rut, if he's fighting injury, or if he's actually taken a step backwards, but it would be massive for the Maple Leafs if he can figure it out and get back to his productive self before it leads to trouble for them.
Probable goaltenders
Sabres: Craig Anderson (9-9-2, 2.78 GAA, .919 SV%)- confirmed.
Maple Leafs: Matt Murray (12-6-2, 2.86 GAA, .905 SV%)- confirmed.
Noteworthy Absences
The Sabres are without Alex Tuch, who has been week-to-week with a lower-body injury since Feb. 26. The Leafs are more or less where they've been the past few days, with Ryan O'Reilly continuing to recover from finger surgery. He's expected back in about 3-4 weeks.
Betting trends to watch
The moneyline has been a dead heat in this matchup historically. In the last 10 games, the moneyline favourite has gone 5-5. (Spoilers: The Leafs have been the moneyline favourite in all 10 games)
Both teams are ahead of the puckline in their last 10 overall games. Toronto is 6-4, while Buffalo is 7-3.
These games have generally hit the over. In their last 10 meetings against each other, they've exceeded the total line seventimes, fell under it twice, and met it once.
Wagers to consider
As somewhat alluded to above, I'd probably take a good look at the goals over. Yes, seven is a pretty steep number, but looking between the pipes, Luukonen hasn't been stellar this season and Murray is still finding his groove after missing most of the last two months with injuries. Both teams have firepower to match and a high-scoring affair wouldn't be a huge shocker.
Dylan Cozens has really been peppering the net lately, with 33 shots on goal in his last 10 games and five goals to his name as a reward for it. He also had three against Toronto in their last matchup. With all of this in mind, his line being set at 2.5 gives you good reason to consider the over at -115.
Michael Bunting is getting a lot of attention of late, but hasn't scored much this month. Through five games he has just one point (a goal vs. New Jersey), and has gone shotless in three of those games, including Saturday. That doesn't feel like a trend that's going to last, so I'd look at the +100 pricetag on him getting a point tonight. If you're feeling frisky, a goal sits at +170.
Other NHL Games Tonight
There are two additional games on the NHL schedule tonight. Here's who we've got on tap: