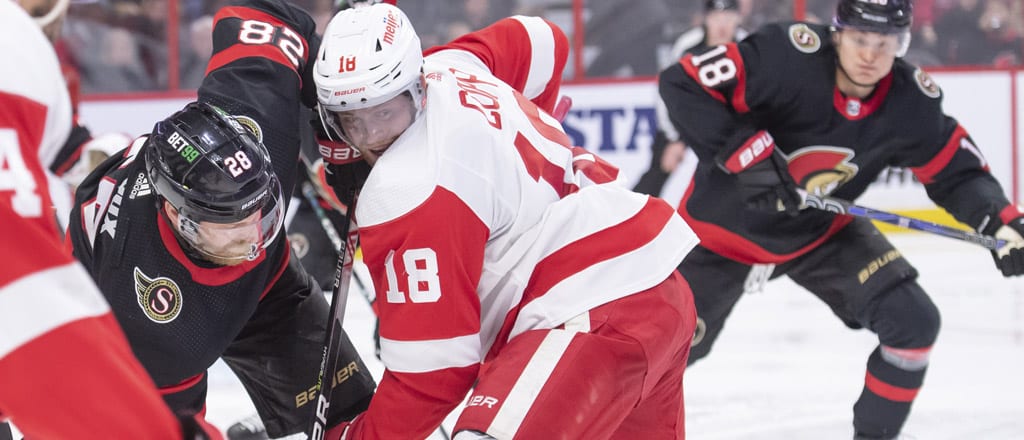 Who doesn't enjoy a mini-playoff series within a regular season? That's what we're effectively getting with the Ottawa Senators and Detroit Red Wings, as they embark on the second half of a back-to-back with serious implications on the Eastern Conference Wild Card race. Let's dive into the action and see how you can join in:
Rangers vs. Jets odds
All odds courtesy of

Previous matchup
The last time these two faced off was… last night! Yes, this is the rare back-to-back hosted in the same building, on a weekday no less. This one was all Senators, as they peppered the Red Wings with 42 shots on goal to the 24 they received the other way. It should be no shock that they ran away with the score as well – while Detroit scored first and had a lead as late as the midway mark of the second period, Ottawa found its groove in the latter half of the game and put up five unanswered goals, electrifying the home crowd.
About the Red Wings (28-23-5-3, 30-29 ATS, 27-30 o/u)
The Red Wings are… in the conversation? Shocking, I know, but the last month has been very good to them. In a one month run between Jan. 24 and Feb. 23, the Red Wings posted a 9-3-0 record, giving them second thoughts on joining the sellers contingent and an opportunity to either sneak into the playoffs, or gain experience trying. Defensively, the team was particularly impressive in this run, with most of its games including only a goal or two against. This week has been less kind, obviously – a 3-0 loss to the Lightning was a reminder that the Red Wings are not up there with the contender class yet, and last night's loss makes two in a row. Tonight would be a huge dent to their season if they can't respond.
Player to watch: Tyler Bertuzzi
Whether or not the Red Wings go on a run here, one player thought to be on the trade block is the 27-year-old Bertuzzi. The winger plays with an edge to his game and while he's only scored four goals in 28 games this year, his shooting percentage is at a career-low 6.5% and his rate of 28.5 goals per 82 games in the previous four seasons feels more confidence instilling. Every game for him until Friday's trade deadline is either an opportunity to bring his team back into the playoff fight, or showcase himself to another club, and with nine points in his last 11 games, you know there's determination there.
About the Senators (29-26-4-0, 31-28 ATS, 26-29 o/u)
Like the Red Wings, the Senators are still clinging onto hope that they can catapult into the playoffs. The odds aren't in their favour right now, but with games in hand on some of the teams in front of them and the second Wild Card spot just five points away, stranger things have happened. Last night's win improved their record to 8-3-1 in their last 12 games, though they'll have to extend their pace for an even longer period of time to catch up. Detroit is two points ahead of the Senators at the moment – a regulation win tonight would bring them all square.
Player to watch: Derick Brassard
There is no unlikelier hero in this run than the 35-year-old Brassard, who is in the midst of his second tour of duty in Ottawa. Brassard has five points in his last five games and seven in his last 10, which is pretty good when you consider the fact that he's playing bottom six, if not fourth line minutes almost every night. Ottawa will obviously need its stars to shine bright down the stretch, but if you're looking to keep an eye on an underdog, Brassard has been the one of late.
Probable goaltenders
Red Wings: Ville Husso (23-14-5, 2.83 GAA, 0.907 SV%)- Confirmed.
Senators: Mads Sogaard (3-0-1, 2.64 GAA, 0.919 SV%)- unconfirmed.
Noteworthy Absences
The Red Wings will be without forward Michael Rasmussen for this one, while Ottawa's injuries lie in the ones we've known about for quite some time now – long-term ailments to Josh Norris and Anton Forsberg continue to persist.
Betting trends to watch
The over is 7-3 in the past 10 meetings between the teams.
The Red Wings are 2-8 against the puckline in their last 10 games against Ottawa. Ouch!
Detroit is 6-4 in its last 10 games as an underdog, both straight up and against the puckline. Ottawa is 8-2 as the favourite.
Wagers to consider
Despite what was just mentioned above about the over, I'd look to the under tonight. Eight goals between the two teams yesterday feels like a pretty explosive effort, and teams tend to tighten up against each other on the second half of a back-to-back, both strategically and due to lack of rest. The under is sitting at -115 tonight.
I like Tyler Bertuzzi to clear 2.5 shots on goal tonight. As mentioned above, he's playing to both will his team into the hunt, and make himself interesting to other teams if Steve Yzerman decides to be a seller. He sits at +100 on bet365.
A lot was made of Brady Tkachuk's one-goal, five-hit, eight-shot performance last night. So much so that I can see him setting up for disappointment. +170 to not put a point on the board isn't a lock, but it is interesting.
Other NHL Games Tonight
There are nine additional games on the NHL schedule tonight. Here's who we've got on tap: