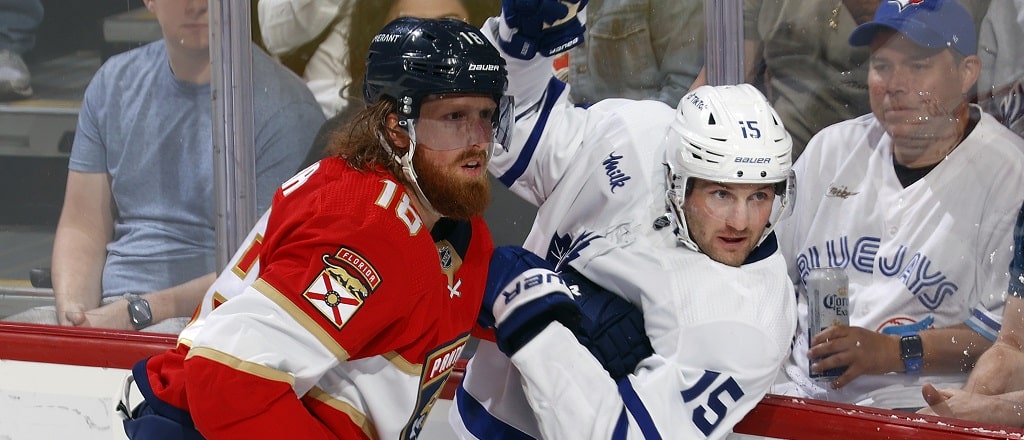 The Toronto Maple Leafs and Florida Panthers hook back up for the second time in less than a week, as the Atlantic Division tries to settle its final seeds. Will Toronto get ever closer to securing home-ice advantage in Round 1, or will it be the Panthers making their last push for a Wild Card spot? Maybe a bit of both with some overtime action? Let's break it all down.
Panthers vs. Maple Leafs odds
All odds courtesy of

Previous matchup
It's been a very long time since these two teams have faced each other. And by that, I mean it's been less than a week. Last Thursday saw Toronto and Florida butt heads in Sunrise, and it was an overwhelming night in the Leafs' favour. Auston Matthews put them ahead just five minutes in, and while Matthew Tkachuk responded back with a power play tally, the second period saw the blue and white pull away quickly, eventually seeing William Nylander, Michael Bunting, Mitch Marner, and Alex Kerfoot (!) join Matthews on the scoresheet, while he double-dipped to not be outdone in the 6-2 result.
About the Panthers (36-31-7, 28-46 ATS, 41-27 o/u)
When we last looked at these two teams together, Florida appeared to be set to cruise into the second Wild Card spot in the Eastern Conference, after months of uncertainty. The Panthers had won six of seven, gone on a 13-5-1 run, and life was good. A lot has changed since, though. The Toronto loss, the loss to the Flyers before it, and defeats against the Rangers and Senators have left the Panthers without anything to show for their last four games, allowing Pittsburgh to push back into the race and surpass them. Florida now sits three points back of the Penguins, and six back (albiet with a game in hand) on the New York Islanders.
Presumably this should lead to a desperate effort tonight from the defending Presidents' Trophy winners, though that's what we felt would be the case last week. Whether they come back with one last wind, or pull the parachute, is an unknown until the puck drops.
Player to watch: Carter Verhaeghe
Verhaeghe might be one of the most astounding long-developments in the NHL. Originally drafted by the Maple Leafs in 2014, the team moved him in a contract dump move to the Islanders with just two pro games under his belt. He'd spend a couple years in AHL Bridgeport, before getting flipped to Tampa, which also used him in the AHL for two years before giving him his shot in the show at 24 years old. He was just okay, picking up 13 points in 52 games, so he was allowed to hit free agency.
Since being signed by Florida, his fourth team, he's picked up 157 points in 194 games, including 36 goals and 66 points in 73 games this year. He's had 13 points in his last 11 games, and perhaps more importantly to the expert single-game bettor, he's put up a whopping 51 shots on goal in that time. Needless to say, expect him to play the role of proverbial mini-gun tonight.
About the Maple Leafs (44-20-9, 32-41 ATS, 34-35 o/u)
The Maple Leafs are coming off a pretty impressive three-in-four that began with that last win against Florida on Thursday. While their Saturday night game against Carolina didn't end up with the result they wanted, the team shook off a tough few minutes and played one of their most two-way dominant games in recent memory, ultimately coming out on the wrong end of a goaltending battle. Sunday's game against Nashville started similarly, but this time Toronto was able to shake off its slow start before conceding a goal, and built a sufficient bumper.
This weekend also saw the Leafs clinch a playoff spot for the seventh consecutive season, their longest streak ever. Of course, fans will tell you how little this means without success in said playoffs.
Player to watch: Calle Jarnkrok
It's been a fun little stretch for Jarnkrok, who came out of a slow start to the season to find himself relied upon as a solid two-way threat. The 31-year-old was recently promoted to the top line with Auston Matthews and Mitch Marner, and has done well to complement them. While this weekend wasn't his best, he still has nine points in his last dozen games. There's not a lot of shot volume there, but he's been opportunistic with his touches. His shooting percentage of 31.6 in this stretch won't last forever, but hey, a hot stick is a hot stick.
Probable goaltenders
Panthers: Sergei Bobrovsky (24-20-3, 3.07 GAA, 0.901 SV%)- unconfirmed.
Maple Leafs: Ilya Samsonov (24-9-3, 2.46 GAA, 0.914 SV%)- unconfirmed.
Noteworthy Absences
On Toronto's end, Ryan O'Reilly is getting closer to returning, but isn't with the group just yet. Noel Acciari will also miss tonight with an undisclosed injury. With regards to Florida, Sam Bennett is day-to-day, missing the past week and change with an undisclosed injury.
Betting trends to watch
Both Leafs and Panthers games continue to clear the total goals line of late, going 7-2-1 respectively. This would likely explain the hefty total of seven goals tonight.
Toronto is 9-1 in its last 10 against the Panthers at home.
More positively for the Panthers, they've won their last three games as betting underdogs.
Wagers to consider
The last time we shouted out a boosted same-game parlay, it hit, so let's take another look. I think the most interesting ones are usually the ones that feel the most controllable, and tonight I think that's the combo of the Leafs winning, Auston Matthews having more than 4.5 shots, and William Nylander getting an assist. Matthews had five shots on Sunday and a whopping 15, one of the highest individual totals ever recorded in a game, on Saturday. Nylander is typically a safe bet for an assist every two games but has just one in his past eight, which is a streak likely to end soon. Lastly, well, Toronto is the better team, playing at home. You'd think these stars can align and the boost brings it from +350 to +400.
As mentioned before, Carter Verhaeghe is spamming shots of late. His line is set at 3.5, which seems clearable with his recent momentum. You can get the over at -115, or if you think Toronto shuts him down, you can get that at -125.
There's a line set for Ilya Samsonov's save total at 28.5, with both over and under sitting at -120 odds. The Leafs have allowed 29.1 shots per hour this year in all situations, and Florida's 36.6 shots for per hour leads the league. As long as Samsonov doesn't get chased out, this is decently likely to clear.
Other NHL Games Tonight
There are two additional games on the NHL schedule tonight. Here's who we've got on tap: