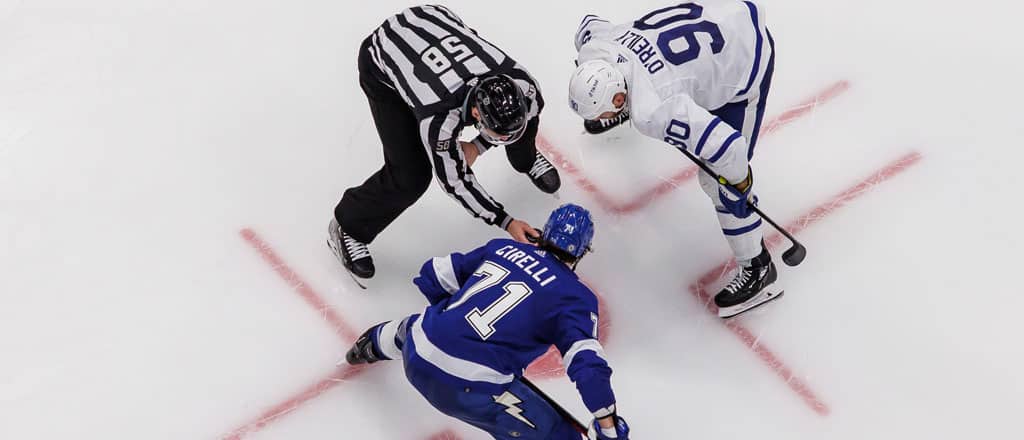 For fans of the Toronto Maple Leafs, this is the moment you've been waiting – or maybe dreading – for months now. More or less set in stone for the better part of the last five months, Toronto gets a chance to at last get revenge on the Tampa Bay Lightning, who eliminated them from the Stanley Cup Playoffs last season. Do they get it done, and finally win a playoff series for the first time since 2004? Well, you have to walk before you run, so our focus begins with Game 1.
Canada Sports Betting will be providing comprehensive betting previews for each game of this series, so check back over the next couple of weeks for all of the latest odds information and news! Coast to Coast will also run on my end every Friday down the stretch.
Maple Leafs vs. Lightning odds
All odds courtesy of

Previous Matchups
These two teams faced each other just a week ago, albeit with some partially-rested rosters. In particular, the Maple Leafs sat out Auston Matthews, Mitch Marner, and Mark Giordano to get them some rest. With Joseph Woll in goal, though, it was no problem – Tampa threw 48 pucks on him over the course of regulation but most were no match for him. Toronto never trailed in this game, trading blows in the first and second but eventually pulling away for good with three minutes remaining in the middle frame, when Calle Jarnkrok picked up his 20th of the season on a Toronto power play. Ryan O'Reilly's insurance tally was much-needed, as Mikhail Sergachev brought the game back within one in the dying minutes, but to no avail.
| Date | Home Team | Result | Total |
| --- | --- | --- | --- |
| April 11, 2023 | Tampa Bay | 4-3 TOR (+1.5, +182) | 6.5 (over) |
| Dec 20, 2022 | Toronto | 4-1 TOR (-1.5, -141) | 6.0 (under) |
| Dec 3, 2022 | Tampa Bay | 4-3 TBL (-1.5, -137) | 6.0 (over) |
The season series, as a result, went barely in Toronto's favour, with the Leafs picking an overtime loss in their first matchup followed by two wins. The favoured team has come through with the win in two of three games, while the puckline favourites have only delivered once. For those more curious about the underlying results, the Leafs outshot the Bolts at 5v5, and took more attempts in the slot area, where goals are most likely to be converted. With that said, Tampa had the slight edge in shot attempts and actual goals. Toronto's overall edge in the season series was a result of its special teams, which haven't been consistent for them in past series.
About the Maple Leafs (50-21-11, 39-43 ATS, 37-41 o/u)
Toronto comes into the series on one of its first legitimate hot streaks in a couple of months, even with a bit of load management afoot towards the end. The team has won four in a row, including the aforementioned most recent matchup against the Bolts, and hasn't lost two in a row since March 13 and 15. A tight 3-2 performance against the Rangers last Wednesday capped off the regular season, and it ended up being a milestone night for William Nylander, who scored his 40th goal of the season for the first time in his career. For Toronto, setting the offensive tone early and often will be key- while the team has improved even further defensively this year, goals drying up in crunch time has been its biggest trouble this year.
Player to watch: Auston Matthews
This season was a disappointing one by the Toronto megastar's standards, but still an excellent one by most others. While he won't be defending his Hart Trophy from last year, he put up a more than respectable 40 goals and 85 points in 74 games. Matthews has mentioned throughout the year that he's been nursing nagging injuries, and many have suspected he's been saving his best for when it matters most. In his last 18 games, he's picked up 12 goals and 24 points, which gives that theory some credence.
About the Lightning (42-31-7, 38-44 ATS, 41-36 o/u)
Tampa Bay comes into this series suspiciously cold. So cold that it has people wondering if the Bolts are leaning into a rope-a-dope. So cold that they might be smurfing, sandbagging, whatever you want to call it. Since February 26, their record is just 9-13-2. In the past calendar month, they're 4-8. They've lost four of their last five, winning only against Detroit in the season-concluding game. But at the same time, they're the Tampa Bay Lightning. This is a team that over the past four years has had one of the best regular seasons ever, won a Stanley Cup, won another Stanley Cup, and won the Eastern Conference. It's about as good of a run as we've seen in the cap era and while parts have moved around, Tampa's best players remain in the mix. The Lightning rationally look to be the underdogs in this series, and yet you can't help but wonder if that even matters. Maybe they're done, but maybe they're just getting started?
Player to watch: Brayden Point
Point's mid-series injury was a major storyline in last year's battle between the two teams, but now he has the opportunity to come in fully healthy and play to his full potential. The 27-year-old played his first 82-game season since his sophomore year (2017/18) and set career highs in goals (51) and points (95). The versatile forward, who led both the 2020 and 2021 playoffs in goals with 14 in 23 games in both years, is entering the series with eight in his last 11 games.
Probable goaltenders
Maple Leafs: Ilya Samsonov (27-10-5, 2.33 GAA, 0.919 SV%)- confirmed.
Lightning: Andrei Vasilevskiy (34-22-4, 2.65 GAA, 0.915 SV%)- unconfirmed.
Noteworthy Absences
Matt Murray remains out for the Maple Leafs, making room for Joesph Woll to back up Samsonov. On Tampa's end, there's talk of Tanner Jeannot getting back into the lineup sooner than once feared, though it doesn't seem likely to come tonight. Of course, it's the playoffs, so this is subject to change.
Betting trends to watch
Since the beginning of last year's playoff series, the two teams are 5-5 against each other. Tense? I'd say so.
Toronto is 6-4 on the puckline in the past 10 meetings.
The over is 7-3 in the past 10 meetings.
Wagers to consider
Same Game Parlay – Bet Boost – Leafs to win, Mitch Marner over 2.5 shots, Auston Matthews over 1.5 points: +450.
Same Game Parlay – Bet Boost – Lightning to win, Nikita Kucherov over 2.5 shots, Nikita Kucherov over 0.5 assists: +400.
Auston Matthews over 4.5 shots: +100.
Other NHL Games Tonight
There are three additional games on the NHL schedule tonight. Here's who we've got on tap: