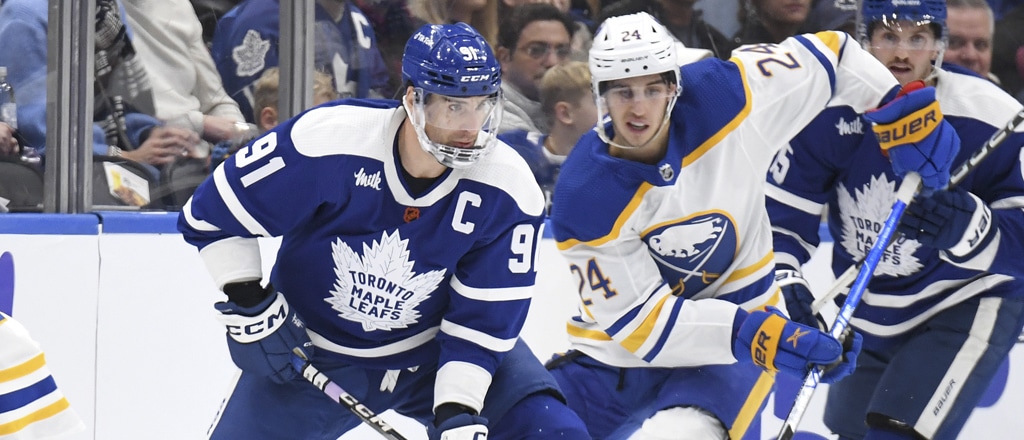 The Battle of the QEW returns tonight after a few months off, as the Toronto Maple Leafs visit the Buffalo Sabres. This rivalry remains one of the most bitter non-flagships in the league, with Leafs fans travelling down south en masse in search of cheaper seats and a party, and Sabres fans and players always feeling bitter about the invasion. With the Sabres now starting to look Actually Good (TM), and both teams looking to get a solid winning streak going, this has the potential to be a fun one on the National Hockey League calendar.
Maple Leafs vs. Sabres odds
Previous matchup
Toronto and Buffalo have played each other just once so far this year, with the Maple Leafs hosting that matchup. It went decidedly in the home team's favour, as the Leafs scored three goals in about seven minutes to blow the game wide open in the first period – a power play deflection by John Tavares, an even strength one-timer in the slot by Calle Jarnkrok, and a shorthanded, if slightly controversial tally by Mark Giordano. From there, it was pretty smooth sailing, with Buffalo potting two of its own but kept far from the lead by a William Nylander pair.
About the Maple Leafs (34-15-8, 24-33 ATS, 25-30 o/u)
The Maple Leafs have been playing somewhere between inconsistent and unfortunate over the past couple weeks, posting an 8-6-1 record over their last f15 games without a win streak beyond two games along the way. Not their best, but ultimately, not the end of the world given their almost entirely locked in spot in the Atlantic Division. A big issue for them right now is that they've been playing against lottery teams since the All-Star break, making tonight's game their first game against a team with a true winning record in over three weeks.
Player to watch: Ilya Samsonov
I'm interested to see how netminder Samsonov bounces back after a tough game on Sunday night. Samsonov is coming back from a stomach virus and in his return appearance, conceded four goals on 27 shots against Chicago, leading to a Toronto loss. The soon (tomorrow!) to be 26-year-old followed up his last two games with four-plus allowed with dominant performances, so let's see if that mental fortitude is put on display once again.
About the Sabres (28-22-4, 30-24 ATS, 29-23 o/u)
It's been really difficult to figure out what the Sabres are this year, as they remain one of the league's streakiest teams. One thing we know they definitely are, though, is a lot of fun, with a high-powered offence currently sitting in fourth in the NHL in goals for, while having the third-most goals against of all teams that have positive goal differentials. In a way, that kind of makes the Sabres into what Toronto media seems to think the Maple Leafs are. In any event, Buffalo comes into this came off of their California road trip, in which they lost to Los Angeles but pumped Anaheim and San Jose for seven and four goals respectively, giving them a two game win streak to shake off their four game losing streak, which disrupted a five game winning streak, which snapped a 1 in 6 run, which snapped an 8 in 9 run which… you get the idea. Streaky times.
Player to watch: Jeff Skinner
It's been so fun watching Skinner return to productivity over the last two years. While he looked like one of the biggest contract busts of the salary cap era in 2019/20 and 2020/21 with his production completely off the cliff, the 2010 seventh-overall pick has rebounded spectacularly over the past 18 months, producing a 63-point season last year and building on that now with 53 points in 51 games heading into tonight. He seems to be enjoying himself on the ice again, and obviously, playing with Tage Thompson as he explodes into a freak of nature helps.
Probable goaltenders
Starting for the Maple Leafs tonight: Ilya Samsonov (17-9-2, 2.38 GAA, 0.915 SV%)- unconfirmed.
Starting for the Sabres tonight: Ukko-Pekka Luukkonen (14-7-2, 3.41 GAA, 0.897 SV%)- unconfirmed.
Noteworthy Absences
The Maple Leafs remain without Matt Murray, who was placed on Long-Term Injured Reserve last weekend. On Buffalo's end, things are relatively healthy, with defenceman Kale Clague being the only absence at the moment.
Betting trends to watch
Both Toronto and Buffalo have played the over on their totals frequently of late – Toronto with three in its last five, Buffalo with three in its last four.
This is the first time since the All-Star break where Toronto's moneyline odds are shorter than -240; the Leafs remain the favourite, but not by the massive margins they've been pulling lately, peaking at -578 against Chicago on Feb. 15.
The last time the two teams faced off, Toronto sat at -282 to Buffalo's +229 – despite the Leafs' 5-2 win, Buffalo is being taken much more seriously this time around.
Wagers to consider
Blockbuster acquisition Ryan O'Reilly has yet to score his first as a Maple Leaf, and he plays in a familiar building tonight. The former Sabre will likely stay with John Tavares and Mitch Marner for at least one more game, so keep him in mind tonight at +250. If you're feeling super spicy, he's +1400 to score the first goal.
The line for Tage Thompson's shots on goal is set to 3.5 tonight and you have to imagine he'll be motivated to clear. These games always mean something to the Sabres, and they won back-to-back with him recording four and five shots in his last two games respectively. You can find that prop at +100.