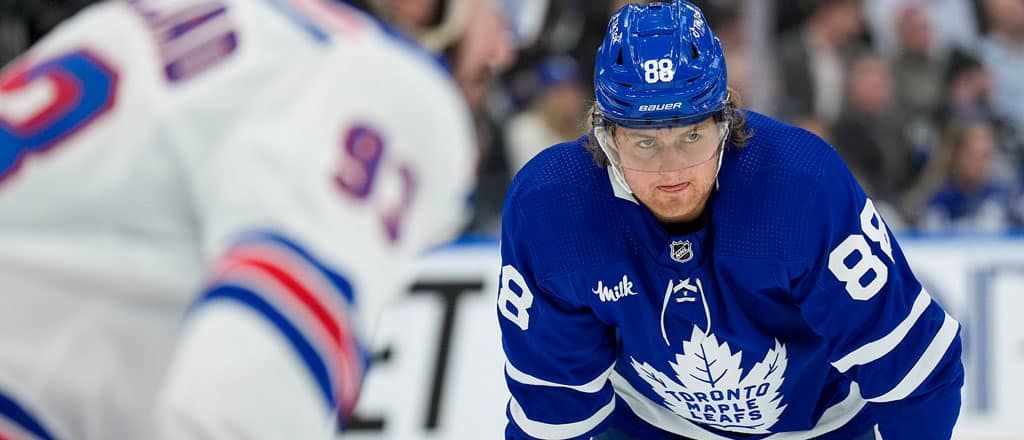 The last game of the regular season is finally upon the Toronto Maple Leafs, as it is for a lot of other National Hockey League teams. While this game doesn't mean a ton to the blue and white, it is an opportunity for one last tuneup ahead of their big dance against the Tampa Bay Lightning. Tonight, the New York Rangers host this final battle, which still has the potential for some good hockey.
Maple Leafs vs. Rangers odds
All odds courtesy of

Previous matchup
To go back to these two teams' last game against each other, you'll have to go back to before they loaded up for the trade deadline. No Ryan O'Reilly, no Patrick Kane, no Vladimir Tarasenko, no Jake McCabe… you get the idea. As such, the opening goal of this Jan. 25 matchup featured Joey Anderson (now of Chicago) setting up Pontus Holmberg (currently on the AHL Marlies). Filip Chytil tied up the game early in the second and added another to pull the Rangers ahead, but Timothy Liljegren responded with his fourth goal of the year with four minutes remaining in the third, and then set up Mitch Marner for a quick overtime winner.
About the Maple Leafs (49-21-11, 38-43 ATS, 37-40 o/u)
The Leafs went into full "who cares" mode with their roster dressed against Tampa Bay on Tuesday and still managed to come out with two points. Auston Matthews, Mitch Marner, and Mark Giordano all watched from above to get rest, as did Ilya Samsonov. Toronto was short a skater, and Conor Timmins played forward. It was probably for the best that the Leafs kept things light, as the Lightning mostly used the game to try to cause trouble ahead of their playoff matchup, but Toronto's 8-for-8 penalty kill and 2-for-7 power play seperated them en route to a 4-3 win. Today, things matter even less, so we'll see how they approach it.
Player to watch: Mitch Marner
Listen, the only thing left to play for in this game, besides staying healthy, is Mitch Marner getting his 100th point. It's annoying for this topic to keep coming back to the table, but there really isn't anything else that matters. Marner took the Tampa game off as a rest game, which makes this his final shot at the mark this year. I suppose it would be cool if he got it by setting William Nylander up for his 40th goal, which would also give Marner 70 assists on the year, but number 16's point total is the star of this show. Expect him to be all over the puck tonight.
About the Rangers (47-21-13, 45-36 ATS, 36-43 o/u)
The Rangers come into the playoffs on a bit of a roll, having gone 12-2-4 since March 9. The team swung hard at the trade deadline to get the likes of Kane and Tarasenko, and while the first few games were rocky, they've been seemingly unstoppable since. Funny enough, this has come less from their new acquisitions, and more from a familiar incumbent. Igor Shesterkin, who likely won't start in goal tonight, has been an absurd 10-2-1 with a .940 save percentage in this timeframe.
Player to watch: Line 3
The "Kid Line", the "Boyz II Men" line, whatever you call it, expect the trio of Alexis Lafreniere, Chytil, and Kaapo Kakko to get a perk up in minutes tonight. The Rangers will likely want to give their veteran top six a bit of an ease up, even if they don't sit them out, and the kids are playing well of late regardless. In the last 10 games, Lafreniere has seven points, Chytil has taken 30 shots, and Kakko has scored four goals. None have been outright dominant, but all have contributed.
Probable goaltenders
Maple Leafs: Joseph Woll (5-10, 2.18 GAA, .933 SV%)- confirmed.
Rangers: Jaroslav Halak (10-8-5, 2.70 GAA, .904 SV%)- unconfirmed.
Noteworthy Absences
Matt Murray remains out for the Maple Leafs following his upper-body injury against Detroit. Ilya Samsonov is also taking tonight off to mend bumps and bruises ahead of the playoffs, meaning that Samuel Richard will be tonight's Amateur Tryout backup. The Rangers appear to be fully healthy at the moment.
Both teams have zero steering left to do of their spot in the standings, so don't be shocked if they consider resting players tonight. At the same time, it's Game 82, so they might not want to disrupt flow the game before the playoffs start. Worth keeping an eye on al the same.
Betting trends to watch
The Rangers have played over the total in five consecutive games.
New York is 1-6 in the past seven meetings between the teams.
The Oilers have played over the total in 24 of their last 35 games overall.
Wagers to consider
I wouldn't blame you if you faded me today on total goals. I thought the Florida game had barnburner potential and it ended up being a snooze. I thought it was unlikely the Tampa game would clear 6.5 and it did. I'm going to stick to my rational guns and say this is a lower-scoring game, for real this time. Trust the process, and all that. If you agree, it's -115 at bet365. If you don't trust me, -105 to go in the other direction.
I'll carry over my Marner considerations from last game too, since he ended up sitting on short notice. I think he's going to take a run at the 100 mark, but bet365 has the points line at 1.5 and I'm not 100% that he leans all the way in beyond that (if you're more confident, that's at +170). If you want to tackle his pursuit by proxy, his shot line is at only 2.5 and can be picked up at -120 for the over, an individual assist sits at -140, and perhaps the best value might be a power play point at +140.
Going back to the Boyz II Men line, the anytime goal props for the three forwards are pretty juicy – +350 for Chytil and +425 for Lafreniere and Kakko. Kakko feels like the best logical value here. If you're willing to live off a gut feeling on your screen though, Lafreniere is the one I think is most likely to hit – his game hasn't come with a lot of shot volume lately but he's visually shown more signs of dynamic play in recent weeks, and I could see him doing something fun to get a tally tonight. Only time will tell, though.
Other NHL Games Tonight
There are 14 additional games on the NHL schedule tonight. Here's who we've got on tap:
| Home Team | | | Away Team | Time (ET) |
| --- | --- | --- | --- | --- |
| Montreal Canadiens | +265 | -330 | Boston Bruins | 7:00 PM |
| Florida Panthers | -110 | -110 | Carolina Hurricanes | 7:00 PM |
| Tampa Bay Lightning | -235 | +195 | Detroit Red Wings | 7:00 PM |
| Washington Capitals | +160 | -180 | New Jersey Devils | 7:00 PM |
| Buffalo Sabres | -135 | +115 | Ottawa Senators | 7:00 PM |
| Columbus Blue Jackets | +195 | -235 | Pittsburgh Penguins | 7:00 PM |
| Colorado Avalanche | -225 | +185 | Winnipeg Jets | 8:00 PM |
| Nashville Predators | -115 | -105 | Minnesota Wild | 8:00 PM |
| Dallas Stars | -270 | +220 | St. Louis Blues | 8:00 PM |
| Chicago Blackhawks | -105 | -115 | Philadelphia Flyers | 8:30 PM |
| Edmonton Oilers | -500 | +375 | San Jose Sharks | 9:00 PM |
| Anaheim Ducks | +200 | -240 | Los Angeles Kings | 10:00 PM |
| Arizona Coyotes | +130 | -150 | Vancouver Canucks | 10:00 PM |
| Seattle Kraken | +100 | -120 | Vegas Golden Knights | 10:30 PM |