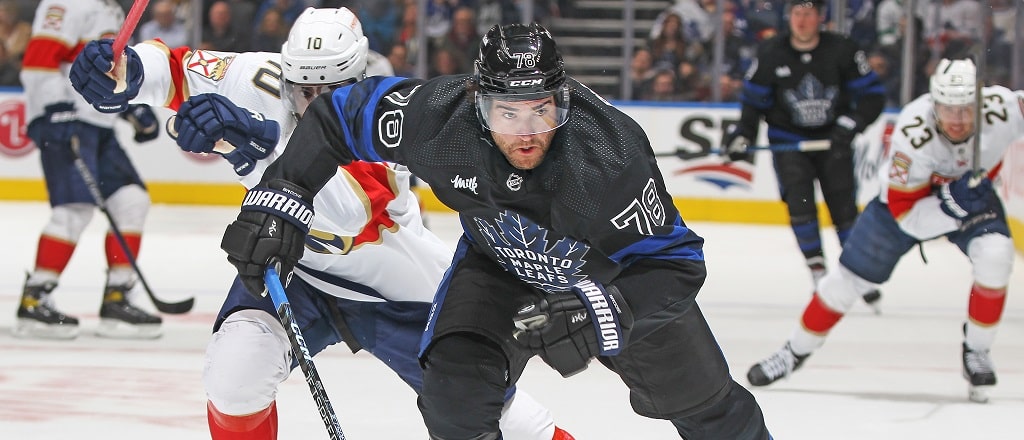 It's another busy night in the National Hockey League, and for the Toronto Maple Leafs, it's an opportunity to keep tuning up ahead of the Stanley Cup Playoffs. For their opponents, the Florida Panthers, it's a chance to secure their spot in the dance after an up and down season. This should be an exciting, up-tempo game for both teams, so let's unpack and see what it has to offer, on the ice and on the books.
Maple Leafs vs. Panthers odds
All odds courtesy of

Previous matchup
This year's schedule seems to be cramming a lot of repeat matchups into the final weeks, perhaps in hopes of generating some pre-playoff tension. That doesn't really apply in this case, but it does mean that the two teams faced off quite recently, going toe-to-toe on March 29. In that game, Anton Lundell gave the Panthers an early lead which they did not keep, but ended up being very valuable to them. Zach Aston-Reese and Auston Matthews each picked up tallies to put the game in Toronto's favour by the early goings of the third period, but Florida tied things up in the final minute and got the winner in overtime courtesy of Brandon Montour.
About the Maple Leafs (47-21-11, 36-43 ATS, 36-39 o/u)
The Maple Leafs had a feel-good Easter weekend, taking on their rival Montreal Canadiens and making the most of it. The Leafs opened up the scoring with two power play goals in a first period where they outshot Montreal by a whopping 18 to 1, and kept their feet on the gas after that. Jonathan Kovacevic did get Montreal a goal early in the second, but was met with two quick responses by William Nylander and Mitch Marner, and the blue and white added three more for good measure in the third.
The warm and fuzzies came late in the game, though, when Toronto brought in tryout goaltender Jett Alexander for the final 70 seconds of the third period. Alexander, who I've had some experience working against in Junior hockey and now starts for the University of Toronto's collegiate team, didn't face a shot but got to check the NHL off his bucket list. Unlike other "EBUG"-type situations, this likely won't be Alexander's only pro experience, but it was still a nice moment in most people's eyes.
Player to watch: Mitch Marner
Particularly explosive in that game was Toronto's superstar winger, who picked up two goals and an assist in the effort. With those points he hit the 30-goal mark on the season, and also set a career high in points with 98. This means Marner will have three cracks at the century mark, and I'm sure he'd like to get it out of the way as soon as possible. Yes, individual accomplishments are to be placed below team ones, but Toronto has nothing left to prove for the year, so he may as well lean into it a bit and get the 100 under his belt.
About the Panthers (42-31-7, 33-47 ATS, 42-30 o/u)
The Panthers aren't going down without a fight. The last time these two teams faced off, Florida was coming off of a four-game losing streak. Since then? Well, beating the Leafs has the Panthers now on a six-game winning run. You might be wondering – what caused this turnaround, which now has Florida likely to secure one of the final Wild Card spots?
Some give credit to Keith Tkachuk, father of Matthew, for criticizing the team's soft play. Some credit Brooks Koepka, for mocking Aaron Ekblad with a literal pylon from the view of a Panthers luxury box. Most realistically, the credit likely goes to Alex Lyon, who has been in goal for all six wins and posted an absurd .956 save percentage in that stretch. Every season seems to have a feel-good goalie story down the stretch, and Lyon might be this year's. It's especially impressive given his .876 save percentage in the seven games he appeared in for Florida prior to this run. We'll see if he can keep it up and get an X next to the Cats' spot in the standings.
Player to watch: Matthew Tkachuk
Well, we already used up the last paragraph on Lyon, so let's go back to Keith's son. Tkachuk, who was linemates with Marner in major junior, has already checked off the 100-point milestone from his list for the second consecutive season, leading the Panthers in the team scoring race by a 31-point margin with 108 on the year. Regardless of what happens for the rest of this year, he has been exactly as advertised since the team traded for him. Most notably in the context of those considering action for tonight, he has 11 points in his last five games, and 27 in his last 15. Seems pretty good, right?
Probable goaltenders
Team: Ilya Samsonov (26-10-5, 2.36 GAA, .917 SV%)- unconfirmed.
Team: Alex Lyon (9-3-1, 2.88 GAA, .914 SV%)- confirmed.
Noteworthy Absences
Matt Murray remains out for the Maple Leafs following his upper-body injury against Detroit. On Florida's end, Sam Bennett has been day-to-day with an undisclosed injury for a couple of weeks now, and I wouldn't expect him to draw in tonight either.
Betting trends to watch
Toronto has played over the total in seven of its last 10 games.
Road games in Sunrise have been rough for Toronto, though, so maybe lean to the Panthers' end if you must pick a team. Toronto has won just two of its past 10 games in Florida.
Wagers to consider
The total goals line is high at 7, but as mentioned before, Toronto/Florida games tend to be rowdy, and both teams have some incentive to light it up here. The Panthers desperately need the points, the Leafs have some top players near milestones, and Ilya Samsonov will likely not be over-exerting himself in the Toronto goal. I'd still consider the over.
I'd expect Mitch Marner to be chasing those last two points. Again, with nothing left to play for, that attitude is fine, and I think he pounces on the opportunity. Marner's line is set at 1.5 tonight, so it'll be a tricky one to navigate. One feels very likely, but two? That's up to you. Two points can be yours at +160 at bet365, while fewer than two points sits at -220.
If you have any interest in an extreme longshot: Noel Acciari has been ice cold on the offensive end in his last 10 games, with zero points and just five shots on goal. At the same time, he's facing the team that he had his best season with, in their building, and with Matthew Knies now lurking on the depth chart, he'll be needing to prove he's worth the minutes. I'm just saying, don't entirely rule him out at +500 for an anytime goal, or +2500 for the first goal of the game. I think he comes out buzzing tonight, though it's up to the whims of the game to decide what that will lead to.
Other NHL Games Tonight
There are nine additional games on the NHL schedule tonight. Here's who we've got on tap:
| Home Team | | | Away Team | Time (ET) |
| --- | --- | --- | --- | --- |
| Winnipeg Jets | -350 | +275 | San Jose Sharks | 7:00 PM |
| New York Rangers | -225 | +185 | Buffalo Sabres | 7:00 PM |
| Ottawa Senators | +160 | -180 | Carolina Hurricanes | 7:00 PM |
| Washington Capitals | +150 | -170 | New York Islanders | 7:00 PM |
| Detroit Red Wings | +170 | -200 | Dallas Stars | 7:00 PM |
| Chicago Blackhawks | +210 | -250 | Minnesota Wild | 9:00 PM |
| Calgary Flames | -210 | +175 | Nashville Predators | 9:30 PM |
| Arizona Coyotes | +205 | -245 | Seattle Kraken | 10:00 PM |
| Los Angeles Kings | -185 | +165 | Vancouver Canucks | 10:30 PM |