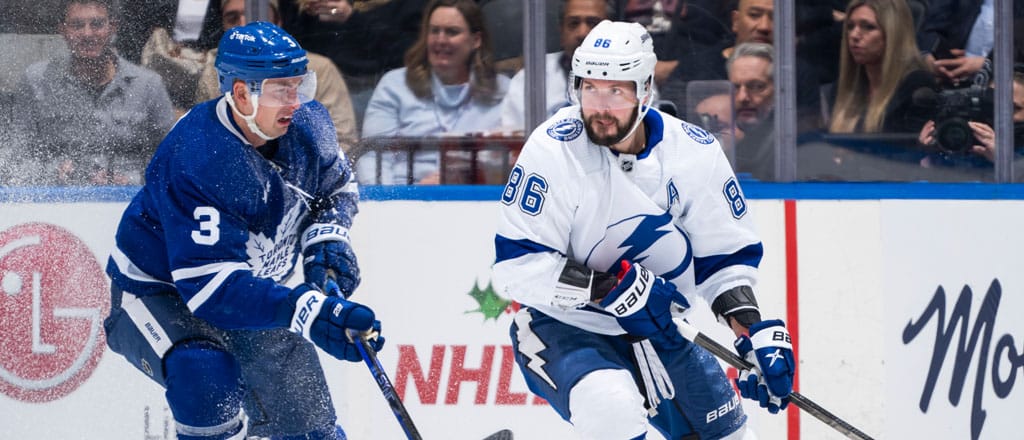 It's a Stanley Cup Playoff preview tonight, as the series we've all known was coming since mid-November gets it's last tune-up. To what degree the Toronto Maple Leafs and Tampa Bay Lightning will take this game seriously is up for debate, but it's still got the potential to be some high-quality National Hockey League action.
Maple Leafs vs. Lightning odds
All odds courtesy of

Previous matchup
While the two teams are going to see a lot of each other over the next few weeks, it's been a while since they've seen each other. Some of the players on the scoresheet aren't even on their respective teams anymore! Toronto won this game 4-1, thanks to an opening goal from Michael Bunting, a power play goal from Auston Matthews that was set up by Rasmus Sandin of the Washington Capitals, an empty-netter from Pierre Engvall of the New York Islanders, and another empty-netter from William Nylander. Tampa Bay's lone tally came from Vladislav Namestnikov of the Winnipeg Jets. Needless to say, there's room for new heroes.
About the Maple Leafs (48-21-11, 37-43 ATS, 36-40 o/u)
It's been a whopping one day since we last checked in on the Maple Leafs, and the reports back are good ones. Yesterday, admittedly, didn't go quite as expected in terms of process, Florida laid it on as heavy as I thought it would, and Toronto pursued some individual minestones, but Ilya Samsonov was fantastic and Alex Lyon continued his wild ride.
In the end, though, Toronto got two points out of the effort, opening the scoring late in the second with Matthews' 40th tally of the season, conceding a goal midway through the third from Brandon Montour, and eventually winning thanks to John Tavares' overtime winner. Tavares, who had been on the ice for 2:26, may have had the slowest breakaway goal we've ever seen, but he used all the remaining fumes in his gas tank to get across the finish line.
Player to watch: Matthew Knies
I'd considered putting Knies down yesterday, as the Leafs signed the University of Minnesota product earlier in the week and his debut seemed imminent. I wasn't sure if he'd get the first game of the three-in-four off, though, so I refrained. Tonight will be his second career NHL game, after playing 13:09 against the Panthers and contributing a hit and a blocked shot.
About the Lightning (45-29-6, 37-43 ATS, 40-35 o/u)
It's incredibly hard to nail down what the Lightning are right now, given the whole "season has been meaningless for months" thing. Since Feb. 15, they have a 10-13-4 record. In their last 10 games, they're 3-7-0. This is with most of the group healthy enough to be in the lineup, no less. In their last three games, they've allowed 19 goals.
But does any of it matter? A lot of people looked at them losing four of five in early April last year, or six of eight in March, and wondered if the Lightning were running out of steam. They went on to win the Eastern Conference for a third year in a row. I'll believe it when I see it.
Player to watch: Everyone
To the point of the above – now that they're facing their first round opponent, how heavy do the Lightning play this game? Do they try to put a couple early bruises on the buds? Do they experiment with offence? Do they hide everything because nothing matters? This is a good night for Leafs fans to get re-antiquated with this group. If you're just thinking from a betting perspective, well, no one's really on a huge heater of late. You could go the opposite route and look at Nick Paul, who was a playoff hero against Toronto last year but is pointless in his last 10, and likely slides in next to Steven Stamkos tonight.
Probable goaltenders
Maple Leafs: Joseph Woll (8-2-0, 2.02 GAA, .916 SV%) – confirmed.
Lightning: Andrei Vasilevskiy (34-21-4, 2.63 GAA, 0.916 SV%)- confirmed.
Noteworthy Absences
Matt Murray remains out for the Maple Leafs following his upper-body injury against Detroit. On Tampa's end, Tanner Jeannot has been confirmed to be out until "some point in the playoffs", so mark him down as the scorer of the series winner in a few weeks. Mikhail Sergachev also missed Tampa's last game for personal reasons; we'll see if he draws in tonight.
Betting trends to watch
The Lightning have won their last three home games against the Maple Leafs, and four of their last five. With that spread, the puckline has been less generous, going 1-2 and 2-3 in those respective runs.
To pre-emptively counter my first bullet point below, some devil's advocate if you will, Toronto's road games in Tampa tend to play over totals. They've done so in each of their last five games and in eight of their last 10.
Auston Matthews, a popular look for offensive props, has cleared the over on shots and goals in three of his last five games.
Wagers to consider
Sometimes you bomb a call. Last night, it was thinking playing the over on the total of seven goals was still pretty achievable, only for the two teams to score three including overtime. The underlying reasons were there, though, so I'm going to process. I think this one ends up being a pretty low event as the two teams try to feel each other out. The line is at 6.5 tonight and the under is at -110. I'd give it a strong look.
Mitch Marner got another point last night, bringing him 99% of the way to 100. That, of course, wasn't enough for the line, which required him to clear 1.5 points. It does again tonight, and I don't love it, but I do think he's still going to try to get the century mark out of the way in this one. Two indirect ways of getting there are looking at the over on his shots on goal (2.5 is the line and the over is at +130 on bet365) and taking him for a power play point (+140).
Speaking of shots, I don't know how aggressive to the net the Leafs will be tonight to generate quality, but I do think they pepper Vasilevskiy after only taking 25 on Alex Lyon last night. They might be junk shots, but junk shots will get him closer to that 29.5 over on saves, currently sitting at -115.
Other NHL Games Tonight
There are nine additional games on the NHL schedule tonight. Here's who we've got on tap:
| Home Team | | | Away Team | Time (ET) |
| --- | --- | --- | --- | --- |
| New Jersey Devils | -230 | +190 | Buffalo Sabres | 7:00 PM |
| Philadelphia Flyers | -185 | +165 | Columbus Blue Jackets | 7:00 PM |
| Carolina Hurricanes | -280 | +230 | Detroit Red Wings | 7:00 PM |
| Boston Bruins | -300 | +240 | Washington Capitals | 7:00 PM |
| Pittsburgh Penguins | -525 | +400 | Chicago Blackhawks | 7:30 PM |
| Minnesota Wild | -120 | +100 | Winnipeg Jets | 8:00 PM |
| Colorado Avalanche | +100 | -120 | Edmonton Oilers | 9:30 PM |
| Vegas Golden Knights | -150 | +130 | Seattle Kraken | 10:00 PM |
| Anaheim Ducks | +130 | -150 | Vancouver Canucks | 10:00 PM |