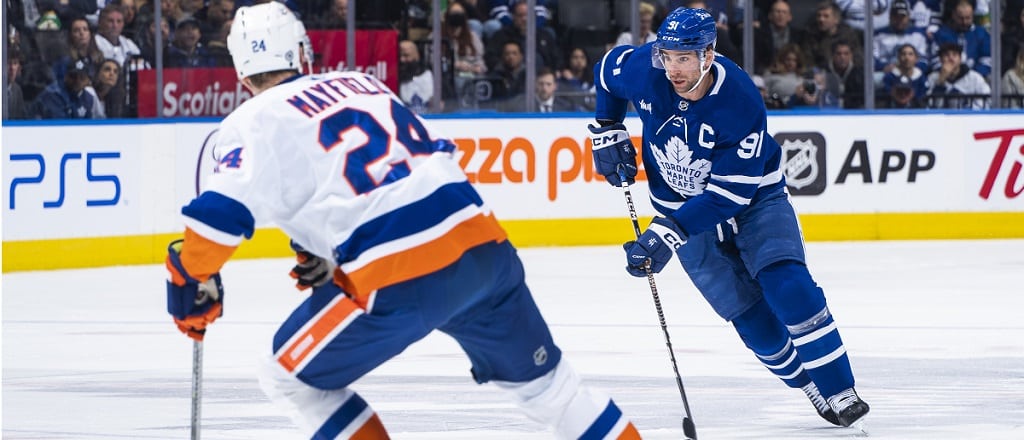 Whenever I hear the National Hockey League's executives talk about how there's a huge need to focus on divisional rivalries, I think a lot about the Toronto Maple Leafs and the New York Islanders. These two teams aren't traditional rivals, but they've had some classic playoff series over the years – 1979 for the old heads, 2002 for the younger ones – and John Tavares' jump from Long Island to the Big Smoke has added regular season flare. Sometimes the best battles happen organically, and not by force. Alas, we'll continue to get fewer of them so long as the league thinks this way, but for now we get another taste tonight.
Maple Leafs vs. Islanders odds
All odds courtesy of

Previous matchup
The last matchup between these two teams came on Jan. 23, with the Maple Leafs playing hosts. It took Toronto a while to truly catch a groove in this one, with Anders Lee putting the Islanders not once, but twice before Toronto first pulled ahead at the midway point of the second period, but once Toronto moved forward it never looked back. William Nylander was the star of this show, scoring Toronto's first and fourth goals and assisting on goals two and three. Tavares took a whopping eight shots against his former team, while Auston Matthews had the second-most with five. The shots in this one were 39-33 in favour of Toronto.
About the Maple Leafs (42-18-9, 31-38 ATS, 31-34 o/u)
Toronto had a very good weekend by way of results. When we last checked in, the Leafs were hours away from taking on Carolina, with Ottawa on their plate the day after. The former game was a methodical dissection of the second overall Hurricanes, with only 24 shots placed on goal but five of them finding the back of the net. Toronto first gained the lead less than three minutes into the first period, and never looked back. In Ottawa, they were peppered by a desperate Senators team, and ultimately conceded a two-goal lead in the third period, but came out on the positive side of the end result thanks to a lengthy seven-round shootout which saw Alex Kerfoot play unlikely hero.
Player to watch: Alexander Kerfoot
Friday's player to watch was Sam Lafferty, and it wasn't in a polite way, calling out his lack of offensive production and wondering if he'd ever find the offensive zone again. The slander worked, as Lafferty had a fantastic saucer pass assist on Zach Aston-Reese's second (?!) goal of the game. As such, it's time to point out that Kerfoot has a chance to use that shootout winner as momentum and get out of this absurd goal drought of his. Since Jan. 19, Kerfoot has no goals in 24 games, and has taken just 34 shots. While he is an underrated utility forward, this needs to change before the playoffs start, and there's no time like the present. Hopefully Saturday was a step in the right direction.
About the Islanders (36-27-8, 36-35 ATS, 30-37 o/u)
Despite their top forward Mathew Barzal being on IR, the Islanders are hanging on. But the Wild Card race is tight – Pittsburgh is two games back with a game in hand, and Ottawa and Washington might have one last hot streak left in them – and responding to a six-game losing streak in late January by going 12-5-3 since has effectively saved New York's season. Currently, the Islanders have wins in five of their last seven games. Getting Bo Horvat has been a huge help in keeping the team alive – his production has not lived up to expectation, which leaves concerns about his already-signed contract extension, but his line has carried the tempo in tight games.
Player to watch: Pierre Engvall
Speaking of trades, Toronto's deadline casualty has looked pretty good with some orange mixed into his blue and white. The 26-year-old Swede has three goals and two assists in his last four games, having played seven with the team so far. Will he shoot at 27.3% forever? Obviously not. Can you feel happy for a player who was a little overly-maligned by the Toronto fanbase? Absolutely.
Probable goaltenders
Maple Leafs: Ilya Samsonov (24-8-3, 2.35 GAA, 0.917 SV%)- confirmed.
Islanders: Ilya Sorokin (25-19-6, 2.37 GAA, 0.924 SV%)- confirmed.
Noteworthy Absences
The Islanders remain pretty banged up – most noticeably missing Barzal, Oliver Wahlstrom, and Josh Bailey. Recently added to the mix is Sebastian Aho (the other, defence-playing one), who is day-to-day with an upper-body injury. On the Toronto front, there isn't much new to talk about – Ilya Samsonov is back from his personal leave, and we'll likely see another rotation of the blue line as they look to keep their eight zillion (okay, just eight) pieces shuffling.
Betting trends to watch
The favourite is 17-4 in the past 21 meetings.
The over is 4-1-1 in Toronto's last six games and it's also 4-1 in New York's last five contests.
While the Islanders like to play the Leafs tough, Toronto usually comes out ahead straight-up when it's the favourite. The Leafs have won two of the last three, four of the last five, and eight of the last 10 against New York in this scenario.
Wagers to consider
Come on, we're absolutely going on the Engvall train here. No Leafs game is complete without some schadenfreude and the man's stick is red-hot right now. +250 for an anytime goal, +1200 for the first, +1400 for the last.
If you're with me on Kerfoot snapping the drought tonight, he sits at +550 to score.
I like Horvat to clear 2.5 shots. He's taken 33 in his last 10 games and the Islanders will be relying on his line to generate to win this game. That sits at +100.
I also like the goals over. Six is a pretty low number, and while Sorokin and Samsonov have been great this year, the latter is coming back from the birth of his kid and the former has let in three or more in three of his last four games. I suppose the 1-0 final side of this pendulum is also available, but when you've got a boom-bust scenario like this and the line is low, you may as well take the over at +100.
Other NHL Games Tonight
There are 12 additional games on the NHL schedule tonight. Busy night! Here's who we've got on tap: