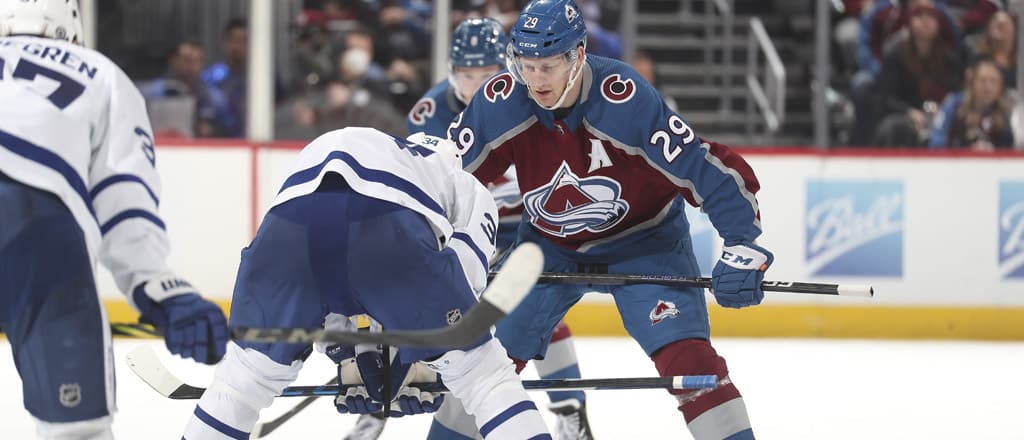 Two of the National Hockey League's top teams face off on Wednesday night when the Colorado Avalanche take on the Toronto Maple Leafs. While the defending Stanley Cup Champions appear to be an underdog by record, they're heating up at just the right time and will look to play road spoiler to a Leafs team continuing to rebuild chemistry after some mid-season shakeups. Let's break this one down:
Avalanche vs. Maple Leafs odds
All odds courtesy of

Previous matchup
To go back to the last time these two teams faced each other means going back to New Year's Eve, as Toronto delivered Colorado its worst defeat in the midst of a five-game losing streak. While the Avalanche were battered, they did have home ice, they still had Nathan MacKinnon, Cale Makar, Devon Toews, and it's not like Toronto isn't infamous for losing the games in which it's handed an edge. In this one, the Leafs were all business, coming out early with a pair of goals from Mitch Marner and now-New York Islander Pierre Engvall. Colorado closed the gap at the end of the first and again at the midway point of regulation, but Auston Matthews and TJ Brodie pulled the group further ahead. Michael Bunting scored his second of the game with four minutes remaining in the third, taking advantage of an aggressive Colorado goalie pull.
About the Avalanche (37-22-3-3, 31-34 ATS, 25-38 o/u)
No matter how injured the Avalanche are, all you have to do to give them a fighting shot is let them have "enough" of a roster. Leave them a couple of stars and support players, and you can chop off a limb all you want – they'll come back for you. Such has been the case over the past two months. While the Avs had as many losses as wins at the 40-game mark, they've since gone 17-5-3 over their last 25, including wins in three of their last five and only one back-to-back occurrence of regulation losses. They come into Toronto as part of their Atlantic Division road trip, having already beat the Canadiens by an 8-4 final score on Monday.
Player to watch: Valeri Nichushkin
Last year's playoff breakthrough player is right back at it after missing 29 games with injuries. Over the past month, Nichushkin has five goals and 12 assists across 13 games. His shot volume hasn't been particularly scary, but he's helped the Avalanche win games with his all-around impact, including a three-point performance in the aforementioned Montreal game.
About the Toronto Maple Leafs (40-18-7-1, 30-36 ATS, 29-33 o/u)
The Maple Leafs also played on Monday, in a game against the Sabres that fans would mostly like to forget. Toronto pressed early and often resulting in a 2-0 lead at the midway point of the game, but let off the gas hard after Calle Jarnkrok's supposed "insurance" goal. Buffalo was all over them from that point on, scoring four unanswered and only allowing the Buds to get one back in the dying minutes, culminating in a 4-3 loss for the blue and white.
To Toronto's credit, when it has these sorts of "backbreaker" losses, it tends to respond well to them. Back to back losses in general are a rarity for the team, but outside of a pair that had Boston in the second half after losing to Detroit, the team has usually shaken off a loss to a rival or a minnow and responded to it with a statement win. They'll be hoping for that again tonight.
Player to watch: Mitch Marner
My original answer here was Luke Schenn, as this appeared to be the perfect opportunity for the second-time Leaf to make his return to home ice. However, it doesn't look like that's happening tonight. Instead, we look to Marner, who has been the team's most productive player of late, picking up a monsterous 20 points in his last 10 games. Impressively, 14 of those points have come at even strength, meaning it's not just the powerplay (where he has 5) carrying him across. Another big night from him would pay dividends for Toronto.
Probable goaltenders
Team: Alexandar Georgiev (29-14-5, 2.63 GAA, 0.917 SV%)- unconfirmed.
Team: Matt Murray (12-7-2, 2.92 GAA, 0.903 SV%)- unconfirmed.
Noteworthy Absences
The Avalanche have been a very injured bunch all season, and that trend has not changed. Outside of their bevy of long-term ailments, Kurtis MacDermid is day-to-day with a lower-body injury as of March 9, and Josh Manson has no timetable after re-aggrevating a lower- body injury that took him out of the Colorado lineup for two months between December and January.
Toronto's injury front remains the same as it was on Monday, with no further updates.
Betting trends to watch
Similar to the last Leafs game, this one is a pretty dead heat on the moneyline, with the teams splitting a 5-5 record over their last 10 games against each other going back to 2016.
Colorado likes being the underdog right now – which makes sense given that its bouncing back from a slow start. In its last 10 games where it's had underdog status, the Avs finished 7-3 straight-up and 8-2 against the puckline.
Toronto can boast similar, though it can't say the same as the favourite. The Leafs are 6-4 straight-up in their last 10, and 5-5 on the puckline.
Wagers to consider
In case you're wondering: No, the lines of Nathan MacKinnon and Auston Matthews' shot totals being set at 4.5 are not typos. In fact, they line up with recent trends. Matthews has taken a whopping 44 shots in his last 10 games, while MacKinnon has one-upped him with 48. MacKinnon is getting much more bang for his buck, with 10 goals on those shots to Matthews' five. These sorts of mano-et-mano matchups tend to bring out the best of players of their calibre, so they could be bets worth considering. You'll find MacKinnon at -115 over, -125 under, and Matthews at +110 over, -150 under.
I'm feeling a Morgan Rielly power play point tonight. It's been three games since he's had one and this matchup has the potential for plenty of special teams – their last game against each other had seven combined power plays. You'll find that option at +275. If you just want him for a regular point that'll come in at -115.
After a rambunctious effort on New Year's Eve, I think there will be a bit more methodical play in this one, and that the teams might take some time to feel each other out coming out of the gate. With that in mind, I'd be interested in the +140 bet365 is giving to "No score before 9:30 elapsed". The last matchup had two goals before that marker, but I could see the first tally taking a while tonight. Not to say there will be a goal shortage, but they'll look for weaknesses first before exchanging blows.
Other NHL Games Tonight
There are three additional games on the NHL schedule tonight. Here's who we've got on tap: