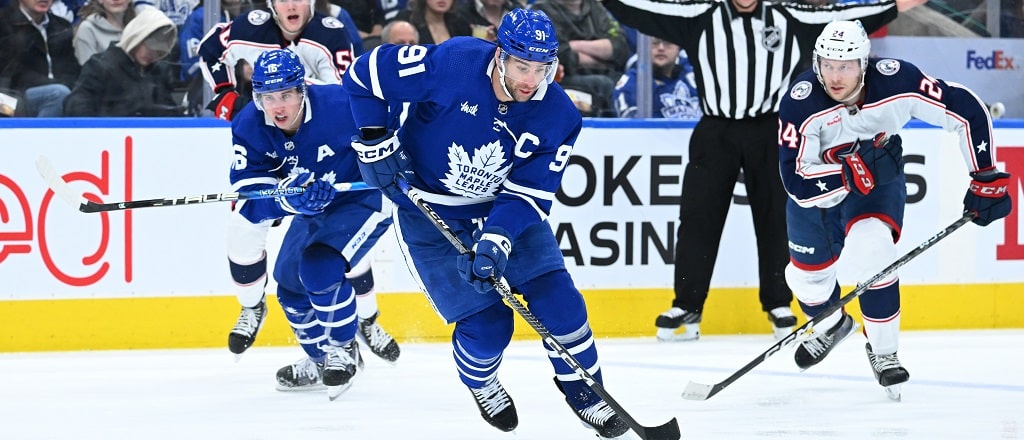 The playoff spot is locked in, the rematch with Tampa Bay is set, and there's really not a heck of a lot to play for if you're the Toronto Maple Leafs in these next few weeks. All the same, a game is a game, and the Columbus Blue Jackets will have no trouble playing spoiler if they don't take this seriously. Let's dive in and take a look at the task at hand for the Leafs tonight:
Rangers vs. Jets odds
All odds courtesy of

Previous matchup
The last battle between these two teams ended on a bit of a sour note for Toronto. Played on the second half of a back to back and following a convincing win against those very same Blue Jackets, the Leafs looked ready to cruise with two goals in their first eleven minutes of the first period. The second period was less kind, however, as Boone Jenner, Kirill Marchenko, and Sean Kuraly pulled Columbus back into the fight and ahead for the first time on the weekend. While Morgan Rielly tied things up in the third, Kent Johnson scored the eventual game winner for the Jackets not long after.
About the Blue Jackets (24-44-8, 38-38 ATS, 41-33 o/u)
Sitting at the bottom of the Eastern Conference, Columbus management is likely looking at this as a must-not-win game. The Blue Jackets are just two points ahead of Chicago for last place in the league and falling one more step backwards would be huge for their odds in the 2023 Draft Lottery. All the same, while executives might tank, coaches and players don't, and the team will be putting in a full effort on the ice tonight.
Player to watch: Kent Johnson
Besides being the game-winning hero for the Jackets the last time these two teams faced off, Johnson is starting to heat up. The 20-year-old recently had a 9 point in 9 game stretch, that put everyone on notice when it was capped off with a Michigan goal on Ilya Sorokin on March 24th. He went pointless in his next three games after that run, but scored in Columbus' last outing against Ottawa on Sunday.
About the Maple Leafs (45-21-10, 27-27 ATS, 35-37 o/u)
Toronto returns to the ice after an interesting loss against the Red Wings. Not many are fussed with the final score, with the games nearing pure meaninglessness and the likes of Mitch Marner, Mark Giordano, and Jake McCabe sitting out for rest, but rather due to Michael Bunting's pair of unsportsmanlike conduct penalties that caused all sorts of controversy, along with Matt Murray's injury suffered after a collision with Lucas Raymond.
Toronto will mostly be looking to get out of these next few games healthy and rested, so it'll be hard to get too hyped up for this one. Besides one thing..
Player to watch: The Second Line
Yes, a situation where we break free from just one player! If there's one thing I'm excited for tonight, it's the morning skate revelation that we will likely see a line of William Nylander, John Tavares, and Mitch Marner tonight. Of all the "Core Four" combinations that have been possible over the past five seasons, this is the one that we've never gotten, with Nylander and Marner pairings being particularly rare and only used to either run a line when one of Tavares and Auston Matthews is injured, or loaded up with Matthews in late-game situations. Both have played individually with Tavares, but never together short of a mid-line-change rush or two.
Probable goaltenders
Blue Jackets: Jet Greaves (NHL DEBUT, AHL 16-14-5, 3.23 GAA, 0.895 SV%)- confirmed.
Maple Leafs: Joseph Woll (3-1-0, 2.03 GAA, 0.934 SV%)- likely.
Noteworthy Absences
For Toronto, Ryan O'Reilly and Noel Acciari are getting closer, but there is no rush. Matt Murray will sit this one out as a precaution after landing on his head on Sunday. Columbus remains a who's who of non-availability, with players like Zach Werenski, Patrik Laine, Jake Bean, Erik Gudbranson, and netminder Elvis Merzlikins headlining an eight-man IR list.
Betting trends to watch
Columbus have played firewagon hockey of late, going 3-7 straight up in their last ten but landing 7-2 on the over for total goals.
The two teams are 5-5 straight up in their last 10 games, with Columbus taking the puck line in 8 of them.
Toronto have been rough against the puck line of late, which makes sense for a team going through the motions. They're 3-7 in their last 10, to the tune of -4.27 units lost if you bet equally on all ten.
Wagers to consider
So, remember that loaded Nylander-Tavares-Marner line? John Tavares' shot line is at 3.5 tonight on bet365. Over is +120, under -160. I'd look hard at the over here, as I think this group will be buzzing.
Similarly, I'd imagine this means some scaling back for Auston Matthews. -120 goes either way for a line of 4.5, but this is a rare night where I'd feel more confidence in the under.
Kirill Marchenko broke Columbus' rookie goals record earlier in the week with an overtime winner, and I don't think that's the last we've seen of him this year. He's +150 for an anytime goal and +1100 for the first of the game.
Other NHL Games Tonight
There are ten additional games on the NHL schedule tonight. Here's who we've got on tap: