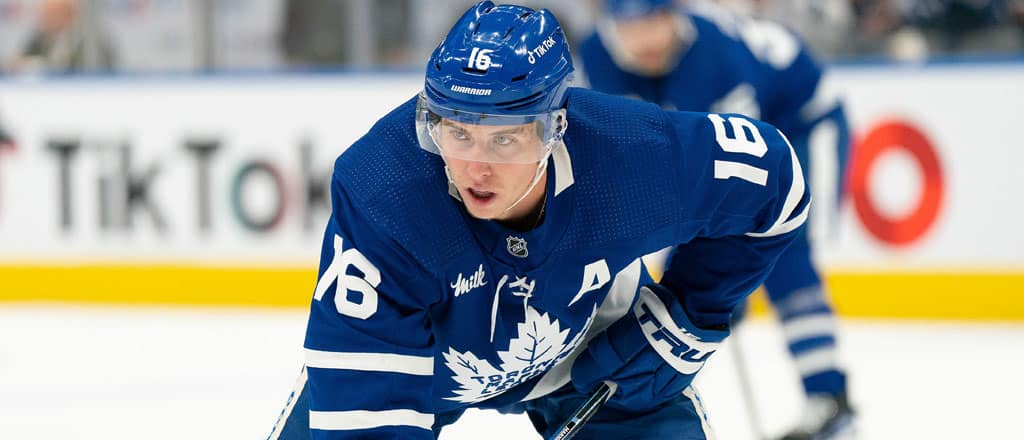 As the Toronto-based "Abolish Defence" guy, these last few days have been a revelation for my obnoxious, persistent brand. The Toronto Maple Leafs have, on two separate occasions in less than a week, challenged the public eye on what positions are – once necessitated, once of their own accord.
The first was one we're not going to spend a ton of time talking about, and came in their preseason game against the Montreal Canadiens. Early-game injuries to Jordie Benn and Carl Dahlstrom left Toronto in a tough spot. With three of the four still-healthy defencemen being established veterans in Mark Giordano, TJ Brodie, and Morgan Rielly, this put the team in a tough spot. Do you really want to risk core pieces by overworking them in training camp? The answer was "obviously not", and the solution was slightly unorthodox, as it meant Alex Kerfoot and newcomer Calle Jarnkrok slid down to the blue line to help out.
The results? Pretty good – Toronto got the shutout and both Jarnkrok and Kerfoot looked capable in a pinch. It's not the first time Leafs coach Sheldon Keefe has had to do this, as he once ran now-Los Angeles Kings forward Trevor Moore on the Toronto Marlies blue line in a regular season game. That the results would be passable in a pinch isn't all that surprising, though – the opposition has no pre-scout for approaching the fill-in player in a radically different position, and a player filling in on short notice is likely to stick to simple assignments in their shifts, meaning a better chance at low-ceiling, high-floor results from them. More reps may expose them, but typically, you can get passable performance from a high-level player when moving them from forward to defence and sometimes, the inverse works as well.
Mitchell Marner
To win the Hart Trophy (MVP)
42.77
Bet Now!
What is more difficult is making a more regular transition between the two positions, at least on a regular basis. During the turn of the century we would see a few players who filled in on both sides, but most would be enforcers who played only a couple of shifts a game and just slotted in where there was room (the late Wade Belak a prime example for Toronto). True positional two-way players have been very uncommon in the modern game, with the most famous examples on the higher end being players who outright changed their position full-time for stretches. Brent Burns and Dustin Byfuglien are good examples of this from a few years prior, showing themselves to be decent forwards when not being shifted as elite defencemen. We've also seen quality players change their position before going pro – Leafs legend Wendel Clark was drafted as a defenceman, while Habs great Andrei Markov was developed as a forward well into his teens.
This brings us all to Mitch Marner. Social media was abuzz on Thursday when it was mentioned that the back-to-back First Team All Star right winger was taking blue line shifts with Morgan Rielly in practice, and not as powerplay reps – but in even strength play. This is an idea that some in the hockey analytics, including myself, have floated in the past. All the same, it was still delightfully shocking to see come to fruition, even in a practice setting, this week. Interestingly, this wasn't continued fallout from the Benn and Dahlstrom injuries, but one of intent. Keefe was quick to note, though, that this was a situational look, rather than the start of a full-time conversion.
"Whether we're trying to score a goal, playing from behind or whatever the case might be that we might give him some opportunity there just to see what it looks like," said Keefe (via Sports Illustrated). "It's something we'll continue to look at through the pre-season and make a determination from there on how we might use it."
The idea of using Marner on the point in situational cases is one that makes a lot of sense, and is something teams might look to replicate if it works.
Conventional wisdom in hockey tends says that when you're trailing in a game, you play your best offensive players more in hopes that they can get you the goals you need to tie or take the lead. Often, if a game is close in the dying minutes, you'll see teams at almost every level of the game "pull" their goalie – sending him to the bench to get a sixth attacker, typically a forward. For years, teams would wait until there was about a minute left in the third period to attempt this risk-reward maneuver, but in the early-mid 2010s, NHL coaches like Patrick Roy, Dallas Eakins, and Willie Desjardins started to follow what data analysts had suggested and started pulling their goalies a few minutes earlier. This has started to spill over into other levels, and while you don't see some of the hyper-aggressive, 6-7 minute pulls very often in the NHL, 2's and 3's have become more common.
But there might be a case to be made for trickling up your risk-reward efforts sooner. For example, running four forwards and one defenceman at even strength, which seems to be where the Leafs see this Marner plan coming to fruition. This formation is already common on powerplays (again, a data-driven shift from the past decade or so) and allows for a team to run with more offensive-zone creativity while having a dedicated defenceman to spearhead the group if the puck goes the other way.
A player like Marner is a great fit to be leveraged in this position. He already has a basic concept of defensive responsibilities drilled into his muscle memory via the penalty kill, and a concept of playing high in the offensive zone via the powerplay. He's got the ability to make a first pass or carry the puck in transition on the counter-attack if the puck does end up in Toronto's defensive zone, and the awareness to pinch or creep into the flank when the opportunity arises. As a winger, it also gives Toronto three different options to sub off should they decide to pivot back to two defencemen on-the-fly, and makes his shifts easier to fill in the gap for than a surplus centre.
Generally speaking, more forwards could likely fill in these roles in offensive situations if they were developed in that way. The defensive position in hockey is moving away from the stay-at-home, shot blocking, hit throwing, passive role that was so common place not too long ago, and moving into one where puck possession, transition, and counter-attacking become valuable assets.
A great example of this can be seen in which defencemen are making the league. The league's pursuit of shot-handedness balance has led to an influx of right-handed defencemen, and it's no coincidence that they've been the ones dominating the leaderboards – 13 of the top 20 defencemen in the past five years of point production have right-handed, despite right-handed shots making up 43% of regularly-dressed skaters. More young players are seeing the demand for good, right-handed defencemen and moving to the point rather than developing as forwards, which as led to some of the most transcendent talent in generations. It could be said already that the invasion of the offensive rightie is the pre-cursor to the fourth forward at even strength.
There are limitations to the current generation of forwards moving to the point full time, even if they have more "total talent" and even if their strengths are more applicable than ever to the blue line. Full-time defencemen tend to have different forms of skating quirks that benefit them (better backwards movement, more east-west edgework, etc), and their bodies are accustomed to a higher workload. Someone like Marner might find themselves getting caught flat-footed once in a while and a transition to being an elite-skating defenceman would take more than a couple of shifts at training camp. For a few curated shifts a week, though, these deficiencies more are more than likely outweighed by the benefit of having an extra superstar on the ice in high leverage situations.
If this were to work, teams would be more likely to have players designated to play this "rover" sort of role, and develop and train them to get the best of both worlds out of their toolboxes. Combine that with the current development of defencemen to be similarly skilled with the puck to fowards, and we're starting to see a bigger and bigger push to "positionless hockey" – which isn't so much the absence of position as it is the ability to fill in across the board. It's the concept of being able to approach certain on-ice situations and matchups with a soccer-like approach, where the alignment of players isn't just drawn up in the system but occasionally shuffled in the personnel itself. Even a hockey fan who hates the Maple Leafs (fair enough) should be rooting for this specific facet of their game to work out, at least for a while. Marner is a player who is well situated to put this idea to the test and it would be a real shame to see it flame out with a quick goal or two against, locked in a box for years until the next time finds the confidence to try it.