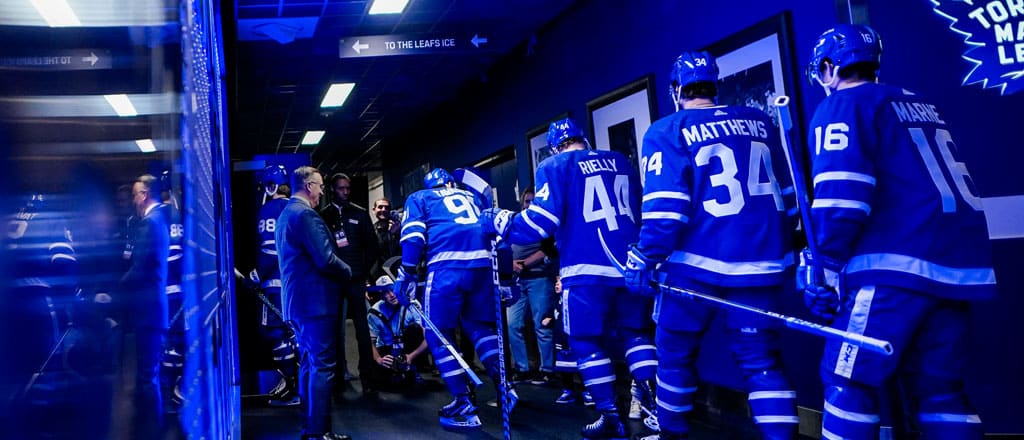 It's rare to see a team come out of a 111-point season with their deepest playoff run in twenty years, but come out of it feeling less certain than ever. That's where the Toronto Maple Leafs are in 2023/24. This isn't necessarily the last shot for the team's competitive window, but how this run ends will dictate the look of the team as we know it moving forward.
After all, while Toronto's 310-162-64 record – the third-best in the NHL by points percentage – since 2016/17 has been a testament to the talent injection that came with Auston Matthews, Mitch Marner and William Mylander's full-time debuts, the team is still without a serious pursuit of it's first Stanley Cup since 1967. While one can make cases for misfortune along the way, as the team has faced tough opponents and had some outright putrid luck along the way, there's a certain point where a team will feel the pressure to make significant changes.
Toronto, in a lot of ways, has already done that throughout the years, now on their second coach and third general manager. Just the three aforementioned forwards, now in the prime of their careers, and Morgan Rielly remain from that first playoff team – and not many of their surroundings have been here for more than a handful themselves. At a certain point, the next shoe to drop will be in their direction, especially with a new GM in Brad Treliving who, while he isn't a chasmic departure from Kyle Dubas before him, doesn't come with the same attachments.
Auston Matthews, with his four-year contract extension in tow, is probably the most safe of the bunch. For the others, it gets more complicated. Nylander still lacks an extension beyond this year, while Marner needs to cement himself as a piece you win with ahead of his opening extension talks next summer and John Tavares, the fourth star forward added to the team to lead them as captain in 2018, is in the same boat. Rielly has a lengthy commitment attached to him, but the rest of his blue line is on one or two-year deals. Combine this with a soon-to-explode salary cap that's likely to create a lot of room for movement in the NHL over the next two years, and you have a situation where if Toronto leaves even the slightest bit of doubt at the end of this year, things could start looking very different, very fast.
The good news is that Toronto is in a good position to make things right.
For one, as disappointing as their Round 2 loss to the Florida Panthers was, their victory over the Tampa Bay Lightning showed that the team is capable of grinding out tight wins in meaningful moments against good teams. It also gets any mental block about a curse, or an outright inability out of the way, which is more than nothing for both that dressing room and the city surrounding it.
For two, while I'm not personally sure that Toronto's offseason was a slam dunk, there were substantial elements of it that were steps in the right direction. The biggest to me is while the losses of the likes of Michael Bunting, Alex Kerfoot, and Justin Holl were bigger subtractions to the roster than most give them credit for, their replacements in Tyler Bertuzzi, Max Domi, and John Klingberg give them an element that the team has sorely been lacking over the past few years. "Grit", "jam", "bite", or some other toughness-driven buzzword is usually the refrain when the previous sentence is said, but what I mean is depth scoring. Bertuzzi, Domi, and Klingberg, all on one-year prove-it deals, are one-dimensional offensive players, which is a phrase often used as a criticism. In the case of a team that has played solid two-way hockey in the past few years but struggled to generate goals in the playoffs, however, it has the potential to be just what they're looking for.
One big question in the same vein comes in how the team will approach the bottom of their lineup. NHL-AHL cusp youth like Pontus Holmberg and Bobby McMann have the potential to solidify third and fourth waves of skilled but still tenacious talent, but Toronto may go for a heavier and more defensive approach with players like enforcer Ryan Reaves (Sam Lafferty was also in this group, but was traded to Vancouver while this post was being written). Another young possibility comes with Fraser Minten, the team's 38th overall pick in 2022, thanks to an impressive training camp. With that said, the team's salary cap – and more directly, his spot already being pre-filled by the four-year extension of defensive forward David Kampf in the summer – will likely prevent that. I would suspect that the bottom end of the forward group will be a focal point of old-versus-new-school arguments throughout the year.
The team's defence and goaltending, in theory, look as good as they've ever been, with the caveat of good health and kind age curves. Injury setbacks have already hit Klingberg and fellow rightie Conor Timmins, and there are eyes on veterans TJ Brodie and Mark Giordano to see whether their playoff struggles were aberrations or signs of decline coming for both of them. In goal, both Ilya Samsonov and Joseph Woll had better-than-expected seasons in 2022/23, and are at a great age for growth, but the position remains the most unpredictable and arguably the most important in the sport (great, isn't it?).
Toronto's surroundings will give them a bit more room to figure things out. The Atlantic Division hasn't gotten worse on the whole, with the floor teams improving, but those fighting for the ceiling with Toronto will at least start the season with some setbacks. Boston still has 3 of its 4 best players, but loses a fair bit down the middle in Patrice Bergeron and David Krejci. The Tampa Bay core benefits from some rest, but starts with a huge blow via a long-term injury to Andrei Vasilevskiy. This gives Toronto a strong opportunity to win the division – something our very own Andy McNeil has detailed already in his projections – though if those teams shore themselves up in time for the spring, the playoffs might not feel like much of a departure from previous years.
The books are more bullish on the Leafs than the fanbase – they usually are, because they don't focus on the lore the way we all do. In fact, Toronto still sits at the highest odds to go all the way at a boosted +900 (from +800) on bet365. Maybe it's a sign that we're all overthinking this a bit and ignoring the hyper-talented, well-rounded team in front of us in favour of our own anxieties. Maybe they're in a situation like St. Louis or Washington, where victory is only a matter of time. But the reality is, with new eyes in the board room, more flexibility than ever coming up, and eight years of mounting pressure, they're going to have to come up with something convincing, or the next swing could look much different.