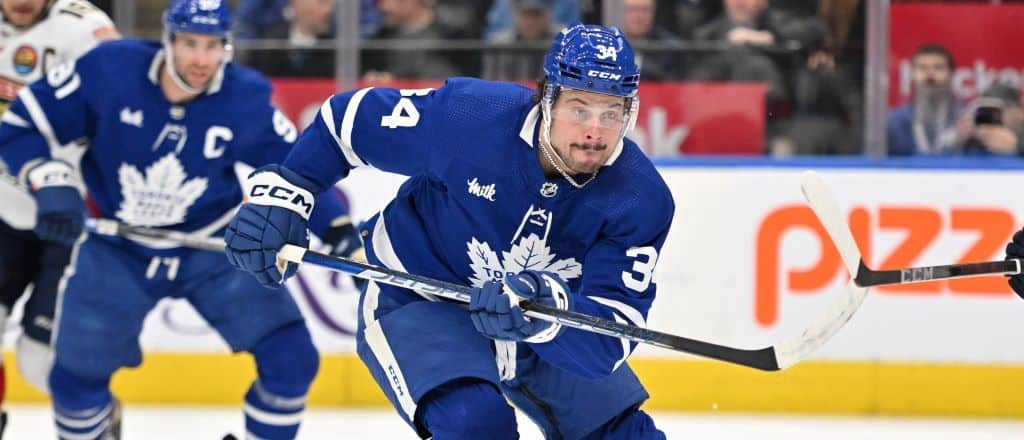 The Toronto Maple Leafs had an interesting weekend, splitting a pair of games with the dead-last Columbus Blue Jackets. Some can see it as good enough while the cobwebs of a nine-day rest are shaken off, while others will see it as the Buds playing down to their opponents. With the second-last place Chicago Blackhawks coming to town Wednesday night, your perspective will likely depend on where you see the past weekend – a game where they could come out flying now that they've broken themselves back in, or one where they could lay another egg. Which will it be? Let's take a look at tonight's headlining National Hockey League action.
Know Your Enemy
It goes without saying that these are not the Blackhawks of a decade prior. What was once a modern dynasty has become a team heading into another rebuild, with the league's second-worst record to show for it. Now, as last weekend showed, being near the bottom doesn't mean automatic pickings, especially with the Leafs finding ways to play down to the opponents. But nevertheless, facts are facts, and these Hawks are the lowest-scoring team in the NHL by 10 goals, with occasional pops but typical quiet nights.
Presently, Chicago has a 2-5-1 record in its last eight games, with one of those wins coming against Arizona in overtime. That isn't to say that the Hawks aren't capable of catching a spark – they did win six of seven in the run prior, and they did have a four-game winning streak earlier in the year, but those two runs are the only times all season where they've won consecutive games. In the individual end, no player on Chicago's roster has put up more than 35 points through 52 games thus far, with Patrick Kane and Max Domi leading the charge. Domi, Jonathan Toews, and Taylor Raddysh lead the team with 14 goals apiece. No regular roster player has a positive share of the on-ice shot attempts (Corsi) at even strength – no one is all that close, really. It's been a tough time, needless to say.
Currently, the Hawks are in the midst of a Canadian road trip, with stops already made in Winnipeg and Montreal. So far, it hasn't gone great for them, with a 4-1 loss to the Jets and a 4-0 loss to the Habs. This means they'll be a little hungry, though with the results being a microcosm of the season thus far, it's hard to say revenge is guaranteed for them.
Buds Watch
Depending on who you ask, there are two or three big stories for Toronto right now.
Firstly, you've got the games last weekend against dead-last Columbus, which were a bit disappointing in terms of rational projections, but were just about what you'd expect if you're thinking with your Leafs cap on. The team used its nine days' rest well and had a pretty business-y win on Friday, picking up a shutout for Ilya Samsonov in a 3-0 win. Upon returning to Toronto, the stinker game sunk in – after a 2-0 start 10 minutes into the game, the Leafs allowed three unanswered in the second period. Morgan Rielly tied it in the third, but Kent Johnson put Columbus across the finish line. Needless to say, the end result puts a bad taste in everyone's mouth after the weekend.
The second story is on the blue line. Justin Holl finds himself in the press box for performance reasons for the first time this season, with Conor Timmins taking his place. Some fans wonder if this is a precursor to a transaction – I'd pour cold water on that hot stove. Toronto would like to see Timmins stay ready to draw in and Holl, who was a -3 with a -2 shot attempt differential on Saturday, had a disappointing game that makes the "who comes out" decision easier. Holl has been a favourite of the coaching staff and management for years, and is the exact type of defenceman who would be considered a deadline gambit if he was on a seller. His future beyond this year is in doubt with a raise likely to come in the summer, but for now, this is just a night off.
The most positive news for tonight, though – Auston Matthews is confirmed to be back in the Toronto Lineup, after having not played since Jan. 25 with a knee injury. Obviously, getting your best player back is a big boost to a team that wants to get out of something that resembles a funk, and there's no doubt he's going to be buzzing tonight after a few weeks off.
The Last One
Toronto hasn't taken in the Blackhawks in nearly a calendar year, and their last meeting was a nail-biter. In a lot of ways, it was like the Saturday game against Columbus, just with a slightly better end result. Toronto at one point held a 4-1 lead early in the second period, but allowed Chicago to come back with goals from Connor Murphy, Dominik Kubalik (no longer with the team), and Jake McCabe. Former Blackhawk David Kampf was Toronto's hero, though, putting the Leafs back in the lead with 1:20 remaining in the third period.
The Lineups
The Maple Leafs are expected to run this lineup tonight, with Ilya Samsonov likely to start in goal:
Michael Bunting – Auston Matthews – William Nylander
Alexander Kerfoot – John Tavares – Mitch Marner
Pierre Engvall – David Kampf – Calle Jarnkrok
Zach Aston-Reese – Pontus Holmberg – Joey Anderson
Morgan Rielly – TJ Brodie
Mark Giordano – Timothy Liljegren
Rasmus Sandin – Conor Timmins
Key Injuries: Matt Murray
Meanwhile, the Blackhawks are expected to look like this, with Petr Mrazek likely to start in goal:
Tyler Johnson – Jason Dickinson – Patrick Kane
Philipp Kurashev – Max Domi – Taylor Raddysh
Andreas Athanasiou – Sam Lafferty – Colin Blackwell
Boris Katchouk – Mackenzie Entwistle – Reese Johnson
Jake McCabe – Seth Jones
Jack Johnson – Connor Murphy
Jarred Tinordi – Caleb Jones
Key Injuries: Jonathan Toews, Alex Stalock
The Betting Lines
The Maple Leafs are very, very heavy favourites for this game on the moneyline. Toronto opened at -375 and have moved up to -610 at some sportsbooks (biggest favourite of the season) with the confirmation that Matthews will play tonight and a further ruling out of Chicago backup goaltender Alex Stalock. Needless to say, unless you're really sure that they're going to lay an egg and want to go with the +440 Blackhawks, the moneyline isn't your best play today.
The total is set at 6.5 goals, which makes sense. Leafs/Hawks games tend to be pretty high scoring affairs, with Toronto's "Big Three" of Matthews, Mitch Marner, and William Nylander all having connections and admirations for the previous Hawks generation, and with Chicago consisting of some of those idolized players and a bevy of Toronto natives who get up for games against the Buds. Tonight should be no exception, with a lot of those players also showcasing themselves for new homes at the trade deadline, including potentially the Leafs themselves.
All of these storylines lead into the props to watch. I'd take Matthews to rise to the occasion of facing Kane and the Hawks on a normal day, just like I'd take the inverse, but both players now have more stake in the game than ever. Matthews is going to be hungry after his injury absence, and Kane is looking to show teams, including Toronto, that he still has it ahead of a trade deadline that may see him leave Chicago after fifteen years of service. I'd also look to Jake McCabe, who has been gossiped to Toronto, to throw his body around to show his stay-at-home capabilities, though all props with things like hits and blocks come with the risk of inconsistent league tracking.
Lastly for individuals, I'm curious about an Andreas Athanasiou goal. "Greek Lightning" isn't connected to Toronto in trade talks, but he's a local native who can convert on the rush, and his linemates also have stake in this one – Sam Lafferty has been speculated as a Toronto target, and Colin Blackwell played for the team last year. That bet for me is more of one where I think the line will pick up a goal, with Athanasiou being the most likely scorer of the three.
| Prop | Price | Book | Prop | Price | Book |
| --- | --- | --- | --- | --- | --- |
| Auston Matthews to score a goal | -130 | FanDuel | Patrick Kane to score a goal | +300 | BetMGM |
| Auston Matthews over 3.5 shots | -165 | BetMGM | Patrick Kane over 2.5 shots | -138 | FanDuel |
| Leafs score the first goal | -265 | Bet365 | Jake McCabe over 1.5 blocks | -200 | Bet365 |
| Both teams score 3 goals | +265 | Bet365 | Andreas Athanasiou to score a goal | +300 | Bet365 |
Where To Watch The Leafs Tonight
Despite the David vs. Goliath nature of this game, you'll find this one nationally broadcasted in both countries. In Canada, it gets the Wednesday Night Hockey headliner on Sportsnet, making it available in all markets. For the French feed, you'll go to TVA Sports. American fans can find the game on TNT. If you're watching online, Sportsnet Now will be your friend. For more information on the best way to catch the action, check out our How to Watch the NHL in Canada guide!
Closing Thoughts
Optimism for this game is probably dependent on how you see the team – as I said in the intro, it's very easy to see this as a potential rout and a potential stinker. Generally, these two teams tend to play up to each other and it leads to some really fun games regardless of result, so that should remain a constant tonight. I do think the fact that Toronto ended last weekend on the loss instead of the all-business win will give them some hunger tonight, and give them the win in what should be a pretty high scoring affair. I might not be so confident for the grudge match in a couple days, but we'll see. For now, let's enjoy this one!