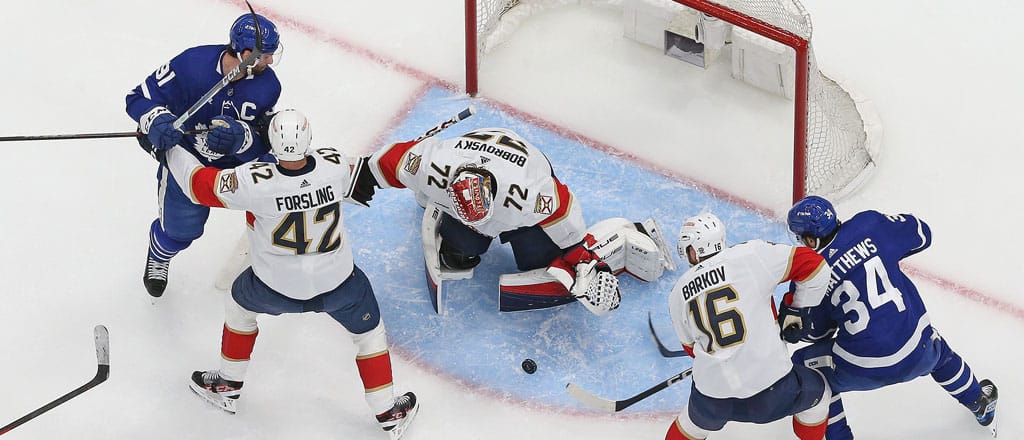 This week, we're going to do things a little differently for HNIC Coast To Coast. That's because the NHL has decided to do things differently, and schedule only one game for Saturday. The long and short of this situation? Well, it's a bit of a mess, but basically, we're all accommodating the Florida Panthers. To the Panthers' credit, though, they've delivered more wins than anyone in these playoffs to this point, so if anyone can demand accommodation…
Nah, can't do it. Still a poor way to run a weekend. So we'll talk a little more than usual about Sunday as well. Let's dive in.
7:00 p.m ET HNIC Headliner: Edmonton Oilers vs. Golden Knights
This game was actually supposed to be a Friday game, but it slides into Saturday to make up for the fact that we almost had no Saturday hockey. Weirdly for both teams, it's a 7:00 p.m. Eastern headliner, but neither team plays in the Eastern Time Zone. This will be a 4:00 p.m. start locally at T-Mobile Arena, but expect a rowdy Vegas house regardless.
After all, Vegas will be coming in with a 1-0 series lead, and more than one individual goal scorer. Wednesday's game featured an insane, world-class effort from Leon Draisaitl, who opened the scoring in the first period and added three more tallies to his efforts, but it was the spread out attack of the Golden Knights who led the way. Ivan Barbashev picked up a pair and Michael Amadio, Mark Stone, and Chandler Stephenson kept the gap wide for much of the game. As the icing on the cake, Jack Eichel added an empty-netter with 30 seconds to go.
Heading into the game, Vegas now has a -130 edge to win the series. My personal feeling even before Game 1 is that Vegas' depth gives it a large advantage at 5-on-5 that I would imagine the Knights will continue to hold throughout the series, but we haven't seen Edmonton's best yet. I wouldn't be surprised to see a feverish response on Saturday, and not just from one player.
6:30 p.m ET Sunday Headliner-ish: Toronto Maple Leafs vs Florida Panthers
The Toronto Maple Leafs are now officially in trouble, and Thursday night, it was a hot goaltender and a terrible two minutes that began the first period that sunk them. Toronto looked to be on the verge of a dominant night in the opening minutes of the first period thanks to quick tallies from Alex Kerfoot and Ryan O'Reilly, but suddenly, Sergei Bobrovsky turned the clock back to his former Vezina Trophy-winning form. A turnover by Timothy Liljegren in the defensive zone gave Anton Lundell a chance to bring Florida within one a few minutes later, but didn't seem overly concerning.
With an opportunity to stomp out any doubt of this game to begin the second period, the Leafs did the exact opposite, icing the puck off the opening draw, turning the puck over shortly after the second draw, and allowing Aleksander Barkov to equalize just 19 seconds into the second. Not even a minute later, an overfly-fancy breakout attempt by Auston Matthews was turned into a pretty passing play for Florida, giving it a quick lead that it would carry through to the buzzer thanks to continued excellent goaltending from Officer Bob.
Toronto has dominated the shot and chance totals in this series, leading to it still not being totally out of it both in the eyes of observers and the books. With that said, if you think the Leafs can do what they did in Tampa and steal two road games out of Florida, you'll find them at about +235 to win the series at the moment.
A factor to consider moving forward, though, is the loss of Matthew Knies, who was crunched and body-slammed by Sam Bennett in Game 2. The sequence, which did not lead to a penalty or post-supplementary discipline, takes him out of the series for the forseeable future.
Sunday Afternoon Matchup (3:30 p.m. ET): Carolina Hurricanes vs. New Jersey Devils
The state of this game is going to be pretty hard to judge from the current vantage point, as the Hurricanes and Devils play their Game 2 on Friday night, meaning this series could end up in a state of heavy tilt or deadlock by the time this game happens.
Game 1, for what it's worth, was all Hurricanes. Not only did they limit the Devils to 18 shots on goal with their typical stingy defence, their lack of finishing talent didn't come back to haunt them as the team scored by committee. Brett Pesce gave the Canes an early lead, and Seth Jarvis added insurance before the first period could close. Jesperi Kotkaniemi and Brady Skjei added two more for Carolina, and Jesper Fast topped it off with an empty-netter. Nathan Bastian scored New Jersey's lone goal.
Carolina enters the weekend as a -165 favourite in the series, but don't count the Devils out. It's not often that Carolina's support players can light a good team up for five goals, and the Devils are no slouches at controlling games. We'll see where the momentum lies after Game 2, before getting to Sunday.
Sunday Evening Matchup (9:30 p.m. ET): Dallas Stars vs. Seattle Kraken
The Dallas Stars learned their lesson after Game 1 in this series: Don't let one player do it all and score four goals. (Edmonton, you may want to take notes here). Joe Pavelski was unbelievable in Game 1, pulling out the proverbial rooster for four goals that weren't enough for his team to come out ahead in an overtime defeat at home. Thursday, however, was much kinder, as Pavelski still contributed, but was not as relied upon. Instead, it was Wyatt Johnston and Evgeni Dadonov who led the way in the beginnings of the second period, giving Dallas a buffer to work with. When Tye Kartye brought Seattle within one, Pavelski stepped in to score what eventually ended up being the game- winning goal, with Tyler Seguin and Jordan Eberle trading goals in the third to complete the formality.
The series moves on to Seattle, and while Game 2 wasn't what the underdog Kraken wanted, they're probably pretty happy to steal a home game and have the next two at Climate Pledge Arena. With that said, the Stars remain the full series favourites at -200, to the Kraken's +170.
Where to Watch HNIC Games
Want to tune into these games? Of course you do, that's why you're here. Worry not, we're here to help!
As always, the headliner games will be best watched by Canadians on the CBC. Canada's public broadcaster flexes its muscles by offering free hockey to all on Saturday night, in whatever way you wish to watch it – on their website, through their app, on your cable box, or even through the old school antenna.
For the rest of Sunday's games, you'll have to head elsewhere. Carolina/New Jersey will be on Sportsnet 1 and TVA Sports, and the late night Dallas/Seattle game will be on all Sportsnet channels and TVA Sports.
For those looking to stream the games, your best official bet would be Sportsnet Now, with the premium package required for non-local games. To learn more about Now and your other options, check out CSB's "How to watch the NHL in Canada" guide!
Saturday Night NHL Lines
Lots of action is available on all of these games come the weekend. Our friends at NorthStar Bets already have the main lines up – check them out below! You'll also find all sorts of spreads and props available when you click through.
| | | | |
| --- | --- | --- | --- |
| Home Team | NorthStar | Northstar | Away Team |
| Vegas Golden Knights | +105 | -125 | Edmonton Oilers |
| New Jersey Devils | -136 | +112 | Carolina Hurricanes |
| Florida Panthers | +110 | -130 | Toronto Maple Leafs |
| Seattle Kraken | +125 | -145 | Dallas Stars |
If you're looking for another book to bet at, we've also got you covered – check out our Best NHL Betting Sites guide for more info!