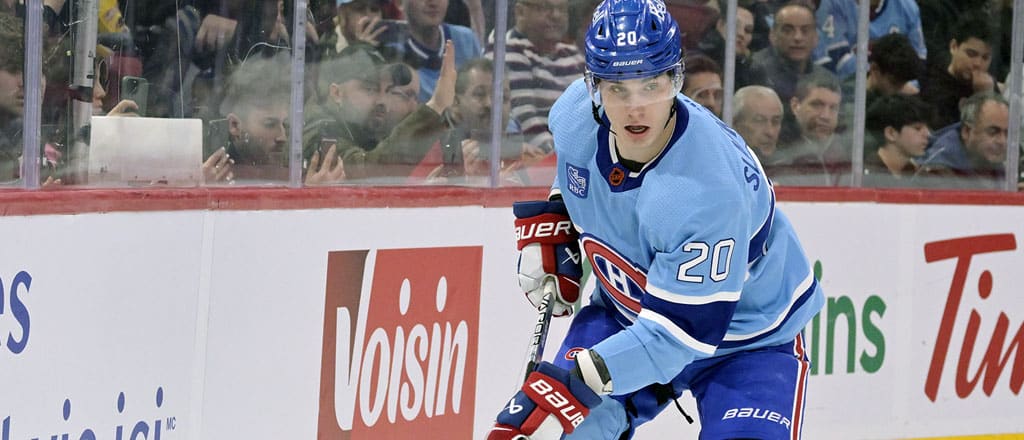 It's golden again! For those who didn't tune in last night, Team Canada brought home their second consecutive Gold Medal at the World Junior Hockey Championship, with Arizona Coyotes prospect Dylan Guenther scoring the golden goal to beat Czechia in overtime. It's a moment of celebration, and what better celebration than a whole lineup of Canadian National Hockey League teams hosting games on Hockey Night in Canada on Saturday? Let's break down what's ahead.
7:00 p.m ET HNIC Headliner: Detroit Red Wings vs. Toronto Maple Leafs
Uh oh, is that the sounds of a slump that I hear? The Toronto Maple Leafs are kind of feeling it right now, having lost three of their last four games with the last two including five or more goals against. The one win in the middle involved a robust, complete victory against the defending Stanley Cup Champions in the Colorado Avalanche. Look, I can't begin to make sense of this team either, but the point is they've lost to Arizona, St. Louis, and Seattle over the past week. Concern in particular mounts around Matt Murray and Ilya Samsonov, who after incredible starts to their seasons are now looking decidedly human. Samsonov has posted a .850 save percentage in his last four starts, and Murray a .871 in his last six. Not ideal, and while it's too early to declare either to be more than parallel slumps, there will be a point where this turns into an all-out issue.
For now, the Leafs look ahead to their headline game, against the Detroit Red Wings. While talk of Detroit being a dark horse has started to simmer down due to a six-game losing streak in early-mid December, the boys from Motown have won three of their last five games, picking up dubs against Tampa Bay, Pittsburgh, and Ottawa along the way with their losses coming to good teams in the streaking Buffalo Sabres and the very solid New Jersey Devils. Detroit will take on the Florida Panthers tonight to see if it can keep that momentum going, but it'll likely leave them a little gassed going into Saturday, which is something to keep in mind. In the two teams' last matchup on Nov. 28, the Maple Leafs came ahead with a 4-2 win.
10:00 p.m. HNIC Headliner: Colorado Avalanche vs. Edmonton Oilers
It's a Western Conference Final rematch for the late-night Headliner, with Connor McDavid and Leon Draisaitl of the Oilers taking on Cale Makar and Nathan MacKinnon and the Colorado Avalanche. Now, it still won't be at full strength – the Oilers are still without a few players including Evander Kane, and the Avs are still without their own chunk of talent, including captain Gabriel Landeskog. But the big stars are in, and just barely so, with MacKinnon returning from a month of missed time last week, having played three games since.
Those three games have… not gone well for the defending Cup champs, and it's beginning to show. They're losses three, four, and five in a losing streak going back to the return from Christmas break, including a 6-2 defeat to Toronto, a 3-2 loss to Vegas, and a 4-2 meltdown against Vancouver. That last game was the most jarring, as the Canucks went from looking dead in the water to in the lead with no looking back within just a two-and-a-half-minute span, setting several Colorado players visibly off at everyone from the officials, to their opponents, to even each other.
This is to say, it'll be interesting what kind of opponent they make for the Oilers. Are they going to be the good kind of angry that works towards a common goal, or are they going to have exploitable tunnel vision? Edmonton hasn't had much of its own momentum one way or another in recent months, struggling to string together a streak in either direction, but a stingy effort against the Islanders on Thursday likely has it feeling good heading into this one. A total crapshoot of emotion as far as picking a winner here, but it should make for highly entertaining hockey, even if just for those sweet McDavid on Makar matchups.
Evening Matchup (7:00 p.m.): Seattle Kraken vs. Ottawa Senators
Are the Ottawa Senators starting to roll? It sure feels that way. Parts of this have started to surface over the past month or so, but when you lay it all out and see a 12-5-2 record in their last 19 games, you begin to see the team that the organization thought they were getting this summer. More pertinent to this week, they've won four of their last five, including a shootout shocker against the Bruins. The end result, at least for the time being, is that the Sens are above .500 for the first time since Oct. 27.
They have a much tougher opponent than their last week's worth of rivals (Detroit, Buffalo, Columbus), however, when they roll in on Saturday. The Seattle Kraken may be Canada's unofficial hottest team, as an opponent who usually calls south of the border home. The second-year squad is in the midst of a Canada and Eastern U.S. road trip that started on Tuesday with a 5-2 win over the Oilers, continued on Thursday with a 5-1 win over the Maple Leafs, and will continue after this with games in Montreal, Buffalo, Boston, and Chicago. Team leading scorer Andre Burakovsky is cold at the moment but the likes of Matthew Beniers and Jared McCann are heating up, and netminder Martin Jones has been exactly below average enough to be good enough. I do think that the Sens, who split the season series last year, have a decent shot at this one though – the team is scoring, there's a confidence there, and I wouldn't be shocked to see Seattle play down to them and get caught off guard.
Evening Matchup (7:00 p.m.): St. Louis Blues vs. Montreal Canadiens
Last on the Saturday schedule, we get a game featuring a team that might not even really want to be there at this point. Montreal Canadiens coach Martin St. Louis says that he's not happy with any of his players right now, and that the confidence in the room is far from high right now. Looking at their record of late, that makes sense – the Habs have just one regulation win since Dec. 3, including seven consecutive losses.
To give a sense of how cold the Habs are right now, in that seven game stretch, their leading scorer is… Arber "Wifi" Xhekaj, a rookie defenceman who has four points in that stretch. Only three skaters have more than two points in that run, and only two (Cole Caufield and Josh Anderson) have multiple goals. In other words… it's bad, gang. It's real bad.
On the other hand, the St. Louis Blues have popped back above .500 recently and are picking up points left and right, only losing in regulation twice since December, and beating quality teams like Toronto, New Jersey, and Edmonton along the way. It goes without saying that they're going to be heavy favourites in this one, even with them being the road team. At the same time, all bad losing streaks have to end some day, so the Habs will be hoping that day is on Saturday.
Sunday, Sunday, Sunday
Right after a quadruple run of Canadian teams hosting on Saturday, comes three of them heading on the road on Sunday!
First, the only Canada-on-Canada matchup of the weekend features the Vancouver Canucks and Winnipeg Jets. Vancouver snapped a losing spell on Thursday with that aforementioned come-from-behind win that seemingly broke the Avalanche, while the Jets have won three in a row. The two teams have faced each other twice so far this year, and the Jets have come out ahead in both.
In the evening, the Calgary Flames take on the tanking… err… rebuilding Chicago Blackhawks and obviously go in as heavy favourites. They'll have Saturday off, but play tonight against the Islanders. That will dictate whether they come in with some momentum, or with two consecutive losses to fret over. Calgary hasn't had a distinctively strong record lately, but regulation losses have been few and far between since the start of December.
Lastly, the Leafs have another abnormally-scheduled matchup (by their standards) against the Flyers, with a rare Sunday night game. They've won both of their matchups against Philadelphia this year, coming out ahead by scores of 5-2 on Nov. 2 and 4-3 on Dec. 22, so expect them to be the favourites even though they'll be the road team with travel and a back to back considered.
Where to Watch HNIC Games
Want to tune into these games? Of course you do, that's why you're here. Worry not, we're here to help!
Hockey Night in Canada is back on CBC this week, which gives everyone their free options back. Be it antenna, basic cable, or the CBC website, you'll have no issue watching the headliners that way as long as you live in Canada.
For the other Saturday games, you'll catch Seattle/Ottawa on Sportsnet 1 in English, or TVA Sports 2 in French. For St. Louis/Montreal, you'll head to Sportsnet East or CITY TV for the English feed, or the main TVA Sports channel for French.
On Sunday, you can catch Canucks/Jets on TSN3 (Winnipeg) or Sportsnet Pacific (Vancouver) along with TVA Sports for the French feed. Calgary/Chicago will be on Sportsnet West, and Toronto/Philadelphia will be on TSN4 (Toronto). Lastly, you can use Sportsnet Now Premium to stream the games through NHL Live (more on that in our How to Watch the NHL guide).
Saturday Night NHL Lines
Lots of action is available on all of these games come the weekend. Our friends at NorthStar Bets already have the main lines up – check them out below! You'll also find all sorts of spreads and props available when you click through.
If you're looking for another book to bet at, we've also got you covered – check out our Best NHL Betting Sites guide for more info!