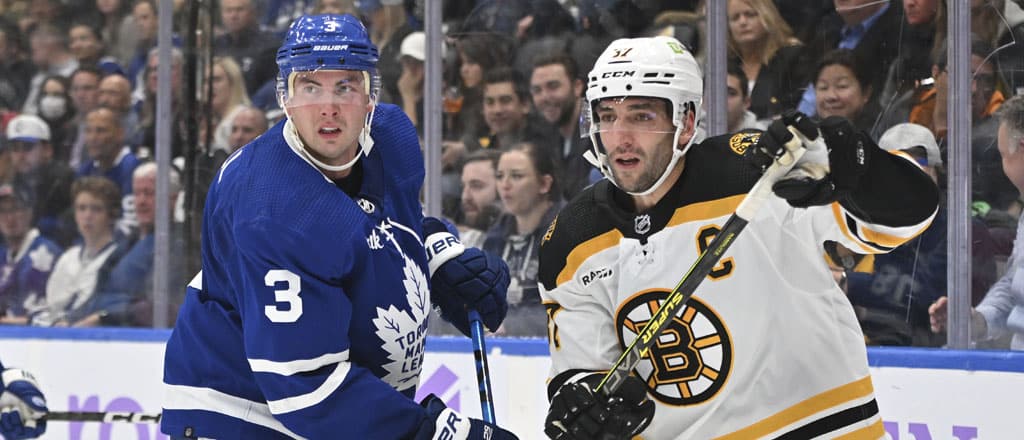 Saturday is approaching, and with it comes Hockey Night in Canada, and yet every National Hockey League arena in the country is preparing to have their lights off. That doesn't mean we're without Canadian NHL action, though – there's actually a whole bunch of games to choose from! They're just… all on the road. Yep, it's another one of those weekends, and we're here with you to break down all nine options that you have this weekend..
7:00 p.m ET HNIC Headliner: Toronto Maple Leafs @ Boston Bruins
It's every Leafs fan's PTSD-inducing battle, and this time, it's goliath vs. slightly smaller goliath like it's never been before, at least in the modern era. The Maple Leafs are on a spectacular right now, stumbling against Detroit on Thursday but otherwise posting an 18-5-4 record over the past two months on the calendar. Surely, that would be enough to lead the Atlantic Division, right? Not when the Bruins are posting a 20-3-4 record at the same time. Working in Toronto's favour is that Boston did also suffer a very rare regulation loss on Thursday, falling 3-0 to the Seattle Kraken, so both teams come in hot but humbled.
So far this year, the two juggernauts have only faced each other once. Auston Matthews scored both of Toronto's tallies, while Brad Marchand converted on a penalty shot in between, ultimately leaving Toronto with a 2-1 result. What could make this really interesting is Matthews' health status, as he missed each of the Leafs' last two games due to injury maintenance and illness. Even without his performance in the previous game, just the idea of losing your best player ahead of a battle of superstar depth must keep a team on its toes. Another interesting battle in this one will be between two long-time friends in Boston's David Pastrnak (32G 26A in 41 GP) and William Nylander (22G 25A in 43 GP), who have both had breakout years.
10:00 p.m. HNIC Headliner: Edmonton Oilers @ Vegas Golden Knights
The Edmonton Oilers are hugging the West Coast right now, doing their southwest US tour of the Pacific Division, wrapping it up against Vegas on Saturday. So far, it's gone okay for them, with a 6-3 loss to kick off the trip against Los Angeles and a 6-2 win over Anaheim on Wednesday that saw Connor McDavid go full Supernova. They actually have one more stop before this game, taking on San Jose tonight in a 10:30 PM (EST) matchup, which could be the tone-setter heading into this one.
Everyone knows that Edmonton's end will be the McDavid/Drasaitl show, but what about Vegas? Well, they've been back in contending form this season, posting a very respectable 28-13-2 record, including a 6-2-1 stretch in their past nine. Scoring has come by committee, with Chandler Stephenson and Mark Stone playing strong two-way hockey whist just under the point-per-game range, while Jack Eichel looks to catch up on missed time and get back into the league-wide scoring race. Their unproven goaltending duo of Logan Thompson and Adin Hill has proven to be surprisingly successful this year as well. Unfortunately for Vegas, it was announced this afternoon that Stone is week-to-week with an injury, which tilts the scales a little more towards Edmonton's favour.
The Oilers and Golden Knights have faced each other once so far this season, an evening matchup on November 19th that ended with who else but McDavid scoring in overtime.
Afternoon Matchup (2:00 p.m.): Calgary Flames @ Dallas Stars
It's a rematch of one of the most entertaining series of last year's playoffs, as the Calgary Flames take on the Dallas Stars in our lone matinee. The two teams have taken some pretty different courses since. In Calgary's case, we more or less know the story by now. Johnny Gaudreau left, Matthew Tkachuk asked to leave, and the two superstar wingers and their cap space were parlayed into Jonathan Huberdeau, MacKenzie Weegar, and Nazem Kadri. So far this has gone okay – none of the three have put up the higher-end offensive results that they did last year, but the forwards have been among Calgary's top producers and Weegar has been steady in his own end, as he usually is. Beneath them, not-quite rookie Adam Ruzicka is having a respectable first full season, and 25-year-old Walker Duehr scored his first NHL goal on Thursday. Jacob Markstrom has had a down year between the pipes, but Daniel Vladar has stepped up. The end result.. the Flames are fine. Figuring it out, if you will, keeping themselves in the Wildcard race.
Dallas, on the other hand, stayed the course on a team that felt like it was in the mid-zone, and it's paid off quite nicely. 23-year-old winger Jason Robertson is having an MVP-calibre season, already putting up 29 goals and as many assists in 43 games, building on an already great sophomore season. The team bet hard on Roope Hintz, and he's continued his breakthrough. Joe Pavelski is aging like fine wine, and even Jamie Benn and Tyler Seguin are producing again. Jake Oettinger, undoubtedly the star of the series between these two teams, is living up to his hype as a potential franchise goalie, posting a 0.924 save percentage through 32 games. This staying of the course has paid off big, as Dallas sits atop of the Central division.
Nevertheless, I expect this to be a pretty tight game. If I were to look at something action-wise in this one, it would probably be aimed towards Robertson, who's had a couple pointless nights lately but isn't one to do that frequently, especially this season.
Evening Matchup (7:00 p.m.): Ottawa Senators @ Colorado Avalanche
It looks like the Ottawa Senators are going to settle down this year at "okay", after all the ups and downs. They've found ways to be fun and exciting and occasionally masking of their flaws, but don't seem likely to catch serious enough fire to get seriously involved in the playoff mix. No matter though, we're living in the now, and the now is a chance to follow up a 5-3 win against the Arizona Coyotes with another against the Colorado Avalanche.
Now, you might say, the defending champions are a different beast than the tanking Coyotes. On the surface, you're correct, but there's more than that. Firstly, no one told the Coyotes this, because they're up on the Avs in the season series. More importantly, though, Colorado continues to not look like themselves. We talked about this a fair bit last week, and while Colorado did win their game against the Oilers last Saturday, they've dropped two since to the under-performing Panthers and bottomed-out Blackhawks. For those keeping score, it's been nearly a month since the Avalanche last won a game in regulation. Injuries continue to plague the team, and they're underperforming their own shot quality by quite a lot at the moment. This means that they will likely catch a groove again at some point soon, but until they do, teams that don't give them room to create have a good shot at keeping them at bay. Ottawa at their best can be one of those teams, so don't count them out.
Evening Matchup (7:00 p.m.): Montreal Canadiens @ New York Islanders
After a solid month or so that felt a lot like rock bottom, things are feeling pretty good for the Montreal Canadiens this past week. Last Saturday saw them take a hard-earned two points against St. Louis, and while a Monday loss to Seattle could've taken away from the week in a hurry, Thursday was the kind of morale-boosting win the whole organization needed. The night saw the team honour PK Subban, one of their most electrifying talents in the modern era, with a ceremony before they took the team he played for following them, the Nashville Predators. The team stepped up and made the night count, giving up the opening goal but tying the game three minutes later and never looking back from there. Cole Caufield, who is on a tear at the moment, secured the win with two powerplay goals.
The Habs will try to carry this momentum into a back-to-back in New York, starting off with the Islanders. The Long Island group is in a bit of a rut right now, helped by two Canadian teams. Starting with losses to Edmonton and Calgary, the Islanders have now lost four in a row, putting their playoff hopes not quite out of reach, but somewhat in jeopardy. Ilya Sorokin, who is having a Vezina-type season between the pipes, can only do so much for them, as the team is currently on pace to have no one hit the 30-goal plateau at the end of the year. I think there's a good opportunity here for the Canadiens to play underdog spoiler here, though we'll see how they fare at MSG the following day (more on that later).
Evening Matchup (7:00 p.m.): Vancouver Canucks @ Florida Panthers
Lastly, we have another edition of the Roberto Luongo Bowl (TM), also known as the Canucks taking on the Panthers. The Canucks, who didn't play last Saturday, feel like a total mess right now, with six regulation losses in their last seven games, only defeating the slumping Avalanche (a win that, at the start of the year, would've presumably felt pretty good). But that barely scratches the surface on the mess that's going on in Vancouver right now. Oliver Ekman-Larsson, the team's $7.26 million veteran defenceman, was healthy scratched on Thursday night, reflecting yet another year since his acquisition that hasn't come close to management's expectations. Yesterday also came with the news that Tanner Pearson would miss the rest of the year to get surgery done on his hand, after months of the team just telling him to wait it out, something that Canucks star Quinn Hughes actually called out after last night's game.
So yeah, things aren't going great in Vancouver right now. Dysfunction seems to be getting worse by the hour, and if the result is going to be a nosedive in the standings, they've still got a while to get to get into proper Connor Bedard territory. For the contingent of the organization that's trying to win now (which I assume includes the players, the coaching staff, and ownership), the good news is that the Presidents Trophy-defending Panthers don't look as good as they did last year, posting a record of 7-11-0 since December 4th. They do have a win over the past week, but like the Canucks, it was a close one against the Avalanche. If nothing else, this game features two fantastic producers in Vancouver's Elias Pettersson and Florida's Matthew Tkachuk, both of whom are chugging along at 100+ point clips at the halfway point.
Sunday, Sunday, Sunday
Three games populate the Sunday schedule, including the only one that's actually being played in Canada. For the other two, we'll see teams go from one road rink to another.
In Montreal's case, it's not so bad. They'll have to go from Long Island to Manhattan, from the Islanders to the Rangers. The latter opponent is also likely their tougher match, especially of late. Since November 30th, the Broadway Blue are 13-2-2, most recently tying a 1-0 game in the literal last second of the third period and winning in overtime against Dallas on Saturday. Artemi Panarin and Mika Zibanejad aren't producing at their absolute zenith but are picking up the pace, and Adam Fox is inching back towards his Norris Trophy winning form. Needless to say, even with barely-existent travel, they're heavy underdogs in their 5:00 PM late-afternoon battle.
The Vancouver Canucks will take on the Carolina Hurricanes to wrap up the southern bend of their road trip. This is a similar situation – a struggling team taking on one that's found a lot of success this year. The Hurricanes are a bit of a weird case, though, as they followed an 11-game winning streak up with four consecutive losses. Carolina are an interesting team, near the top of the standings with no point-per-game players, and only two particularly close – Martin Necas, with 39 in 41 games, and Sebastian Aho, with 33 in 34. Stingy defence is the name of their game and they'll try to keep this a low scoring affair, and meet a perfect match in a tired opponent.
Lastly, the Winnipeg Jets play their only game of the weekend, to a Canada Life Centre that was once the undersized rink of the NHL, but now feels gigantic compared to the one of their opponents. Yes, they take on the Arizona Coyotes, their once-wases. The Jets remain streaky but hanging in their in the standings, winning six of their last seven. While this column has been a tribute to Connor Hellebuyck over the past few months, a new star has emerged in Nikolaj Ehlers, who since returning from an injury that kept him out for a month and a half has posted seven points in his first four games back. Needless to say, for those of you looking for individual players to bet on, he's going to be your hottest iron in the bucket. This should be a pretty easy game for the Jets, who also play tonight against Pittsburgh, especially with Arizona due to play in Minnesota the night before.
Where to Watch HNIC Games
Want to tune into these games? Of course you do, that's why you're here. Worry not, we're here to help!
As always, the headliner games will be best watched by Canadians on the CBC. Canada's public broadcaster flexes it's muscles by offering free hockey to all on Saturday night, in whatever way you wish to watch it – on their website, through their app, on your cable box, or even through the old school antenna.
For the rest of Saturday's games, you'll have to head elsewhere. For TV viewers, you'll find Calgary/Dallas on Sportsnet. Ottawa/Colorado will be on Sportsnet 1 in English and TVA Sports 2 in French. Montreal/Islanders can be found on Sportsnet East, TVA Sports, and the local CITY TV feed. Vancouver/Florida will also be on CITY TV in Vancouver, but primarily found on Sportsnet Pacific.
On Sunday, Montreal/Rangers is on TSN 2 (Montreal) or RDS for the French feed. Vancouver/Carolina returns the Canucks to Sportsnet Pacific, and Arizona/Winnipeg is on TSN 3 (Winnipeg, AKA TSN-Jets).
For those looking to stream the games, your best official bet would be Sportsnet Now, with the premium package required for non-local games. To learn more about Now and your other options, check out CSB's "How to watch the NHL in Canada" guide!
Saturday Night NHL Lines
Lots of action is available on all of these games come the weekend. Our friends at NorthStar Bets already have the main lines up – check them out below! You'll also find all sorts of spreads and props available when you click through.
If you're looking for another book to bet at, we've also got you covered – check out our Best NHL Betting Sites guide for more info!