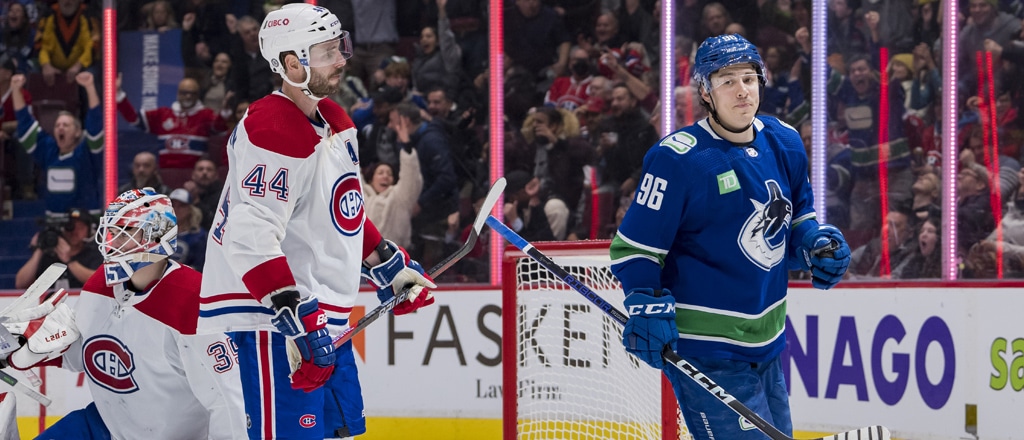 On two nights this past week, I uttered the same question to myself at least once, or twice, or maybe a couple of dozen times. I don't know, it's hard to keep track. Anyway, that question was: "Why do I keep staying up to watch this team?" As many of you know, despite the East Coast Biased residence, I've been watching as many Vancouver Canucks games as possible for nearly as long as I'd do the same for the Toronto Maple Leafs. I have a hard time describing my relationship with both today with the same tone of fandom as I did in my youth, but like a bad cold, I can't shake the urge to tune into either of them if the opportunity arises.
With Vancouver, it's even more frustrating, as it navigates hockey's purgatory with a no-plan plan that is neither a rebuild or a true all-in effort to go for it. Puck drops are also nearly three hours later, so when the team yo-yos between catastrophe and chaos, it brings you closer to the edge of insanity, particularly when overtime brings you into a deep dusk.
This is all to say, I'm looking forward to doing it all again on Saturday, with you, as we navigate through Hockey Night in Canada and a lesser, but still potent, schedule of National Hockey League CanCon for the weekend. Let's break it all down!
7:00 p.m. ET HNIC Headliner: Calgary Flames @ Toronto Maple Leafs
You know who's riding hot right now? The Toronto Maple Leafs! Yes, the Blue and White, masters of the centre of the universe, are on an absolute heater, posting a 10-0-3 record over their last 13 games. Incredibly, while this has vaulted them to the third-best record in the NHL, it has gained them no ground in the Atlantic Division, as the Boston Bruins are a total-matching 11-1-1 in the same span of time. That's a shame for maximizing playoff seeding, though in the long run, you're always going to be happier that you got those points than that you didn't.
This run for Toronto comes despite several injuries to its blue line, including Morgan Rielly, Jake Muzzin, TJ Brodie, and Jordie Benn. Thankfully for the Buds, Brodie returned for Thursday's 5-0 win over Los Angeles, but they could lose two forwards coming out of that game. Nick Robertson's above spill amidst a battle with Nic Roy took him out of the game, and head coach Sheldon Keefe suggests that Robertson will miss a "significant" amount of time. It also wouldn't be a shock if Pierre Engvall misses some time for a high stick which, while not intentional-looking, is likely a little too dangerous to avoid the ire of Player Safety.
This will mean for a pretty trim lineup when they take on their opponents in the HNIC Headliner, the Calgary Flames. Calgary has been pretty hot too over the past week and change, winning four of its last five to put some room between itself and .500. But the Flames won't be rested coming into Saturday, as they'll be visiting Columbus tonight to play the Blue Jackets. With that being a pretty emotional game as they face Johnny Gaudreau for the first time since he left in free agency, expect a pretty tired bunch rolling into Toronto. What that means for the game is no guarantee, but typically, the combination of a lesser team, a second half of a back to back, and road travel means a pretty steep underdog. I'd expect the Leafs to keep rolling here, but only time will tell if that materializes.
10:00 p.m. ET HNIC Headliner: Minnesota Wild @ Vancouver Canucks
So back to my love-hate relationship with the Vancouver Canucks. Their last two games can only be described as bananas. On Monday, Vancouver fell behind 4-0 to Montreal in the first period, only to crawl all the way back and come up ahead by the midway point of the third. The Canucks did this, only to fall behind 6-5 with three minutes remaining … only to tie the game once more with 1:25 remaining via an Andrei Kuzmenko power play goal and have Elias Pettersson seal the 7-6 victory in overtime.
Two days later, they fell behind 1-0 to San Jose on the first shift, only to go up 3-1, blow that lead, go up again, fall behind again, and in the final minutes, not a word of lie, Kuzmenko tied it up on the power play again and Pettersson went on to win the game in overtime again. Vancouver has now won eight of its last 11 games, climbed all the way back to .500 for the first time this season, and has done this despite a 42% expected goal share and negative actual goal share at 5-on-5 over the course of that streak.
So, if you're going to ask whether or not I like them against the Minnesota Wild in our second headliner? Well, on one hand, Minnesota has won four of its last five, but like Vancouver, there's a healthy dose of overtime involved in that. They Wild also take on the Edmonton Oilers on Friday night, and then travel into Vancouver, which puts them at a disadvantage. But when every Canucks game is chaos, all bets are off. Expect anything in this one, though I will say – if Vancouver pulls off the 50-something minutes of affront hockey followed by a Kuzmenko PP equalizer and a Pettersson OT winner for a third consecutive game, I'm putting money on them winning the Cup, because sanity and rationality will no longer matter.
Afternoon Matchup (1:30 p.m. ET): Ottawa Senators @ Nashville Predators
Before HNIC kicks off, fans will get their first taste of Canadian NHL action in the early afternoon, when the Sens take on the Nashville Predators. The big news for Ottawa heading into this game, in a lot of ways, remains off the ice. The negative component of that news surrounds Alex Formenton, who has now breezed past the cutoff to sign as a restricted free agent and will not play in the NHL this year. While Senators management has done its best to keep an illusion of a hockey process going here, most speculation points to the ongoing investigation into Team Canada's players at the 2018 World Juniors and their involvement into a sexual assault accusation, an investigation in which Formenton is co-operating with.
On the more positive end, Ottawa writer Bruce Garrioch is reporting that Hamilton Bulldogs owner and Montreal Canadiens part-owner Michael Andlauer is getting a little bit more serious about his preparations to bid on the for-sale franchise. Garrioch has also reported outside of his Sun column that Ryan Reynolds' interest in being part of an ownership group is serious to the point that the NHL is encouraging any bidding party to include him. Needless to say, I think there's a lot of fans across the league who would be down with that actually coming to fruition.
Back on the ice, the Sens are yet another Canadian team on a good run of games with points, posting a 4-2-1 record over their past seven games. It's not an amazing, brag-worthy run, but for a team sitting in 27th place after high expectations, I'm sure they'll take what they can get.
Nashville, a team that scores by committee with no point-per-game skaters, has also stitched together a solid run of late, following up a 5-8-1 start with a 7-1-1 tear that was broken up by a loss to the Tampa Bay Lightning on Thursday night. I'm curious to see who the Predators go with in net against Ottawa – Juuse Saros has been one of the league's top netminders in the past couple of seasons, but Kevin Lankinen's .934 save percentage on the season implies a hotter hand. I could see Nashville going to Lankinen for this one, because while his bubble could burst, there is less risk involved when dropped points might be handed to an out-of-conference opponent, rather than a divisional one like their game against St. Louis that will follow.
Evening Matchup (7:00 p.m. ET): Los Angeles Kings @ Montreal Canadiens
Last, but not least, in our Saturday night portfolio is your alternative option if you're not interested in the Canada-on-Canada battle going on at Scotiabank Arena. The Habs come into their Saturday game with four days' rest, after a back-to-back in Cascadia. Monday saw them on the worse end of that crazy 7-6 overtime game against the Canucks. To their credit, they responded well the following night against a Seattle Kraken team that they would have received little criticism for falling to. In a fashion that felt perfectly scripted, Seattle first-round pick Shane Wright scored his first NHL goal in the first period to make it a 1-1 game through 20 minutes. Wright, who was expected to be drafted by Montreal first overall this summer, has been used sparingly by the Kraken, and even spent a conditioning stint in Coachella Valley to regain confidence, so for him to tally his first in Seattle's 26th game was all too perfect. Nevertheless, Montreal went on a three-goal run in the second period and unlike the Canucks game, was able to hold steady.
They've since returned home, and hope to disrupt another team's cross-continental road trip. The Los Angeles Kings are in the midst of a nine-day, six-game run that also sends them through Ottawa, Toronto, Columbus, Buffalo, and Boston. So far, they've split the first two of those games, winning 5-2 to Ottawa before getting routed 5-0 by Toronto on Thursday. Los Angeles' top scorers are both effectively newcomers, with points leader Kevin Fiala (nine goals and 21 assists in 29 games) coming in this year via trade, while goals leader Gabriel Vilardi (13 in 28 games) played about a third of last season's games.
Sunday, Sunday, Sunday
Just one game involving a Canadian team sits on the Sunday agenda, which sees the Winnipeg Jets take on the Washington Capitals. The Jets have finally given Connor Hellebuyck some goal support over the past two weeks – a 5-2 win over the St. Louis Blues on Thursday marked the sixth time in the last seven games where Winnipeg has scored at least five goals, all of which ended up as wins. This now puts the team at a surprising 17-7-1 record – combine that with a +21 goal differential and it might be time to elevate this group from "starting off hot" to "going to play in the spring" territory.
The same can't really be said for the Washington Capitals, who will try to climb above .500 for the first time since Nov. 1 tonight before they take on Winnipeg on Sunday. To their credit, though, Alex Ovechkin keeps putting history-chasing pucks in the net, and they do have points in six of their last eight games. All the same, it's starting to inch closer and closer to midnight for this Washington core, particularly with a lot of competitive teams left in the Metropolitan division. For now, though, these are two teams in good form that should provide a lot of action.
Where to Watch HNIC Games
Want to tune into these games? Of course you do, that's why you're here. Worry not, we're here to help!
If you're in Canada, the best bet to watch the headline games, obviously, is the CBC. Watching through them can be achieved in a few easy and free ways – fire up your antenna, check your TV package, or even just go on the CBC web page just before puck drop and fire up the action.
For the secondary games, you'll find Ottawa/Nashville on TSN5 (Ottawa) for the English feed, or TVA Sports for French. If you're looking to watch the Los Angeles/Montreal game, you'll head to Sportsnet East or CITY TV for English, or TVA for French. On Sunday, to catch the Jets, you'll want to be in Winnipeg – TSN3 is the way to go. Lastly, if you're looking to stream the games, NHL Live via Sportsnet Now is your go-to in order to watch online in a legal fashion in Canada.
Saturday Night NHL Lines
Lots of action is available on all of these games come the weekend. Our friends at NorthStar Bets already have the main lines up – check them out below! You'll also find all sorts of spreads and props available when you click through.
If you're looking for another book to bet at, we've also got you covered – check out our Best NHL Betting Sites guide for more info!