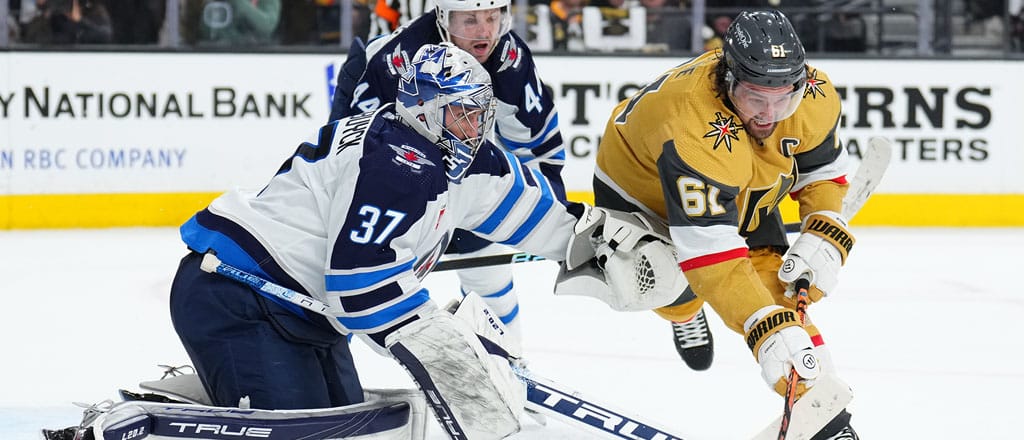 The Stanley Cup Playoffs are well underway, and while the first round has had its ups and downs, it's by and large been exciting. Few series to this point feel decisive, with even the ones that have 2-0 leads still showing signs of being in reach for the trailers. Normally, our look at Saturday night's Hockey Night in Canada festivities involves the seven Canadian teams, but with just three remaining and four overall games to be played, we'll look at the whole National Hockey League docket – with the two teams from the north getting priority, of course.
4:00 p.m ET HNIC Headliner: Golden Knights vs. Jets
After stealing home ice on Tuesday, the Winnipeg Jets had their momentum swung right back in their faces on Thursday. The raucous Vegas crowd had plenty to cheer about, as this game didn't immediately come to their favour, but delivered as it went. Adam Lowry struck first for Winnipeg on a Jets power play, but a Golden Knights push in the second began to show cracks in their opponent's armour. William Karlsson and Jack Eichel both beat Connor Hellebuyck, and while Kevin Stenlund tied it, it was all Vegas in the third, including a pair of goals from captain Mark Stone.
The good news for the Jets is that, as the low seed, they've split their opponent's home ice. The bad news is that they got it out of the way right away, and might not have the momentum coming home to Canada Life Centre. Big nights will be required from the likes of Mark Scheifele, Kyle Connor, and Blake Wheeler, who all went pointless Thursday.
Series odds courtesy of NorthStar Bets: Golden Knights -159, Jets +135.
7:00 p.m. HNIC Headliner: Maple Leafs vs. Lightning
After a tough loss for the Maple Leafs on Tuesday, Thursday night was probably Toronto's most necessary "response game" in recent memory. Thankfully for fans in Toronto, the Leafs got the memo loud and clear, coming back from a 7-3 defeat with a 7-2 thrashing of Tampa Bay. Mitch Marner put the Leafs on the scoreboard just 47 seconds in, and instead of sitting back satisfied, the Leafs kept their foot on the gas pedal. John Tavares and William Nylander each added their own goals before the period went out, and while Ian Cole capitalized on a counter-attack midway through the second, it didn't stop Toronto from adding three more in response.
The third period was sloppy, with a handful of fights, 10-minute misconducts, and even an argument between Tanner Jeannot and a fan in the stands. Tavares took advantage of the chaos by capping of his hat trick, giving the Leafs their first of the sort in playoff action since 2003. Rather than boos to end every period, these Leafs were met with standing ovations – though their memories must remain just as short, as this Saturday's game is going to be far from a cakewalk. Tampa has done this song and dance before and knows how to respond to tough losses better than just about anyone, and it'll have home ice in tow.
Series odds: Maple Leafs -148, Lightning +124.
Evening Matchup (8:00 p.m): Devils vs. Rangers
Speaking personally, I can't help but be a little surprised by how this series has gone so far. The New Jersey Devils, admittedly lacking some playoff experience in their core, felt like they had all the pieces in their lineup to go on a deep run. I even picked them to come out of the East, if the Atlantic's meat-grinder slowed the second round winner down enough.
Instead, it's the Rangers that have taken firm control of this series, including a 5-1 domination on Thursday. Erik Haula gave the Devils an early lead with a power-play goal, but from there, the Rangers went into cruise control. Igor Shesterkin was his elite self, Chris Kreider picked up two power-play goals, and deadline acquisitions Vladimir Tarasenko and Patrick Kane both found the back of the net. While the series doesn't move far away due to the teams' proximity, it does move into MSG, giving the Rangers all the momentum going home. I'd love to see the Devils come back, and at least to make this a series, but I'd be looking to the Rangers the rest of the way.
Series odds: Rangers -670, Devils +475
Evening Matchup (10:00 p.m.): Avalanche vs. Kraken
Credit where it's due – the Seattle Kraken have been arguably the most pleasant surprise in these playoffs so far. Even with Gabriel Landeskog out for the year in Colorado, the Avalanche remain heavy favourites to go far in these playoffs, but Seattle's speed and tenacity have kept it in the conversation. The Kraken stole Game 1 in a shocker, and for a while, it looked like they'd take Game 2 as well, going up 2-0 in the first period.
Colorado's elite blue line went to work from there, though. Nathan MacKinnon didn't even have to pick up a point in this one, as the likes of Cale Makar, Devon Toews, Bowen Byram and Sam Girard were the ones who filled the scoresheet with great puck movement, setting up Artturi Lehkonen and 2022 playoff hero Valeri Nichushkin in the second period for the equalizing pair, before Toews took care of things himself with seven minutes remaining in the third to give Colorado the lead.
Now, the series moves to Climate Pledge Arena for Seattle's first-ever home playoff game. We'll soon see if the Kraken are legit scrappy underdogs, or a team that just got a good couple days in.
Series odds: Avalanche -305, Kraken +245
Sunday, Sunday, Sunday
The rotation of games continues on Sunday, with the matchups you'll see tonight moving into their Game 4's. Those games will be:
Hurricanes vs. Islanders, 1:00 p.m. ET
Bruins vs. Panthers, 3:30 p.m. ET
Stars vs. Wild, 6:30 p.m. ET
Oilers vs. Kings, 9:00 p.m. ET
Obviously, with Game 3 of these respective series happening Friday night across the board, it's hard to set the scene for any of these matchups. We do know that Carolina will be ahead regardless of tonight's result, though whether it's 3-0 or 2-1 remains to be seen. The other series will have a new leader, with them all currently deadlocked at 1-1.
Where to Watch HNIC Games
Want to tune into these games? Of course you do, that's why you're here. Worry not, we're here to help!
As always, the headliner games will be best watched by Canadians on the CBC. Canada's public broadcaster flexes its muscles by offering free hockey to all on Saturday night, in whatever way you wish to watch it – on their website, through their app, on your cable box, or even through the old school antenna.
For the rest of Saturday's games, you'll have to head elsewhere. Devils/Rangers will be available on Sportsnet 1, CityTV, and TVA Sports 2. Avalanche/Kraken will be on all Sportsnet platforms and TVA Sports.
On Sunday, you can catch Oilers/Kings on CBC, in the evening. For the Early games, you'll want Sportsnet 360 for Hurricanes/Islanders, Sportsnet 1 for Bruins/Panthers, and Sportsnet Ontario, East, Pacific, or 360 for Stars/Wild. All four games will also be on TVA Sports for the French feed.
For those looking to stream the games, your best official bet would be Sportsnet Now, with the premium package required for non-local games. To learn more about Now and your other options, check out CSB's "How to watch the NHL in Canada" guide!
Weekend NHL Lines
Lots of action is available on all of these games come the weekend. Our friends at NorthStar Bets already have the main lines up – check them out below! You'll also find all sorts of spreads and props available when you click through.
| | | | |
| --- | --- | --- | --- |
| Home Team | NorthStar | Northstar | Away Team |
| Winnipeg Jets | -108 | -112 | Vegas Golden Knights |
| Tampa Bay Lightning | -104 | -118 | Toronto Maple Leafs |
| New York Rangers | -150 | +123 | New Jersey Devils |
| Seattle Kraken | +128 | -157 | Colorado Avalanche |
| New York Islanders | -129 | +106 | Carolina Hurricanes |
| Florida Panthers | +130 | -157 | Boston Bruins |
| Minnesota Wild | -117 | -105 | Dallas Stars |
| Los Angeles Kings | +132 | -162 | Edmonton Oielrs |
If you're looking for another book to bet at, we've also got you covered – check out our Best NHL Betting Sites guide for more info!