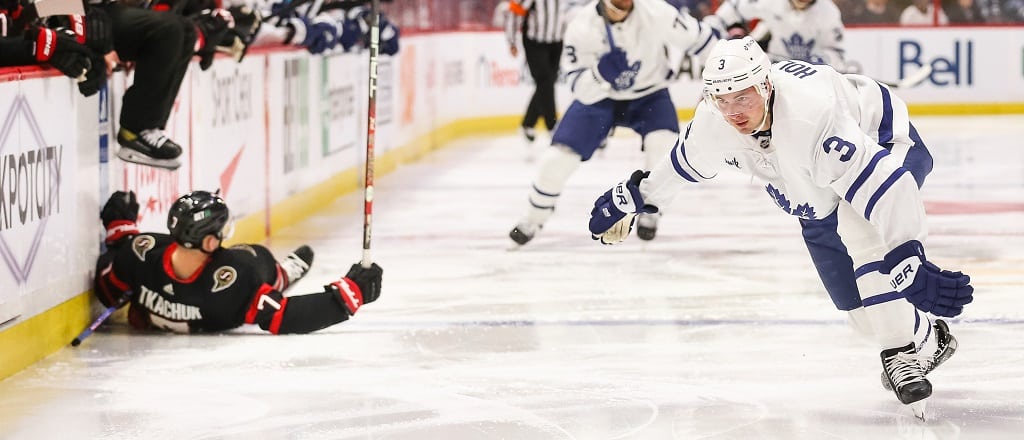 This weekend's Hockey Night in Canada might be on April Fool's Day, but we're not playing a prank – the schedule ahead is actually a bit on the lighter side, for once, with just the headliners and one extra game on the agenda for fans of Canadian National Hockey League teams. What the night lacks in quantity, though, it makes up for in quality, with a rivalry game, a potential barn burner, and a quality third wheel. Let's break them all down, shall we?
7:00 p.m ET HNIC Headliner: Toronto Maple Leafs vs. Ottawa Senators
The fourth and final edition of this season's Battle of Ontario headlines the evening, with the Leafs and Senators converging on Canadian Tire Centre. Toronto comes in with a 2-1 season series lead, but with one of those wins coming in a shootout, a regulation win for Ottawa would give the Leafs ultimate bragging rights.
That shootout win was in the most recent matchup, which also went down in Ottawa. In that game, the Leafs took an early lead but conceding two goals to Brady Tkachuk in the final 10 minutes of the third period, including one with 11 seconds remaining in regulation. The ensuing shooting went a whopping nine rounds, where Alex Kerfoot picked up the winner. Toronto comes into tomorrow looking to shake off a well-played but unsuccessful night against the Panthers, while Ottawa looks for its third win in a row as the Senators balance a distant chance at the second Wild Card spot with an opportunity to drop a couple lottery spots, and the presence of prospective ownership groups in the stands together.
Realistically, the first and third points compared with this classic rivalry will mean that they take this game extremely seriously, so Toronto better be prepared for a Sens team coming out in full force.
10:00 p.m. HNIC Headliner: Anaheim Ducks vs. Edmonton Oilers
The Oilers continue to roar towards the playoffs, with another dominant week. After losing in OT to the Golden Knights last Saturday, McDavid and pals won three in a row over the course of the week, defeating Arizona, getting revenge on Vegas, and shutting out Los Angeles. This leaves them with three wins in a row, points in their last nine, and a fresh month to work with after going an impressive 11-2-1 in March.
They get a weaker opponent on Saturday in the Anaheim Ducks, who aren't as bad as the start of the year looked but remain in the Bottom 3 of the league, including at the bottom in both regulation wins and goal differential. The Oilers face them two times in the next five days, which is conceivably good for individual production, though it should be noted that the Oilers are one of the small handful of teams that lost to Anaheim in regulation, in a 4-3 loss on Dec. 17. Because of that, this season series is tied, though it's very likely that if the Oilers take these games seriously, they'll take both tomorrow's and next week's affairs.
Evening Matchup (7:00 p.m.): Carolina Hurricanes vs. Montreal Canadiens
If the headliners don't interest you on Saturday, your lone Canadian option is in Montreal. The Habs will host the Carolina Hurricanes, who are looking to snap a losing skid. Despite their lead of the Metropolitan Division and their place near the top of the whole league, Carolina has lost thee in a row and four of its last five, with its lone win coming against Toronto last Saturday in a game that the Hurricanes didn't look all too great in. It's of little consequence with their playoff spot clinched, but still something they'd like to sneak out of.
On the Canadiens' end, they've had a wash of a week, pounding Columbus last Saturday, beating Buffalo in a shootout on Monday, and then losing to Philadelphia and Florida over the last pair of games. Yesterday's loss did come with a nice note, though, as 2020 4th-round pick Sean Farrell scored his first NHL goal on his first shot, beating Alex Lyon in what was ultimately a 5-2 defeat. Montreal doesn't have much of a window to move in the tank race, with only Arizona within five points of it in either direction, so fans can stress a little bit less about implications and start to enjoy the games for what they are, knowing that the team is more or less locked into 27th or 28th place.
Sunday, Sunday, Sunday
In a rare change of pace, there are actually more Canadian teams in action across more games on Sunday than there are on HNIC Saturday. This includes our Ontario combatants in double-headers. Things kick off with the Senators in Columbus as they take on the Blue Jackets, trying to shake what they can out of the Eastern Conference bottom feeders at 6:00 PM. At 7:00 PM, two options arise – the slumping Winnipeg Jets get to try to sort out their troubles against a towering New Jersey Devils roster, and the Leafs try to shake off the previous game's bumps and bruises when they host the Detroit Red Wings.
Come 8:00 PM, the west coast joins in on the fun. The Vancouver Canucks host the Los Angeles Kings in an effort to continue this downright counter-productive hot streak of there, and the Calgary Flames host the Anaheim Ducks as they make one last push for the wild card. Of these games, the Jets and Flames ones respectively have the most playoff implications – maybe the Ottawa game to an extent if the Sens beat Toronto on Saturday.
Where to Watch HNIC Games
Want to tune into these games? Of course you do, that's why you're here. Worry not, we're here to help!
As always, the headliner games will be best watched by Canadians on the CBC. Canada's public broadcaster flexes it's muscles by offering free hockey to all on Saturday night, in whatever way you wish to watch it – on their website, through their app, on your cable box, or even through the old school antenna.
For the rest of Saturday's games, you'll have to head elsewhere.
On Sunday, you can catch Ottawa/Columbus on TSN 5 (Ottawa), New Jersey/Winnipeg on TSN 3 (Winnipeg), Toronto/Detroit on Sportsnet Ontario, Los Angeles/Vancouver on Sportsnet Pacific, and Anaheim/Calgary on Sportsnet West.
For those looking to stream the games, your best official bet would be Sportsnet Now, with the premium package required for non-local games. To learn more about Now and your other options, check out CSB's "How to watch the NHL in Canada" guide!
Saturday Night NHL Lines
Lots of action is available on all of these games come the weekend. Our friends at NorthStar Bets already have the main lines up – check them out below! You'll also find all sorts of spreads and props available when you click through.
| | | | |
| --- | --- | --- | --- |
| Home Team | NorthStar | Northstar | Away Team |
| Montreal Canadiens | +225 | -286 | Carolina Hurricanes |
| Ottawa Senators | +125 | -152 | Toronto Maple Leafs |
| Edmonton Oilers | -455 | +335 | Anaheim Ducks |
| Columbus Blue Jackets | TBD | TBD | Ottawa Senators |
| Winnipeg Jets | TBD | TBD | New Jersey Devils |
| Toronto Maple Leafs | TBD | TBD | Detroit Red Wings |
| Vancouver Canucks | TBD | TBD | Los Angeles Kings |
| Calgary Flames | TBD | TBD | Anaheim Ducks |
If you're looking for another book to bet at, we've also got you covered – check out our Best NHL Betting Sites guide for more info!