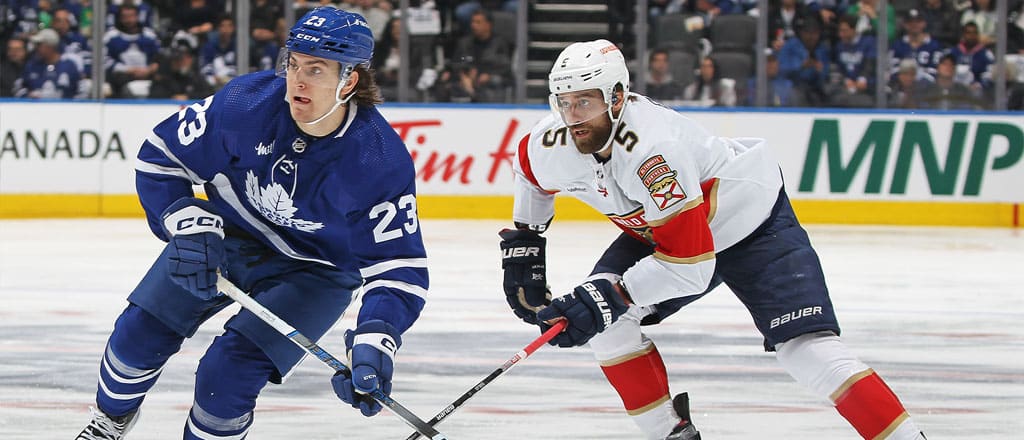 Toronto was abuzz with excitement on Tuesday as the city hosted a Maple Leafs second-round playoff game for the first time in nearly two decades, finally breaking through what felt like a diamond ceiling. The excitement was short-lived for the blue and white, however, as the Florida Panthers proved to be no slouches and took the first game of the series. Thursday night, the two teams embark on a key pivot game – do the Cats add insurance, or can the Buds equalize? Let's look at what's at stake, and some of the implications for you at the books.
Canada Sports Betting will be providing comprehensive betting previews for each game of this series, so check back over the next couple of weeks for all of the latest odds information and news! Coast to Coast will also run on my end every Friday down the stretch.
Maple Leafs vs. Panthers odds
All odds courtesy of

Previous Matchups
The theme of this game was chaos, which sounds weird for a game that didn't clear the total goals number, but really fits the trend. Neither team was great at having sustained control, but they still turned their spurts into goals. Toronto had two early opportunities to strike in the first period with penalties to Sam Bennett and Gustav Forsling, but capitalized on neither, affording Nick Cousins to open the series with a cleaned up rebound in front of the Toronto net.
Sam Bennett added to Florida's lead early in the second period, but Toronto took just nine seconds to respond to that goal with Matthew Knies' first-ever NHL tally. Michael Bunting tied the game six minutes later, but former Leafs draft pick Carter Verhaeghe scored his third of the postseason before the period closed. That would end up being the game winner, as Brandon Montour picked up insurance midway through the third and Toronto was unable to respond.
| Date | Home Team | Result | Total |
| --- | --- | --- | --- |
| May 2, 2023 | Toronto | 4-2 FLA (+1.5, +130) | 6.5 (under) |
| April 10, 2023 | Florida | 2-1 TOR (+1.5, +122) | 7.0 (under) |
| March 29, 2023 | Toronto | 3-2 FLA (+1.5, +158) | 7.0 (under) |
| March 23, 2023 | Florida | 6-2 TOR (+1.5, +113) | 7.0 (over) |
| January 17, 2023 | Toronto | 5-4 TOR (-1.5, -175) | 6.5 (over) |
Of note, this game was a much more open, fluid, and creative form of hockey than what we saw in the Tampa series. This could play to the Leafs' advantage in the long run as they have the high-end firepower that can play that game, but also comes with a bit of a readjustment curve after spending so long game planning for and executing against a slower, heavier Tampa team. For now, the Panthers look a lot less of an underdog than they were a week or two ago.
About the Maple Leafs (4-3, 3-4 ATS, 4-3 o/u)
Player(s) to watch: Mark Giordano & Erik Gustafsson
Specifically with this one, we're watching to see if Giordano draws in tonight. As much as the 39-year-old veteran is beloved in town and in the room, he struggled at times in the Tampa series and looked like the slowest man on the ice on Tuesday. The pace of this series, as alluded to previously, is going to be a lot faster and it might be in the Leafs' interest to pull him out for the stretch, or give him some time to rest with the schedule about to ease up.
Should they make this move, puck-moving defenceman Erik Gustafsson would almost definitely be the man coming in, and he could be a player to watch out for, both in terms of enjoying the game and in the books. The 31-year-old put up 42 points in 70 regular season games this year and can take power play reps on the second unit.
About the Panthers (5-3, 5-3 ATS, 5-3 o/u)
Player to watch: Brandon Montour
The focus going into Game 1 was on Matthew Tkachuk, and he certainly delivered with three assists and what felt like a million hits in 20:45 of ice time. But perhaps almost as important to the Panthers of late is the 29-year-old defenceman, who finally exploded into the booming offensive counter-attacker so many thought he had an opportunity to be. His skating and decision-making has gotten better with age, and right now, he's got the hottest stick on any blue line – going from no goals in 37 career playoff games prior to six in eight games, on just 27 shots. Will that last forever? Probably not, but the 73-point regular season he just had shows that he's got the instincts to match, so keep an eye on this trend while it persists.
Probable goaltenders
Maple Leafs: Ilya Samsonov (4-3, 3.29 GAA, 0.894 SV%) – confirmed.
Panthers: Sergei Bobrovsky (4-1, 3.58 GAA, 0.901 SV%) – confirmed
Noteworthy Absences
The Leafs are fine on the injury front, though we could see changes to their defence for performance reasons. Matt Murray is skating again and could assume the backup goaltender's seat at some point. For the Panthers, Ryan Lomberg is week-to-week with an upper-body injury suffered in Game 4.
Betting trends to watch
The road team is 4-0 in the past four meetings.
The underdog has won four consecutive games between the two teams this season.
William Nylander, who has struggled to produce lately, is still delivering on shots, averaging 4.8 per game over his last five. His line is 3.5 shots (-115).
Wagers to consider
If you're a believer in Toronto winning this series, this might be a good time to drop a bet on it. Losing Game 1 brings the Leafs down to -110, despite the books liking them more for tonight's game than Tuesday's.
We mentioned Montour above, and some might think that this streak dries up at some point, with goals in three consecutive games. He's -175 to record over 0.5 points and +125 to go pointless. If you think Toronto will adjust, there may be value in the latter.
There are a lot more blocked shots available than usual on bet365, so it might be worth poking around at those. The NHL's tracking of the stat is pretty subjective, but with many of the lines set at 1.5, the barrier to clear isn't overly high. Both Toronto and Florida have four defencemen apiece with posted betting lines on the prop.
Other NHL Games Tonight
There is one additional game on the NHL schedule tonight. Here's who we've got on tap: