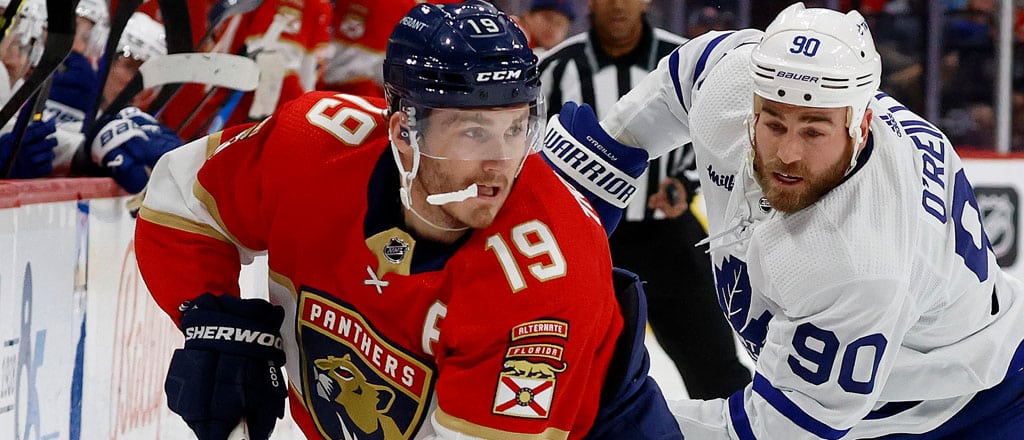 Tonight, one of these two NHL teams is going to do something they haven't done in a very long time – win a hockey game in the second round of the Stanley Cup Playoffs. For the Maple Leafs, who are back in the final eight for the first time since 2004, a victory would be their first second-round win to be broadcast in high definition. For the Panthers, who made it last year for the first time since 1996 but were swept by Tampa Bay, it would be their first since the Nintendo 64 was released. Yep, it's been a while, but both are eager combatants looking to get one step closer to Stanley Cup glory.
Canada Sports Betting will be providing comprehensive betting previews for each game of this series, so check back over the next couple of weeks for all of the latest odds information and news! Coast to Coast will also run on my end every Friday down the stretch.
Maple Leafs vs. Lightning odds
All odds courtesy of

Previous Matchups
The season series between these two opponents went pretty decidedly in Toronto's favour, with most of the games coming in the last six weeks. The Maple Leafs went 3-0-1 in the season series, and while only one of the games were won by a decisive margin, that one went in their favour.
The first matchup saw the Panthers take a one goal lead three times in the first period and extend it in the second, only for Toronto to score three unanswered to win in overtime with William Nylander leading the way. In their second matchup, the "Core Four" all put up multi point games. In this one, Toronto took it's second lead of the game in the second minute of the second period, and never looked back. A week later, Florida got a taste of revenge at Scotiabank Arena, tying up a close game with a minute to go and winning in overtime, but Toronto flipped the result in Game 80.
| Date | Home Team | Result | Total |
| --- | --- | --- | --- |
| April 10, 2023 | Florida | 2-1 TOR (+1.5, +122) | 7.0 (under) |
| March 29, 2023 | Toronto | 3-2 FLA (+1.5, +158) | 7.0 (under) |
| March 23, 2023 | Florida | 6-2 TOR (+1.5, +113) | 7.0 (over) |
| January 17, 2023 | Toronto | 5-4 TOR (-1.5, -175) | 6.5 (over) |
Needless to say, Florida was an easier opponent for Toronto during the season than Tampa Bay was, and Toronto was a tougher opponent for Florida than Boston was. How much does that matter now? Very little! The joys of the playoffs, am I right? Theoretically this should be an edge for Toronto, which is reflected in the books, but who knows if it is for sure.
About the Maple Leafs (4-2, 3-3 ATS, 4-2 o/u)
The buzz in the city of Toronto right now is something else, as if a curse were lifted. John Tavares breaking the team through their first-round wall with a thrilling Game 6 overtime winner will be looked back on as one of the great Leafs moments in recent history, and it takes a ton of pressure off the team. For the first time since this core returned to the playoffs in 2017, expectations are hopeful but pressure isn't overwhelming. The goal is still a Stanley Cup, but it's no longer "win the next game or people get fired".
I'm pretty optimistic for what can be done here with that monkey off of the entire organization's back. Toronto didn't exactly have total control of the Tampa Bay series – maybe the least controlling they've been in a first round matchup by the underlying shot numbers, though I wonder if that was semi-purposeful. Much was made of far-away screens and deflections being the way to beat Andrei Vasilevskiy, and taking advantage of that would be punishing to unblocked shot attempt, shots on goal, and expected goal numbers. I'd look for a more slot-based approach to play against the Panthers.
Player to watch: Michael Bunting
Returning from his three game suspension and one game bonus scratch on Saturday, Bunting didn't light up the scoresheet but looked engaged and like a positive contributor to play. This is a second chance for him to be an effective scoring pest and not someone who crosses the line, and with king of his kind Matthew Tkachuk on the other side, it's the redemption opportunity of all redemption opportunities.
About the Panthers (4-3, 4-3 ATS, 5-2 o/u)
The Panthers came into these playoffs significantly down from their Presidents Trophy form from the previous year, but finished he season with a 6-1-1 record in their last eight games to secure a playoff spot and shocked the world over these past two weeks. Despite a 42 point gap between them and the 65 win Boston Bruins, the Panthers played their opponents hard, fast, and heavy and came back from a 3-1 deficit to win the series.
Now, that's not to say they dominated. Like Toronto, Florida lost the shot attempt shots on goal, and scoring chance battles at 5-on-5, and unlike Toronto, they actually lost the goal battle, getting outscored 27-26 over the course of the series. But they found timely tallies, and took advantage of a team that showed signs of wearing down towards the end of the series. Despite Toronto's edge in the regular season, they have to know that their opponent is eager and confident and that this will not come easy.
Player to watch: Matthew Tkachuk
Like Paul Maurice said after his overtime goal in game 5, "that guy is a – and then you put a long string of profanity – gamer". Tkachuk has completely set the tone for the Panthers organization down the stretch and shown all the reason why Florida was willing to spare no expense in acquiring him from the Calgary Flames. As if the 109-point season wasn't enough, Tkachuk put up five goals and six assists in seven games against Boston and was the team's clear leader on and off the ice. His ability to produce, drive play, calm the ice down, and stir it up is like few others in hockey today, and he will likely be Florida's X-factor in this series. It's on Toronto to keep him under control, but also not get too distracted by him, lest they get met by the Panthers' other key players.
Probable goaltenders
Maple Leafs: Ilya Samsonov (4-2, 3.14 GAA, 0.900 SV%) – unconfirmed.
Panthers: Sergei Bobrovsky (3-1, 3.94 GAA, 0.891 SV%) – unconfirmed
Noteworthy Absences
The Leafs are fine on the injury front, though it's expected that Justin Holl will remain scratched in favour of Timothy Liljegren after a successful swap in Game 6 against Tampa. Matt Murray is skating again and could end up back in the backup goaltender's seat at some point. For the Panthers, Ryan Lomberg is week-to-week with an upper body injury suffered in Game 4.
Betting trends to watch
Toronto are 8-2 straight up in their last 10 games, and 7-3 against the puck line.
The Panthers are 5-5 straight up and against the puck line in their last 10, but 7-3 on the road and as an underdog.
The last three games in Toronto and Florida's season series saw the victor of the game also clear the puck line.
Wagers to consider
There are a couple interesting boosted bets tonight on Bet365. If you believe in an early Panthers upset, a win for them, over 5.5 total goals, and over 1.5 points for Matthew Tkachuk comes in at +450, up from +400. If you believe in a Leafs win, a victory for them combined with over 2.5 Mitch Marner shots and an assist gets you +260, up from +230.
Game 7 overtime hero Carter Verhaeghe will likely be feeling his hot stick, especially against the team that drafted him. His shot line is at 2.5 tonight; the over is -160, the under at +120.
Game 1 usually means more special teams as the refs try to "set tones", so powerplay points may be a direction to look. Matthew Tkachuk has the shortest line at +110, with Mitch Marner being the shortest in Toronto at +140. Some fun ones for longer shots include Aaron Ekblad (+425) and Michael Bunting (+575).
Other NHL Games Tonight
There is one additional game on the NHL schedule tonight. Here's who we've got on tap: