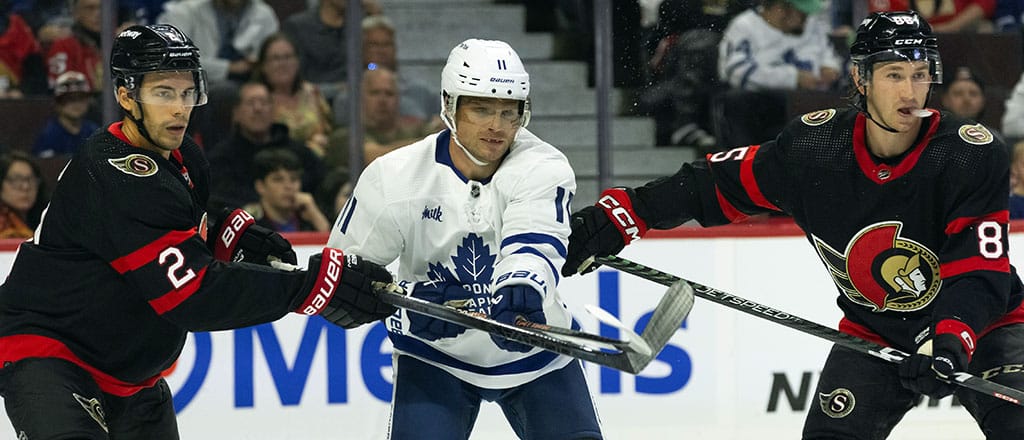 The Battle of Ontario is the battle of two roller coasters, as neither the Toronto Maple Leafs nor Ottawa Senators are quite as stable as the start-of-year hype originally had them hoping. For the Leafs, the contenders look merely pretty good, and for the Sens, the team that was hoping to look pretty good looks like they're on the outside looking in once again. Both teams want to put recent losing streaks aside and string together a little run, and what better time to really get that going than a rivalry night at Scotiabank Arena?
Bet on Senators vs. Maple Leafs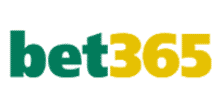 OTT +150
TOR -170
The Maple Leafs are the home favourites in this game, coming in at -170 on a straight-up bet.
Senators Vs. Maple Leafs
All odds courtesy of

About the Maple Leafs (6-4-2 SU, 4-8 ATS, 4-7-1 o/u)
For the Maple Leafs on Monday night, their game against the Lightning may as well have been the hockey distillation of the "It's Over / We're So Back" meme. Toronto was absolutely run over in the first period. Matthew Knies did give the Leafs an early lead with his third of the season, but the Lightning responded within 30 seconds with a goal of their own and just kept pouring it on from there, including two goals from Nikita Kucherov and a bonus tally from Brayden Point. Toronto looked disorganized and Ilya Samsonov looked lost between the pipes. Like the last time the Leafs faced Tampa, he was pulled before getting to the first intermission.
But also like the last time the Leafs faced Tampa, they found a way to come back. Auston Matthews scored two goals in three-and-a-half minutes in the second period, and in the third, Calle Jarnkrok tied the game less than two minutes in, and Mitch Marner channelled his inner 2010 Phil Kessel with a snapshot that pulled Toronto ahead just eight seconds after Jarnkrok's equalizer. The lead wasn't permanent, as Brandon Hagel clawed Tampa back with two-and-a-half minutes to go in regulation, but Jarnkrok played a hero's role once again by potting the game-winner in the first minute of overtime.
The game did little to calm the city's nerves about the team. Samsonov's struggles continue to be a concern, and the Core 4 had to do a lot of the work to get them there. But the fight back that the team showed was great, and it's always fun to rip victory from the jaws of defeat, especially when Tampa is on the other side.
About the Senators (4-6-0 SU, 6-4 ATS, 6-2-2 o/u)
The Senators have had a messy few weeks, to say the least. The team has lost five of its last six games, the fans are booing them out of their own building and chanting that they want head coach D.J. Smith fired, and the players are showing understanding but still a tinge of frustration at the spectacle.
In their defence, it's been a wild few weeks for the team off the ice as well, with Shane Pinto being suspended for half the season due to improper sports betting practices, the team being docked a first-round draft pick for how they handled a trade with Las Vegas involving Evgeni Dadonov, the ensuing Micheal Andlauer press conference that put the league on blast, and with general manager Pierre Dorion being fired for his role in the Dadonov situation. It's a lot for a team to have surrounding them, particularly with Andlauer just completing the purchase of the team as well, and the high expectations that the group had going into the season.
With all of this said, whether it's struggling to put all that aside or just struggling as a team, they've lost five of their last six games. They haven't been blown out in any, never losing by more than two, but they haven't been able to put a step up on their opponents since an early-season win streak got fans excited in October. The process metrics aren't very flattering either, with a score-adjusted shot attempt share of just 46.6%, good for 26th in the league, and a 43.1% expected goals share (29th).
With that said, they historically tend to give the Leafs a pretty good run for their money, and a stage like this against one of their few traditional rivals might be what's needed to shake things into rhythm.
Last Matchup
The Maple Leafs controlled the season series in 2022/23, winning three of four games, with the final win being a ho-hum, 3-0 effort at Canadian Tire Centre. The game gave little to offer in terms of penalties or significant scoring action, with almost everything you needed to know coming in the second period. Two of the three goal scorers are no longer with the blue and white – icebreaker Michael Bunting is now in Carolina and Radim Zohorna, a six-foot-six forward who spent most of his time with the Marlies, is now with the Penguins this year and picked up his only Toronto goal in this game. Wedged in the middle was William Nylander's 37th of the season. Samsonov put up a 31-save shutout, a sentence that feels beyond unfamiliar right now with the start that he's had.
Projected Lineups
Toronto Maple Leafs
OPPONENT TEAM
Forwards
Matthew Knies – Auston Matthews – Mitch Marner
Tyler Bertuzzi – John Tavares – William Nylander
Nick Robertson – Max Domi – Calle Jarnkrok
Noah Gregor – David Kampf – Ryan Reaves

Defence
Morgan Rielly – TJ Brodie
Mark Giordano – John Klingberg
William Lagesson – Simon Benoit

Starting In Goal
Joseph Woll (unconfirmed)
4-3-0, 0.930 SV%, 2.30 GAA
Forwards
Brady Tkachuk – Josh Norris – Drake Batherson
Mathieu Joseph – Tim Stutzle – Claude Giroux
Dominik Kubalik – Rourke Chartier – Vladimir Tarasenko
Parker Kelly – Roby Jarventie – Zack MacEwen

Defence
Jake Sanderson – Artem Zub
Jakob Chychrun – Jacob Bernard-Docker
Tyler Kleven – Travis Hamonic

Starting In Goal
Anton Forsberg (unconfirmed)
2-2-0, 0.863 SV%, 3.40 GAA
Both teams have a little bit of potential move meant in their blueliners depending on who returns from injury – we'll explain more below.
Toronto's lineup looked much better against Tampa with an actual trio of lines that they were able to play without fear, though the fourth line remains a burden that needs to be resolved sooner rather than later. On the Senators' end, their injury list is testing their depth, though there's still an impressive amount of firepower on the forward front, with sticks that need to be respected lying across the top 9.
Tyler Bertuzzi to score a goal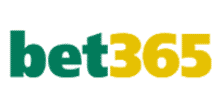 +210
Key Injuries
There's a decent chance that we see Jake McCabe return to the Leafs lineup tonight, which would mean a change from the above pairs. Most likely, William Lagesson will relinquish his spot. It would be a helpful reinforcement to a team that's taken a few knocks to its blue line.
On the Senators' end, they'll also likely be gaining back a defenceman with Artem Zub on track to be returning from an upper-body injury. With that said, they're pretty banged up beneath him. Thomas Chabot is still out with a fractured hand, Erik Brannstrom is out indefinitely with post-concussion symptoms, Ridly Greig was injured last week with a lower-body ailment, and Mark Kastelic suffered a high ankle sprain in the same game as Greig's injury.
Betting trends
The Leafs are 7-3 in their last 10 games against the Senators, but how much you'd earn from betting on them depends greatly on whether you went straight-up or on the puckline. If you just went for the win, you'd be up 3.36 units on a consistent bet for the buds. If you took them on the puckline, you'd be out 4.27 units, as the Senators tend to keep these games close.
The puckline has been a bad place to be in general for the Leafs of late – they've only beaten it twice in the past 10 games. You'd be out about 6.18 units at average value if you took the Toronto in those contests. You'd also be in rough shape if you took the total goals over – Monday's game was one of just two clearances in the last 10.
As rocky as Ottawa's road has been of late, the Senators have been friendlier to the goals over, hitting on six of their last 10. The big one for them, though, is the fact that they're 2-8 in their last 10 on the road – though they've kept those games pretty tight and stayed 6-4 on the puckline.
Player prop trends
Nylander keeps finding ways to keep his point streak alive, bagging an assist in overtime to extend to a dozen games on Tuesday. He's goalless in his last four but has found an assist in each instance.
Marner is starting to find his groove too, picking up a goal and three assists in both Saturday's loss to Buffalo and Monday's win over Tampa. This puts him on a seven-game point streak now, though for those who might be eyeing his shot props to match, he's only taken 11 in this run.
On Ottawa's end, Brady Tkachuk is feeling his shot right now, scoring four in his last three games and taking 22 shots on goal in that span. He's averaging 4.2 shots per game out of the gate.
Wagers to consider
Are you a Senators fan hoping for Tim Stutzle to have a big night tonight? Well, bet365 has a boosted Same Game Parlay for you. You can get Stutzle to score a goal, get an assist, and take over 2.5 shots for +700, up from +575. For what it's worth, he hasn't done this combination of things yet this season, though he did do it a dozen times last year.
On the flip side, the most interesting Toronto SGP has John Tavares and Nylander clearing 3.5 shots on goal, and the Leafs clearing 3.5 goals. Tavares has cleared the line in six of 12 games this year and only finished with fewer than three shots once. Nylander has cleared it seven times, and taken at least three shots all but twice.
I've got a feeling that we're going to see a response game from Tyler Bertuzzi soon. The underlying shot metrics still lie in his favour and the win on Monday likely takes a bit of pressure off of everybody. His key props tonight include an anytime goal (+210), clearing 0.5 points (+110), and clearing 1.5 shots (-180). If you're taking the Tavares/Nylander SGP I'd probably skip the shots here since that would require a lot of rubber to spread across the second line, but I think he'll be a factor.