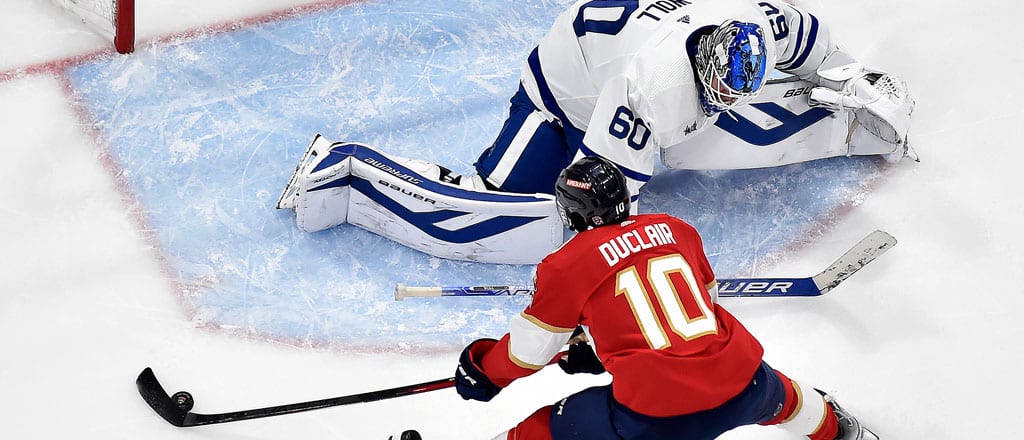 It took about a week for the jubilation of the Toronto Maple Leafs finally advancing to the second round of the playoffs to come crashing down to levels not even expected from first-round defeat. After hopes that getting over the hurdle would catapult them, the team now appears in danger of being swept by the Florida Panthers – and after an awful Game 3, one can't shrug it all off to fortune. Is there still a chance, or at least enough fight in the group to make this look less embarrassing if failure is destiny? We put in the effort that many in Blue and White didn't on Sunday, to get you best prepared for this game on Wednesday night. Let's dive in!
Canada Sports Betting will be providing comprehensive betting previews for each game of this series, so check back over the next couple of weeks for all of the latest odds information and news! Coast to Coast will also run on my end every Friday down the stretch.
Maple Leafs vs. Panthers odds
All odds courtesy of

Previous Matchups
Fans were anticipating the Maple Leafs would come out eager to bring this series within one, and they still almost did, but a big part of why it was "almost" was the lack of execution on the eager part. Toronto's fourth line came out to play with what was easily its best performance of the postseason, getting a quick reward via Sam Lafferty's first of the postseason, set up by David Kampf. But the rest of the team didn't look as eager to follow, as initially evidenced early in the second period.
Luke Schenn, caught chasing the play on a rush, dove to take away Carter Verhaeghe's rebound opportunity. He was successful in that, but he was also successful in taking a penalty for tripping the Florida winger, and in injuring his starting netminder. Ilya Samsonov left the game, and Joseph Woll got a rude welcome to the game with a power play breakaway to face from Anthony Duclair. That breakaway was successful, tying the game.
A fortunate bounce gave Erik Gustafsson his first of the playoffs, initiated by an excellent William Nylander pass. That lead was short-lived as well – five minutes later, a Radko Gudas point shot was deflected past Woll by Verhaeghe.
| Date | Home Team | Result | Total |
| --- | --- | --- | --- |
| May 7, 2023 | Florida | 3-2 FLA (+1.5, +128) | 6.5 (under) |
| May 4, 2023 | Toronto | 3-2 FLA (+1.5, +176) | 7.0 (under) |
| May 2, 2023 | Toronto | 4-2 FLA (+1.5, +130) | 6.5 (under) |
| April 10, 2023 | Florida | 2-1 TOR (+1.5, +122) | 7.0 (under) |
| March 29, 2023 | Toronto | 3-2 FLA (+1.5, +158) | 7.0 (under) |
| March 23, 2023 | Florida | 6-2 TOR (+1.5, +113) | 7.0 (over) |
| January 17, 2023 | Toronto | 5-4 TOR (-1.5, -175) | 6.5 (over) |
Florida continued to press, with many shocked to see the utter lack of life from much of the Leafs group, who were only outshot 24-21 but were far away from having serious pressure until late in the third period. This brought the game to overtime, where Sheldon Keefe made the curious decision to go with his Ryan O'Reilly speared shutdown third line to start overtime. While they did get the first offensive zone faceoff, it was wasted, and a string of icings began to cave the group in. Three minutes into overtime, a combination of that lackadaisical play and a lack of energy from the hemming led to a Sam Reinhart play where he was able to walk around just about every Leaf on the ice, dump the puck in, get it back behind the net and wrap it around Woll to win the game.
About the Maple Leafs (4-5, 3-6 ATS, 4-5 o/u)
Player(s) to watch: Auston Matthews & Mitch Marner
This is probably the single most important game of the dynamic duo atop the Core Four's career. The 2022 MVP and the 99-point Selke Trophy finalist were among the worst players on the ice for much of it, burning any doubt-benefit given to their poor puck luck in the opening two games. Yes, there's still a lot of puck luck that goes into them, John Tavares, and William Nylander going 0-for-42 across three games, the first time that's happened for this group since uniting in Toronto, but when plays die on your sticks and you get thoroughly outplayed by your matchups, frustration becomes anger.
These two need to step up in a big way. Weirdly, one can argue it should come in different ways – Marner needs to let the game come to him instead of forcing it, and Matthews needs to go into "F-You, I'm the man" mode. If one or both can execute, a win is achievable and maybe even more beyond tonight. If not, it's probably curtains – not just for this year, but maybe even for this core beyond it, which is crazy to think of given the elation just 11 days ago.
About the Panthers (7-3, 7-3 ATS, 5-5 o/u)
Player to watch: Sergei Bobrovsky
No matter what you say about Toronto's players, they are only one half of this series, and there has been no one more important to the other half than Bobrovsky. Across the three games so far, "The Officer" has stopped 91 of 97 shots, good for a .938 save percentage. Since Game 5 of Round 1, he's won six in a row and posted a .921 save percentage. We've seen efforts from the 34-year-old that we haven't seen in years – arguably his best two weeks as a Panther since signing his mammoth contract in 2019. He should be expecting the kitchen sink thrown at him tonight, so it's imperative that he keeps his form up.
Probable goaltenders
Maple Leafs: Joseph Woll (0-1, 3.85 GAA, 0.846 SV%) – confirmed.
Panthers: Sergei Bobrovsky (6-1, 3.13 GAA, 0.909 SV%) – confirmed
Noteworthy Absences
A self-inflicted injury by the Leafs defence has taken Ilya Samsonov out of the net for the immediate future, putting Toronto in an awkward place where Joseph Woll will have to play out his first career playoff start. Matt Murray will back him up. Matthew Knies was injured in Game 2 and remains out. Florida has no recent changes.
Betting trends to watch
Around 62% of the handle is currently on the Panthers tonight, according to our friends at Scores and Odds. I don't know if it's emotional hedging or people just feeling that the balloon has popped, but many are looking at Toronto still being the favourite and saying, "yeah, no thanks."
The Leafs have played under the total in five straight games. I suppose that becomes a lot easier when your team is committed to scoring exactly two goals every night.
Auston Matthews has not scored more than a point in five consecutive games, which means he's played under his 1.5 total points line in each of those games. His eight-game point streak came to an end on Sunday. Matthews is +140 to record two or more points, and -190 to score a point or less.
Wagers to consider
Do you believe in miracles? You can get the Leafs coming all the way back in the series for +600 right now if you think they'll do what hasn't been done since the 2014 Los Angeles pulled off a 3-0 comeback. If you're really crazy, the Leafs are +2200 to win the Stanley Cup.
I believe that the aforementioned Matthews is going to be hammering pucks in this one. He's taken 37 shots in nine games and his two on Sunday feels like an anomaly. I think he understands the moment and will look to crush it, so whether it works out or not, 4.5 shots at -125 feels like something he's likely to clear, as high as that line is.
The power play points lines are starting to become longer as penalties drop. Toronto had its first playoff game without a power play in its 105-year history on Sunday, and Florida only had two cracks. I'd reckon the whistles stay tight again tonight, so it might be worth checking the unders this time rather than the overs, but know that they won't be as fruitful as previous looks.
Other NHL Games Tonight
There is one additional game on the NHL schedule tonight. Here's who we've got on tap: