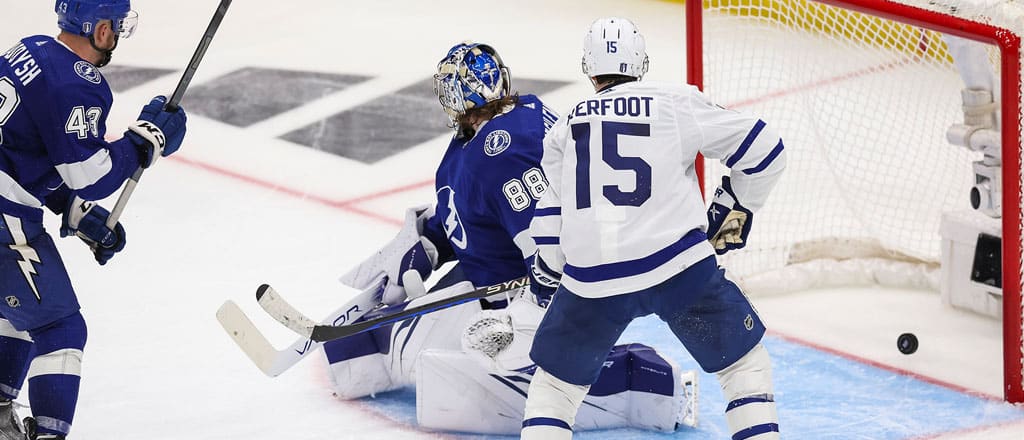 Is this finally it? For a lot of Toronto Maple Leafs, the current situation feels too good to be true, but you don't look a gift horse in the mouth. Heading back to Toronto for Game 5, the Leafs carry a 3-1 series lead and an opportunity to advance to the second round of the playoffs for the first time since 2004. The odds are certainly in their favour, but we've all seen the Tampa Bay Lightning's success in recent years, and we've also seen the Buds fumble a similar bag in the past. Can they put everyone's nerves to rest quickly and break through tonight? Let's take a look at what's at stake.
Canada Sports Betting will be providing comprehensive betting previews for each game of this series, so check back over the next couple of weeks for all of the latest odds information and news! Coast to Coast will also run on my end every Friday down the stretch.
Maple Leafs vs. Lightning odds
All odds courtesy of

Previous Matchups
This game was one of the biggest roller coasters of emotion in modern Maple Leafs history, and if they can get this series closed out, it'll be remembered as a major turning point in the team's recent misfortunes. But it didn't always feel that way – in fact, it led the fans down a dark path before arriving at it's destination.
Frankly, Toronto looked somewhere between "bad" and "terrible" to start this game, and the Leafs couldn't point at outside factors – it was within themselves, and it was obvious. Just under eight minutes in, after a sloppy start to their first power play, Morgan Rielly tripped Brandon Hagel to take away a breakaway and the result was a penalty shot. While Ilya Samsonov would save it, it was a sign of things to come, as the Leafs would continue to fumble their power play and take a penalty of their own shortly after. With William Nylander in the box, Alex Killorn capitalized with his first of the series, and before the end of the period, Mikhail Sergachev added another late-frame Lightning goal to give them some insurance. Noel Acciari redirected a Justin Holl shot early in the second period to close the gap, but that was the lone presence on the scoresheet for Toronto in the second while Steven Stamkos and, again in the final two minutes, Killorn added two more Tampa goals.
| Date | Home Team | Result | Total |
| --- | --- | --- | --- |
| April 24, 2023 | Tampa Bay | 5-4 TOR (+1.5, -106) | 6.5 (over) |
| April 22, 2023 | Tampa Bay | 4-3 TOR (-1.5, -115) | 6.5 (over) |
| April 20, 2023 | Toronto | 7-2 TOR (-1.5, -170) | 6.0 (over) |
| April 18, 2023 | Toronto | 7-3 TBL (+1.5, +140) | 6.0 (over) |
| April 11, 2023 | Tampa Bay | 4-3 TOR (+1.5, +182) | 6.5 (over) |
| Dec 20, 2022 | Toronto | 4-1 TOR (-1.5, -141) | 6.0 (under) |
| Dec 3, 2022 | Tampa Bay | 4-3 TBL (-1.5, -137) | 6.0 (over) |
The Leafs entered the third period down 4-1, with an incredibly frustrated fanbase in tow. But they had been getting a little more control of play with each minute, and while they weren't making any dents on the scoresheet, the third showed more of that. Suddenly, Auston Matthews finished off a pretty passing play with Mitch Marner and Nylander to bring them within two. Zach Bogosian went to the penalty box to give Toronto a power play, and Matthews struck again, this time deflecting a Nylander shot to close the gap even further. Suddenly, the word documents with rebuild trade proposals drafted in the second intermission began to get minimized. With four minutes to go, Rielly scored a point shot not unlike his OT winner from Game 3, and things were all squared. Toronto carried this deadlock into OT, with Tampa looking shell-shocked.
In overtime, Sergachev hauled down Nylander a little over two minutes in, taking away a point-blank scoring chance and giving the officials no choice but to call a sudden-death power play. While they turned the blind eye to the high stick he received in the next shift, it ultimately wouldn't matter, as he got the puck to Mark Giordano, who fired from the point, leading to unlikely hero Alex Kerfoot redirecting home the game winner.
About the Maple Leafs (3-1, 2-2 ATS, 4-0 o/u)
Player to watch: Morgan Rielly
A polarizing figure in the regular season, Rielly has been nothing short of incredible in this series, controlling the flow of play and contributing on the scoresheet, potting two massively clutch goals and adding four helpers. Toronto isn't over-loading his ice time, but playing him a very healthy 23:44 all the same, meaning that those who want to give him the opportunity in some action should know that, despite the black eye he currently sports whenever he hops onto the ice, the Leafs will get as much time out of him as he can give. It would not be a shock to see him elevate once more tonight.
About the Lightning (1-3, 2-2 ATS, 4-0 o/u)
Player to watch: Andrei Vasilevskiy
Perhaps the cap era's most decorated playoff netminder, the hockey world is in shock to see the Leafs pick apart Vasilevskiy for what feels like a second consecutive playoffs. While they couldn't get past his team last year, his .880 SV% against Toronto was a stark contrast to the .932 he put up the rest of the way in 2021/22, and his .856 through four games is even worse.
Some suspect that Toronto has had enough time to examine his weak points – noticeably, blocker side and from distance and between screens – and have the talent to exploit it. Maybe that's true, though the degree of which they're doing it feels a little unsustainable as well. That's all the more reason Toronto needs to work hard to get this series over with sooner than later, because if Vasilevskiy can get into the right mentality, few players tilt the ice quite like him. Besides, maybe he buys himself some "f***ing X-ray glasses" before puck drop.
Probable goaltenders
Maple Leafs: Ilya Samsonov (3-1, 3.72 GAA, .876 SV%) – confirmed.
Lightning: Andrei Vasilevskiy (1-3, 4.33 GAA, .856 SV%) – confirmed
Noteworthy Absences
Michael Bunting's suspension from Game 1 is over, but it's expected that he will not draw in. Erik Cernak, and Michael Eyssimont are both still expected to be out of the Tampa lineup.
Betting trends to watch
With this recent tear, Toronto is 7-1 in its last eight games straight-up.
The road team is 4-1 in the past five meetings.
The over is 5-0 in Tampa's last five road games and 4-0 in the last four games of the series.
Wagers to consider
Does Auston Matthews carry the momentum from Monday into tonight? If you think this is his takeover game, bet365 has a solid boosted parlay centred around him. Over 4.5 shots, over 1.5 points, and the Leafs scoring over 2.5 goals comes in at +333, up from a normal +280.
On the other side, the Lightning are going to be playing desperate hockey tonight, hoping to not have their multi-year run end like this. The shot props on their top players are all interesting as such. Nikita Kucherov sits at +120 for over 3.5, while Brayden Point and Steven Stamkos are at -130 for over 2.5.
After four consecutive games that have cruised over the total, I do wonder if the under finally hits tonight. You can grab the under 6.5 goals at -105, but if you feel like the firewagon will live on, you can get the over at -115.
Other NHL Games Tonight
There are two additional games on the NHL schedule tonight. Here's who we've got on tap: