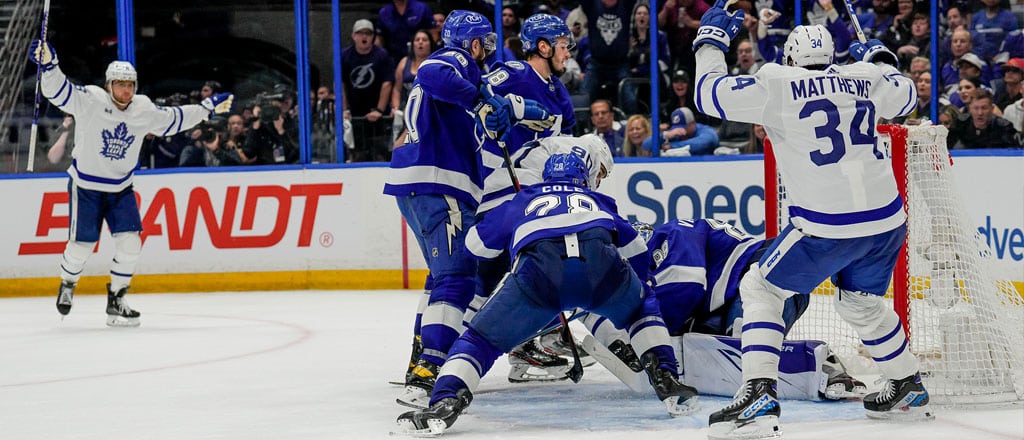 Is it time for cautious optimism amongst the Toronto Maple Leafs fanbase? Well, no, you must be new here if you think that's the case. Nothing is guaranteed and everything is impending doom until the finish line is crossed, and frankly it's hard to blame anyone. Even a win tonight against the Tampa Bay Lightning, which would give them a 3-1 series lead, would calm few, instead bringing people back to the similar lead the team coughed up to Montreal in 2021.
That doesn't mean that winning wouldn't be preferable to the team itself though. For the sake of their psyche, this is the sort of game that they'll want to use as a statement to the audience, to their opponents, and to themselves. Let's discuss what's at stake, and what could happen.
Canada Sports Betting will be providing comprehensive betting previews for each game of this series, so check back over the next couple of weeks for all of the latest odds information and news! Coast to Coast will also run on my end every Friday down the stretch.
Maple Leafs vs. Lightning odds
All odds courtesy of

Previous Matchups
Saturday night's game was chaos in a bottle, well beyond the scoresheet. Noel Acciari opened the game up with an early tally for the Leafs, scoring just three and a half minutes in while also giving Matthew Knies his first career playoff point. Tampa quickly responded with a goal from Anthony Cirelli just a minute and a half later. Auston Matthews put Toronto back up midway through the period, but repeating past heartbreaks, the Lightning picked up yet another last-minute goal to tie the game with 32 seconds remaining in the first, courtesy of Brandon Hagel.
Darren Raddysh gave the Bolts their first lead of the game midway through the second period, and unlike previous leads, this appeared to stick for a while, leaving Toronto in a dangerous spot. The officials moved into "let them play" mode around this time, and things really boiled over early in the third period. A battle for body position between Morgan Rielly and Brayden Point went wrong at the five-minute mark, sending Point hard into the boards. All hell broke loose from here, with Nikita Kucherov jumping to his linemate's defence. Just as things were starting to calm down, Steven Stamkos started to throw punches at Auston Matthews, and once the latter punched back, the scene exploded again.
| Date | Home Team | Result | Total |
| --- | --- | --- | --- |
| April 22, 2023 | Tampa Bay | 4-3 TOR (-1.5, -115) | 6.5 (over) |
| April 20, 2023 | Toronto | 7-2 TOR (-1.5, -170) | 6.0 (over) |
| April 18, 2023 | Toronto | 7-3 TBL (+1.5, +140) | 6.0 (over) |
| April 11, 2023 | Tampa Bay | 4-3 TOR (+1.5, +182) | 6.5 (over) |
| Dec 20, 2022 | Toronto | 4-1 TOR (-1.5, -141) | 6.0 (under) |
| Dec 3, 2022 | Tampa Bay | 4-3 TBL (-1.5, -137) | 6.0 (over) |
After a review of the Rielly hit triggered by an initial ruling of a game misconduct, the officials decided that it was more unfortunate than deliberate and removed the penalty. Seven penalties from the scrum later, and Toronto had a 5-on-4 power play – one that neither team liked, with the Lightning believing that they deserved a power play, and Toronto believing that Stamkos was an instigator in his fight and that the Leafs should be on a 5-on-3. Either way, they didn't convert on the power play, but were able to tie the game courtesy of Ryan O'Reilly.
The festivities moved on to overtime, and unlike most recent playoff overtimes for the Leafs, they looked like the weaker of the two teams, being held in by Ilya Samsonov. Also unlike recent playoff overtimes, though, they managed to pick up the victory, with Rielly's shot-off-a- faceoff play ending the game with 45 seconds remaining in the first OT.
About the Maple Leafs (2-1, 1-2 ATS, 3-0 o/u)
Player to watch: Mitch Marner
In this episode of "stats that don't feel real," Mitch Marner is absolutely popping through the scoresheet right now. It doesn't feel like he's had a true "takeover" game, and at times he's shown the heropuck tendencies that have sunk him in prior playoff series, but the sum of all parts has still been a pretty good and effective player for the Leafs.
But eight points?! Yes, Marner has two goals and six assists in this series, putting him at over two points per game thus far. I'm curious to see if he can continue that tonight.
About the Lightning (1-2, 2-1 ATS, 3-0 o/u)
Player to watch: Brayden Point
Point's injury in his collision with Rielly was very concerning in real time, though there's some debate as to whether he'd hurt his shoulder, his ribs, or both. Point came back shortly after the hit, and Lightning coach Jon Cooper suggested that he'll likely be back in the lineup tonight, implying that whatever was hurt is playable.
To what end that ends up being the case remains in question. Point's struggles with playing through injury were a part of last season's series as well, and while it seems more likely that he'll be able to skate on this one given that it's an upper-body ailment, I wonder how it impacts his play.
Probable goaltenders
Maple Leafs: Ilya Samsonov (27-10-5, 2.33 GAA, 0.919 SV%)- confirmed.
Lightning: Andrei Vasilevskiy (34-22-4, 2.65 GAA, 0.915 SV%)- confirmed
Noteworthy Absences
Michael Bunting is still serving his suspension for his Game 1 hit on Erik Cernak, who remains out for the Lightning. Michael Eyssimont remains out as well. Victor Hedman was able to play on Saturday following a game-time decision scenario, and I reckon we'll see the same with the previously-mentioned Point as well.
Betting trends to watch
Toronto remains 7-3 straight up and against the puckline in its last 10 games. Tampa Bay is 4-6 and 5-5, respectively.
Both teams have done well at clearing the total in their last 10, with Toronto being 6-4 and Tampa being 7-3. The line has gone up in recent games as a result, moving from 6 to 6.5 goals on Saturday and staying there tonight.
Tampa Bay is 4-6 in its last 10 home games against Toronto, and 5-5 in its last 10 home games overall.
Wagers to consider
If you're a believer in narrative arcs, the best boosted parlay at bet365 today, at least at first glance, is a Tampa win, Nikita Kucherov over 1.5 points, and Brayden Point to score a goal. It's hefty, but +550 up from +475 is also hefty.
If you think Mitch Marner will stay hot, his points line is at 1.5 tonight. Over sits at +150, under at -200.
Auston Matthews hasn't had a "nuclear" night yet. He also has the shortest odds for a multi-goal game, so maybe you find stronger value elsewhere, but if you to trust the favourite he's at +550 for 2+ goals and +2500 for a hat trick or more.
Other NHL Games Tonight
There are three additional games on the NHL schedule tonight. Here's who we've got on tap: