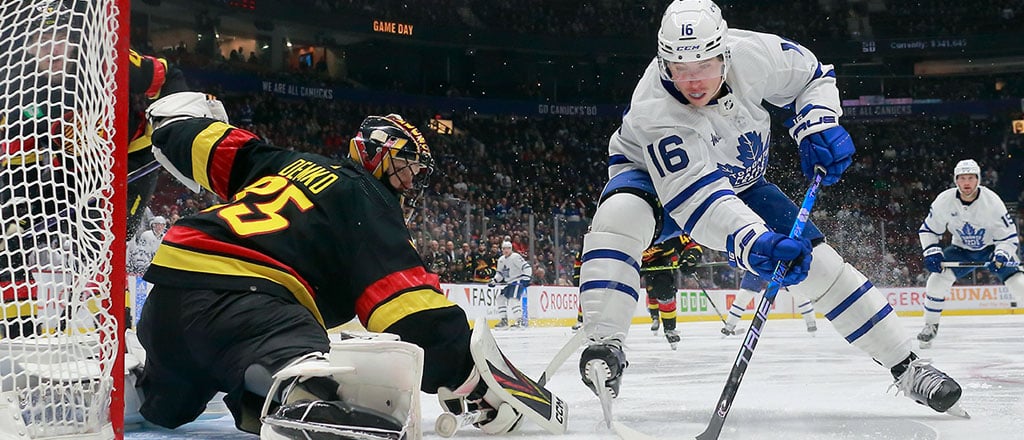 It's the Coastal Bias Classic, as the Toronto Maple Leafs take on the Vancouver Canucks. One team is struggling but surviving, while the other is absolutely thriving. The only catch is that the teams in those positions are the exact opposite of who many thought they'd be heading into the season. The Leafs are just trying to find form, while the Canucks are the hottest team in hockey.
Bet on Maple Leafs vs. Canucks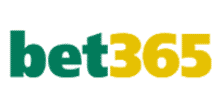 TOR -120
VAN +100
Despite this, the Leafs remain home favourites at -120, though the market has been shrinking inward over the past several hours.
Maple Leafs vs. Canucks odds
All odds courtesy of

About the Maple Leafs (7-5-2 SU, 4-10 ATS, 6-7 o/u)
The Maple Leafs won the Treliving Bowl yesterday against their first-year GM's former team, but would be hard-pressed to say it came the easy way. William Nylander extended his point streak with an opening goal just three minutes in, but the team was met with the usual response tally not too long after, with Connor Zary tying the game four minutes later. This time, the team was more prepared to respond, with Calle Jarnkrok firing right back, and Toronto added two more goals early in the second period via Nylander and John Tavares to widen the gap to 4-1.
Of course, as Leafs fans will be reminded for the rest of time, 4-1 leads are not infallible and as the game went on, the Flames chipped away, starting seconds after the Tavares tally with a Nikita Zadorov slapper, and followed by an AJ Greer redirection, and a Martin Pospisil rebound to tie the game. No one else scored in regulation or overtime from here, and it was Max Domi who played hero in the shootout, burying what would end up being the game-winner.
While Toronto allowed four goals once again, the best sign out of this game was a better defensive effort overall – a lot of what was conceded came from perfectly situated rebounds and deflections. On another night, that number is probably lower. It was also a pretty interesting night for the bottom six, with the third line looking like one of their best throughout, and the fourth adding another pair of goals against. It's a sloppy win but one with some encouraging signs, and banking two points ahead of the second half of the back-to-back is always a positive.
About the Canucks (10-2-1 SU, 12-1 ATS, 7-4 o/u)
All things considered, there might not be a team in the league that are hotter than the Vancouver Canucks right now. Sure, the Bruins and Golden Knights have better records, but they were at least somewhat expected to be up in the mix as defending Presidents Trophy and Stanley Cup champions, or at least had it in their list of options. The Canucks? The hope entering the year was as simple as squeaking into the playoffs, and they've built a head start on some of the most explosive circumstances we've seen in a while.
Heading into today, the Canucks are the top finishers in the league, with their 14.1% shooting percentage leading the league by two and a half percentage points. They are the top preventers in the league, with their 0.951 save percentage at 5v5 also standing alone, and their 0.936 SV% at all situations just barely trails Boston. Combined they have a PDO (Shooting Percentage + Save Percentage) of 109.2% at 5v5 and 109.7% at all situations. Generally, we see as anything that veers more than a percentage point or two away from 100 as a sign of some good or bad luck happening, with some room for teams with great finishing and goaltending but limits to where that can take you. The Canucks, so far, are over 5 percentage points higher than any other team, and well ahead of any number posted by a team since the league's list of available stats to track expanded in 2007/08.
There is no doubt the Canucks are getting very lucky right now. But they're doing legitimate things along the way too. While their shot attempt share (48.1%) and expected goal (44.6%) shares are lower than the team would like them to be long-term, they've also spent nearly 50 minutes more time playing with a lead than any other team, meaning their shifts to defensive shells start earlier, as do opponents' presses. Elias Pettersson has been incredible, Quinn Hughes looks like the early favourite for the Norris, and Thatcher Demko looks firmly back in the elite class. Even JT Miller is re-developing a two-way game. It's too early to confuse these Canucks for true contenders, but there's a team that's improving within here, and they're banking standings points that will provide cover when regression comes. Besides, winning is fun, and Canucks fans have lost out on fun for a few years now, so as long as the front office doesn't react stupidly to the early start, it's worth enjoying the moment. Or dreading it, if you're a team on the second half of a back-to-back who has to face this wagon.
Last Matchup
The two teams last faced off against each other back in March, and a much weaker version of this Canucks team took advantage of the Leafs on their own home ice. The game was a 0-0 affair until the final minutes of the second period when Andrei Kuzmenko broke the ice on a Vancouver powerplay. John Tavares responded with a powerplay goal of Toronto's own, and the Leafs had another opportunity to widen the gap when Phil Di Giuseppe went to the box for a high stick a few minutes later. Instead, they conceded not one, but two shorthanded goals, which the Canucks then followed up with an insurance tally from Nils Aman a few minutes later.
Projected Lineups
Toronto Maple Leafs
OPPONENT TEAM
Forwards
Matthew Knies – Auston Matthews – Mitch Marner
Tyler Bertuzzi – John Tavares – William Nylander
Nick Robertson – Max Domi – Calle Jarnkrok
Noah Gregor – David Kampf – Ryan Reaves

Defence
Morgan Rielly – TJ Brodie
Mark Giordano – Jake McCabe
Simon Benoit – William Lagesson

Starting In Goal
Ilya Samsonov
2-1-2, 4.11 GAA, 0.855 SV%
Forwards
Ilya Mikheyev – Elias Pettersson – Andrei Kuzmenko
Phil Di Giuseppe – J.T. Miller – Brock Boeser
Dakota Joshua – Pius Suter – Conor Garland
Nils Hoglander – Sam Lafferty – Anthony Beauvillier

Defence
Quinn Hughes – Filip Hronek
Carson Soucy – Tyler Myers
Ian Cole – Mark Friedman

Starting In Goal
Casey Desmith
3-0-1, 2.82 GAA, 0.911 SV%
Toronto currently projects to look the same minus a goalie swap, though that could change in the coming hours. The Canucks lineup isn't the strongest defensively after the top pair, but their offensive depth has impressed. The fourth line in particular has created a lot of mismatches in recent games. Toronto's has too, but in the opposite way.
Boosted SGP: Boeser Goal, Hughes Assist, Canucks Win (Up from +425)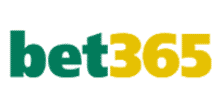 +500
Key Injuries
John Klingberg is now dealing with an undisclosed injury and missed yesterday's game, causing some suspicion. But hey, the Leafs' defence has been very beaten up in recent games, and he did look like he was missing a bit of his step in recent games, so maybe there's something to it. Beyond that, Jake McCabe returned to the Toronto lineup and the rest remains mostly the same.
On Vancouver's end, Tucker Poolman remains out with an undisclosed injury suffered early in the season, and Teddy Bluger is out with a leg injury suffered in the season opener.
Betting Trends
The Canucks have had a big upper hand in the recent matchups against the Leafs, going 7-3 in their last 10, and 8-2 against the puck line. Someone putting equal money down on the Canucks all ten times would gain about 3.4 units from moneyline bets and 5.3 units from puck line bets at market value. The under is also valuable between these two, hitting 7 of 10 times in that stretch.
Toronto remains on their same hell-slump of a streak against the puck line at home, only clearing it once in the last 10 games. That's what happens when you're the favourite and you're not stringing together multi-goal wins.
The Canucks, on the other hand? 10-0 in their last ten against the puck line. The market hasn't adjusted to its hot start, for better or worse, and those who have ridden it are clearing hefty sums right now.
Player Prop Trends
Vancouver has a lot of players peppering the net, with Anthony Beauvillier (21), JT Miller (22), Ilya Mikheyev (24), Brock Boeser (25) and Elias Pettersson (26) all clearing 20 shots on goal in their last ten games. Quinn Hughes then soars above all of them, with a whopping 38, and a shots-on-goal line of 2.5 (-140). Just some food for thought on the last one…
In terms of production, Pettersson has 6 goals and 12 assists in his last 10 games, Miller has 7 goals and 9 assists, and Hughes has 5 goals and 12 assists. Some tidy business from their stars.
On Toronto's end, Max Domi is starting to creep up into productivity – the switch to the third-line centre role has been good for him. He has six assists in his last ten games, including one in each of his last three.
Wagers to consider
bet365 doesn't have any Sam Lafferty props available yet, but if they do add any for him, he's the narrative play. It feels almost certain that their fourth line will get the better of Toronto's at some point tonight, with the ex-Leaf leading the way. He's been better than I expected in Vancouver, looking like an energy player with some bonus offensive ability rather than merely existent like he was in Blue and White.
It's William Nylander until it isn't. He's -260 for a point, +165 for an anytime goal, -150 for more than 3.5 shots on goal and +160 for a powerplay point. Now that we're actually hyping up his odds, this will probably end up the night he breaks the streak, but I'm choosing to believe he's got at least one more in him.
The most interesting Same Game Parlay to me features a Brock Boeser goal, Quinn Hughes to clear 0.5 assists, and the Canucks to win, at +500 up from +425. It's the second half of a back-to-back and the Leafs are putting in a struggling backup netminder against the hottest shooting team in the league. It's hard to give them the benefit of the doubt here. Frankly, it's incredible that they're still the favourites. So I'd lean towards the Canucks on outcomes, and both Boeser and Hughes are good options to look to on the scoresheet.