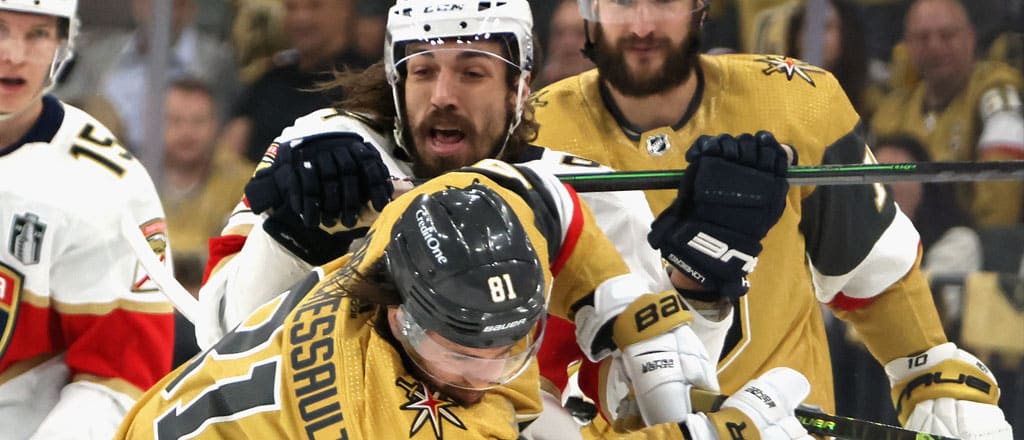 Tonight, we'll find out how much home ice matters in the 2023 Stanley Cup Final. The Vegas Golden Knights secured the first two games in the series in the National Hockey League's deciding event in front of their home fans, dropping more losses on the footsteps of the Florida Panthers than three of the Eastern Conference's four best teams could amount to in their previous 12 games.
Tonight is an opportunity for the Panthers to embrace being the hosts and restore calm to themselves, their surroundings, and the series. If not, it could be the moment where Vegas all but cements its championship aspirations. Let's break down what should be an excellent Game 3!
Golden Knights vs. Panthers odds
All odds courtesy of

Previous meetings
This will be the fourth meeting between the teams this season. Vegas has taken three of the four games and both of the regular season clashes played under the 6.5-goal totals.
| Date | Home Team | Result | Total |
| --- | --- | --- | --- |
| Jen 5, 2023 (Game 2) | Vegas | 7-2 VEG (-140) | 5.5 (over) |
| June 3, 2023 (Game 1) | Vegas | 5-2 VEG (-132) | 5.5 (over) |
| March 7, 2023 | Florida | 2-1 FLA (+150) | 6.5 (under) |
| Jan. 12, 2023 | Vegas | 4-2 VEG (-110) | 6.5 (under) |
About the Panthers (12-6 SU, 11-7 ATS, 8-10 o/u)
It looks like the "roll it over" phase from the middle rounds has finally gotten away from the Panthers, and it's time for them to dig in to what made them scrappy underdogs once again. This time, though, it must come with lessons learned.
Florida lost just one game between Game 5 of Round 1 and the start of this series (11-1), and finds itself down by two games for the first time since that streak started. Unlike the last time, the Panthers don't find themselves on the brink of elimination yet, but like the last time, the situation comes following a pair of humbling road losses.
But hey, this is what home ice is for, right? For the Panthers to succeed, they need to take advantage of the home crowd, last change, and every lesson learned thus far. Trying to intimidate and bring opponents to the box is not working at all for them. The Panthers' fortunes against Boston improved when they did away with the shenanigans, having fewer penalty minutes in Games 5 through 7 than they did in Game 4. Can they resist the urge tonight?
Player to watch: Sergei Bobrovsky
Is the dream over for Officer Bob? Certainly, it doesn't look like the automatic Conn Smythe Trophy is coming anymore, after allowing four goals on 33 shots in Game 1 and getting pulled after another four in 13 midway through Game 2. Some even wondered if the Panthers would go back to him, given that he wasn't the starter at the beginning of these. At the same time, he's been the guy for the entirety of the "run" part, so it stands to reason that you dance with the partner who brought you to the ball. I'm very curious to see how Bobrovsky rebounds – Vegas' interior shot selection has been much different from Florida's previous opponents and requires some adjustment on his end, but it's not a situation he's never been in before.
About the Golden Knights (14-5 SU, 14-5 ATS, 11-7 o/u)
If there's a mental barrier for the Knights to break through, they got a big piece of help from the Monday game. After all, the 2018 Golden Knights were only able to take one out of the Washington Capitals before getting rolled over the rest of the way. Granted, a lot of the team has changed since then, but it's always good to rise above history.
The Knights continue to roll for the opposite end for the Panthers' failures. Simply put, they're unphased by the schoolyard bully style of play, able to dish out just enough of it back to cause a scene, and more than able to capitalize when it leads to them getting a special teams edge. The Knights' power play has been potent, their players keep playing through their opponents, and they're just distracting enough to annoy the other side, but not take away from themselves. Keeping those vibes going will be key to getting this fully across the finish line.
Player to watch: Ivan Barbashev
Barbashev has proven to be the best rental acquisition of the 2023 trade deadline, bar none. Giving up prospect Zachary Dean in return, the Knights gave up a potentially decent piece, but avoided the high end, and boy, have they gotten the high end back. Across 19 playoff games, Barbashev has put up 17 points and been an absolute monster physically, fitting perfectly into the Golden Knights' play style.
So far in this series, he has two assists and eight hits. Barbashev has scored a goal in every series so far, and this would be a great time for him to add one.
Probable goaltenders
Florida: Sergei Bobrovsky (11-4, 2.50 GAA, .925 SV%) – confirmed.
Vegas: Adin Hill (9-3, 2.06 GAA, .937 SV%) – unconfirmed.
Notable injuries
Game 2 gave us some concerns about Radko Gudas (Florida) and Jack Eichel (Vegas), who both ended up on the receiving ends of big hits. Eichel returned to the game and Panthers coach Paul Maurice expects Gudas to play tonight, too. Note that Gudas' appearance in Game 2 was already of the game-time decision nature so, while the blueliner is one of the "play through the pain" mold, there's no guarantee he plays all the expected minutes here.
Betting trends
The Knights have been great on the road in their last 10, at 7-3 straight-up and 9-1 on the puckline.
With that said, they historically haven't been as good against Florida in that sense. The Panthers are 4-1 in games played in Sunrise.
Mark Stone has cleared his shot props in five consecutive games (he sits at -110 for over 2.5 shots tonight)
Florida has enjoyed being the underdog – while the last two games haven't helped, its 7-3 record in its last 10 games in that role is impressive.
Per our friends at Scores and Odds, an estimated 73% of the money placed at the books going into the game is on the Panthers.
Wagers to consider
I think a lot of people are expecting Matthew Tkachuk to get his head back in gear after a tough start to this series. An anytime goal there sits at +150.
Further to that note, if you think that Tkachuk is going to bring his Panthers into the fight with that play, he's also the focus of a boosted Same Game Parlay at bet365 tonight. A Florida win, more than 3.5 goals scored, and a Tkachuk goal normally goes for +375, but is boosted to +450.
Jonathan Marchessault is vaulting himself into the Conn Smythe conversation with 12 goals in his last 12 games, and while he's not typically a volume shooter, you have to imagine he's realizing how close he is to a championship and some individual success on top here. I reckon he'll be eager to take away Florida's home ice tonight, to the point that while his 3.5-shot prop is a bit on the high side for him, it's still alluring at +125.