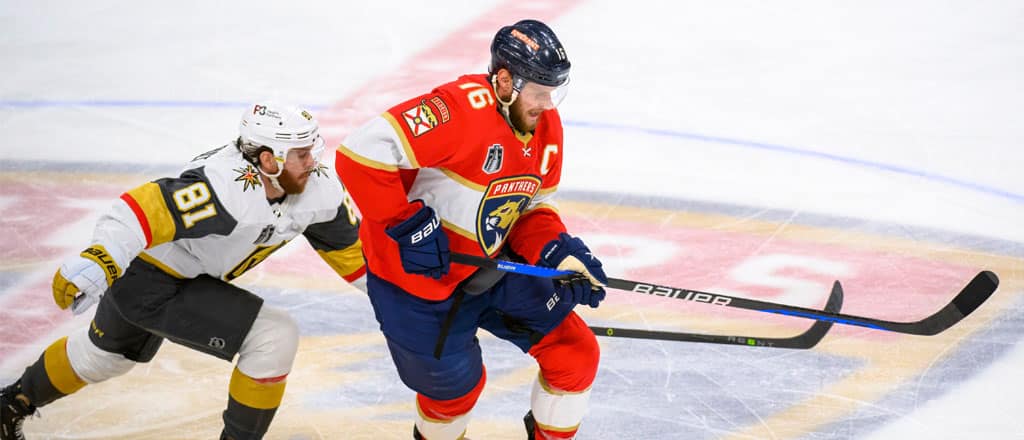 Elvis may have left the building, but tonight, the Stanley Cup is in it. T-Mobile Arena is the host venue of the first potential championship game in Vegas Golden Knights' history, as they seek the National Hockey League's biggest prize. In their path are the Florida Panthers – who wish to avoid a second disappointing Stanley Cup Final (were swept in 1996) in their franchise history. They've never won a Stanley Cup Final game with their backs against the wall.
Never say never, though – these underdogs are fierce cats, and they've mounted similar comebacks already in these playoffs. Tonight could be the end of the season, the start of the last chapter in an equally incredible book, or somewhere in between – only time will tell. For now, let's break down what's on tap, and how you can get involved with our friends at bet365.
Golden Knights vs. Panthers odds
All odds courtesy of

Previous meetings
This will be the sixth meeting between the teams this season. After the first two games shook the goal total line up a little bit, we'll be dropping right back down in response to two five-goal nights.
| Date | Home Team | Result | Total |
| --- | --- | --- | --- |
| June 10, 2023 (Game 4) | Florida | 3-2 VGK (-114) | 6.0 (under) |
| June 8, 2023 (Game 3) | Florida | 3-2 FLA (-129) | 6.0 (under) |
| June 5, 2023 (Game 2) | Vegas | 7-2 VGK (-140) | 5.5 (over) |
| June 3, 2023 (Game 1) | Vegas | 5-2 VGK (-132) | 5.5 (over) |
| March 7, 2023 | Florida | 2-1 FLA (+150) | 6.5 (under) |
| Jan. 12, 2023 | Vegas | 4-2 VGK (-110) | 6.5 (under) |
About the Panthers (13-7 SU, 12-8 ATS, 8-12 o/u)
The Panthers are in trouble. An overtime win in Game 3 gave some element of life to the group, and they did put up a good fight in the second half of Game 4, but when the inevitable comeback didn't materialize and instead turned into a bit of a tantrum-brawl, instigated by Brandon Montour and carried home by Matthew Tkachuk, it felt like a team whose dreams were unravelling a bit.
The good news for the Panthers is that this fairytale run began on these exact grounds – facing a conference one seed, down 3-1, no one but themselves believing in them. It's hard enough to do it once, though – twice might be a task that's just a little too tall, with everyone just a bit more battered and the other team looking like a group seeking blood.
Player to watch: Matthew Tkachuk
I hate to say it, but this one looks more like a watch from a fading perspective. I really hope he proves me wrong with another game with a big, clutch moment, because it's been spectacular theatre, but it seems more and more apparent that Tkachuk is battling through a not-insignificant arm injury right now, and with 50 penalty minutes in four games (four 10-minute misconducts + five two-minute minors), he's losing his cool a bit, too. He's not a total longshot to hit shot and goal/point props, especially with there being no tomorrow if the Panthers lose, but this is a real test of his limits. Your move, Matty T!
About the Golden Knights (15-6 SU, 15-6 ATS, 12-9 o/u)
All eyes descend on the Vegas strip, as they usually do, but with a different aura about them. For the first time, a top level men's professional team can bring a championship to the city, and it's a team that has exceeded all expectations to be competitive from day one and a powerhouse in very short order.
Everything the Knights have built up to, from announcement day to the expansion draft to the several big-swing trades that they've made because they were one of the only teams willing to "go for it," it all comes down to tonight, or some point in these next few days. It would be a spectacular opportunity for this group, which has rolled through their opponents all playoffs with a great blend of talent, quick-thinking, and grit, to bring it together for a win at T-Mobile Arena. Against all odds, the Golden Knights are often enough the biggest ticket in town – tonight they will be by a wide margin.
Player to watch: The Misfits
No one is going to want this game more than the Day 1s, who have seen this operation go from joke, to Cinderella story, to perennial powerhouse. Jonathan Marchessault, Reilly Smith, William Karlsson (my personal player to watch), William Carrier, Brayden McNabb, Shea Theodore, and a dash of Zach Whitecloud – the night is theirs to lose.
Probable goaltenders
Florida: Sergei Bobrovsky (12-5, 2.50 GAA, .924 SV%) – confirmed.
Vegas: Adin Hill (10-4, 2.11 GAA, .934 SV%) – confirmed.
Notable injuries
It doesn't sound like there are going to be a ton of changes in terms of players coming in and out of the roster. Again, I'd keep an eye on how Tkachuk gets used with Florida, with this game being a must-win, but his body is starting to slow him down.
Betting trends
Vegas has loved home ice on this run – 8-2 straight up, 6-4 against the puckline, and 7-3 on the goals over.
The Knights have also enjoyed being the favourite, something they firmly cemented with their Game 4 win. They've posted a similar 8-2 straight up result in those situations. The Panthers, to their credit, are 6-4 as underdogs and 8-2 against the puckline.
Most decidedly of all the regular matchup numbers, the Panthers have never won in Vegas. There's a first time for everything, but they're 0-7 all time and 1-6 against the puckline.
Per our friends at Scores and Odds, an estimated 94% of the money placed at the sportsbooks is on the Golden Knights who are taking 77% of the bets.
Wagers to consider
If you still believe the Panthers have it in them to do this, you'll want to get your bet in tonight. The odds won't get longer than +1000, only shorter. I'm not sold on this one, but if you're more confident than I am, you're best left leaning in now.
If you believe that this is the night, there's a big bet boost coming from bet365. It takes a VGK win, an Eichel goal, and 4+ shots from Marchessault. The last time I said to take Marchessault on shots instead of goals he scored one on his only shot in regulation, so I'm not a wizard here, but +700 on a boost from +575 is intriguing.
Adin Hill to exceed 28.5 saves at -130 seems pretty safe to me. Short of him getting pulled, Florida is going to have to throw everything at him to flip momentum here, and he's stopped 29+ in three of his last four.