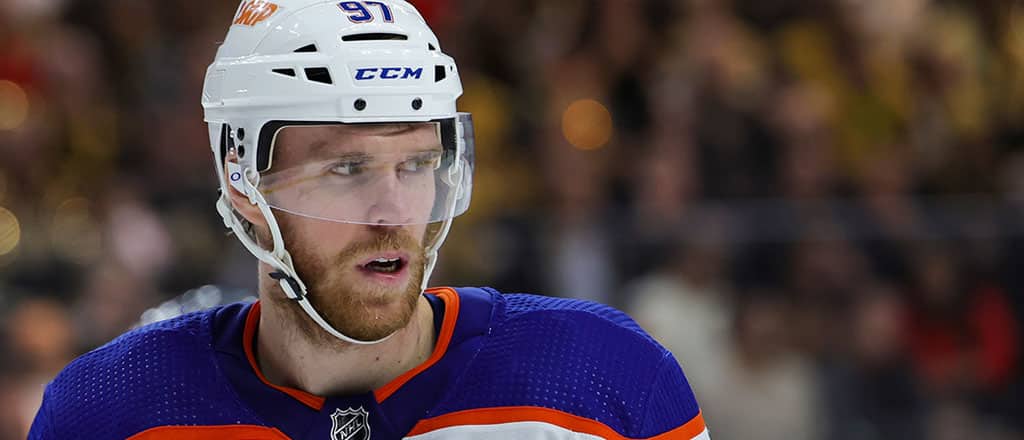 Canada Sports Betting continues its look across the National Hockey League, zooming in on some of the NHL's biggest names and where they stand in the player prop market. Earlier this week, we broke down Auston Matthews and his hopes to get back into the goal-scoring race. Today, we look at Edmonton's Connor McDavid, who left any best-in-the-league discussion in the dust in 2022/23 and looks to continue to assert his place in the all-time books with another supernovic season.
Player At A Glance
| Year | GP | G | A | PTS | G/82 | A/82 | PTS/82 |
| --- | --- | --- | --- | --- | --- | --- | --- |
| 2022/23 | 82 | 64 | 89 | 153 | 64 | 89 | 153 |
| 2021/22 | 80 | 44 | 79 | 123 | 45 | 81 | 126 |
| 2020/21 | 56 | 33 | 72 | 105 | 48 | 105 | 154 |
It's just silly at this point, right? Last season, McDavid came just two points shy of Steve Yzerman's 1988/89 season, which stands as the highest point total by a player not named Wayne Gretzky or Mario Lemieux. Given that Yzerman's year had a league average goals per game of about 20% higher than last year, McDavid's number becomes even crazier to think about in context.
A lot of it comes from the fact that as dumb as it sounds, McDavid decided it was time to score. Yes, he was already an adept finisher in this league, tallying about 40 goals per 82 games in his seven prior seasons, but the phenom knew that it would be helpful to his team's success to be a super-elite threat in ways beyond just his speed and playmaking. He spent much of last offseason working on his release and his close-quarters finishing ability, and the result was the highest goal total for any player since Alexander Ovechkin put home 65 in 2008.
| Year | ixG (5v5) | ixG(PP) | G60 (5v5) | G60 (PP) | SOG (5v5) | SOG (PP) |
| --- | --- | --- | --- | --- | --- | --- |
| 2022/23 | 1.00 | 2.89 | 1.47 | 3.91 | 9.6 | 20.1 |
| 2021/22 | 1.03 | 1.93 | 0.99 | 2.01 | 9.4 | 15.9 |
| 2020/21 | 0.94 | 1.70 | 1.22 | 2.31 | 8.3 | 14.9 |
Interestingly, McDavid's spike comes without a significant increase in his shot volume or quality at 5-on-5, though his goal rates did go up too, which either implies some good fortune, that all that training of his shot helped, or a bit of both. The power play, however, is a different beast. McDavid became more of a shooting presence on the Edmonton man-advantage unit, and the end result saw huge spikes in volume, location, and a near-doubling of his goal rates. It's no shocker that the Oilers had the best power play ever once you see how much their best player improved in this regard.
In terms of point generation, we see much of the same. McDavid's point generation at 5-on-5 has actually dipped a bit in the past couple of years, but he's more than made up for it with a man advantage, averaging an insane 13.2 points per hour last year. To put that into context, the only player since 2007/08 to play 100 minutes on their team's power play and come within even three points per hour of that pace is, well, Leon Draisaitl on the same unit last year (11.8). Taylor Hall in 2017/18 is the only player who wasn't on the 2022/23 Oilers to exceed 10 power play points per hour, barely squeaking in at 10.08.
That can be a gift and a curse. It shows just how special Prime McDavid is, but it also gives you a bit of pause as to whether it will last. As more teams adapt and learn, it'll be harder to execute their best set plays with the man advantage, which could take away the area where McDavid made his biggest leap last year beyond his shot.
Connor McDavid Player Props
Available props at bet365 involving McDavid include:
So that brings us to McDavid's lines and his milestones, and this is where it gets a bit muddy. McDavid has obviously improved his scoring touch, but if there was an element of the odds going in his favour last year, maybe he won't hit 64 again. If the Edmonton power play is less effective than its greatest-in-history results last year, that's a venue where 71 of McDavid's 153 points sit.
Now, the point and goal lines somewhat reflect this, with wins on the over available even on a nine-goal or 17-point decline, respectively. But those are still monster lines, which require McDavid to have his second-highest career totals in each of those metrics. The player is motivated – particularly with his idol Sidney Crosby predicting that he could chase 170 points – but a lot of this game is rooted in fortune. It's also good health, and when the air is this rarified, the risk of missing time matters.
Sometimes the risk is worth it when the odds are good, and if you can get a boost on these, maybe some of them are worth targeting. But while I have full confidence that McDavid will continue to be the best player on the planet this year, I'd actually have some hesitation in earmarking too much bankroll in these. The baseline numbers don't bring much value, and the milestones that bring value are massive ones.
For example, some might be tempted to go for the 70-goal longshot, but it's also a benchmark that hasn't been achieved since 1992/93 when scoring was, similar to the Yzerman season, about 20% higher than today. McDavid is a talent who breaks norms, but anyone chasing 70 goals this year, short of an unforeseen league-wide goal explosion, would probably have a strong case for the best goal-scoring season ever. McDavid is the level of talent that can do such things, but it would require everything to go right. Even another 60-goal season will require most of the fortune, not a ton of adjustment to the power play, and continued health, though the +200 value there might be the best mix of the bunch.
Awards Watch
McDavid currently has odds available to win the following awards:
On the awards front, things are a little easier. McDavid is the obvious front-runner for the Hart Trophy until he isn't, every year. The only argument that can be put against him that can't be put on everyone else is that it's a vote-driven, subjective award and the voter fatigue effect is real across all sports, and he could lose if someone has a season that is less impressive, but can be argued in some way as "more important" or a better story.
Nevertheless, at +100, that bet is pretty safe if you want to make it. The Rocket Richard Trophy, which McDavid won last year, is an interesting one in that it assumes that McDavid focuses on filling the net himself again this year. Lots of factors could pull him out of the favourite spot here, from him focusing on being the shooting option less (especially if he's passing to Drasaitl more), to puck luck, to health, to whether or not Auston Matthews returns to form a few provinces over. He's a valid option, though +250 might be low. This could be one to watch for the first week or two and if he doesn't start hot, maybe give him a chance a little further out.
Speaking of, while I know I spoke of weariness with the Selke Trophy in our Matthews deep dive due to the sheer subjectiveness of the award, I would keep an eye to see if McDavid creeps into the market here. He's not currently available on most markets, and he hasn't received so much as a vote for the award since 2020/21. If he starts to show up on books like bet365, it likely is attached to media narratives shifting, and if the media begins a "McDavid has committed to defence" narrative, there's a good chance at a snowball effect. If he jumps into the market at far-away odds, it might be a bargain to hop onto.