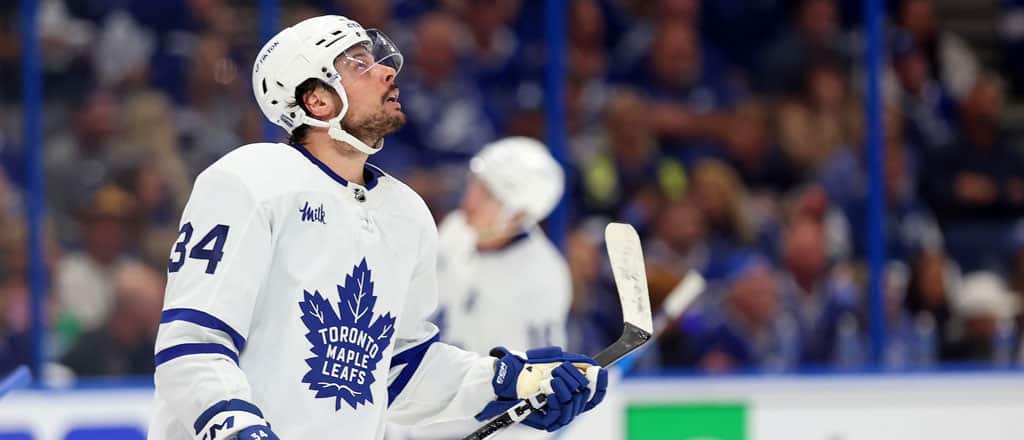 Throughout the coming weeks, Canada Sports Betting is going to take an individual look at some of the best and most popular players in the National Hockey League, and where they stand in the various player prop markets available right now. Today, we'll kick off this series with Auston Matthews, Toronto's megastar talent with a lot to prove once more this season.
Player At A Glance
| Year | GP | G | A | PTS | SOG | G/82 | A/82 | PTS/82 | SOG/82 |
| --- | --- | --- | --- | --- | --- | --- | --- | --- | --- |
| 2022/23 | 74 | 40 | 45 | 85 | 327 | 44 | 50 | 94 | 362 |
| 2021/22 | 73 | 60 | 46 | 106 | 348 | 67 | 52 | 119 | 391 |
| 2020/21 | 52 | 40 | 25 | 65 | 222 | 63 | 39 | 102 | 350 |
At first glance, it's a little crazy sounding to say that Matthews had a disappointing year. After all, the 26-year-old still finished 22nd in league points and 12th in goals while missing about 10% of the season – a full 82 games paced out to bring him to as high as 8th in goals and 15th in points, in similar air to players who were paraded for their immense breakout years.
But where the disappointment comes from here is knowing what Matthews is capable of. Others' years breaking into Franchise Player status are his down years after what we saw him do in the previous two seasons, including his 2021/22 Hart Trophy-winning season, where he put up one of the best goal-scoring paces of the modern era with a tally of 60 despite missing nine games.
Matthews' pace of 44 goals over 82 games was his lowest since his rookie season, and his goals-per-hour rate was the worst of his career. So the big question remains, can he get back to his career highs of the previous two years?
Interestingly, there's a glimmer of hope here if you look at the process behind his attempts to finish.
| Year | ixG/60 (5v5) | ixG/60 (PP) | Goals/60 (5v5) | Goals/60 (PP) | SOG/60 (5v5) | SOG/60 (PP) |
| --- | --- | --- | --- | --- | --- | --- |
| 2022/23 | 1.34 | 2.54 | 1.36 | 2.91 | 12.2 | 17.2 |
| 2021/22 | 1.26 | 2.7 | 1.94 | 4.23 | 12.5 | 19.8 |
| 2020/21 | 1.2 | 2.3 | 1.94 | 3.56 | 11.1 | 17.8 |
Looking at Matthews' goal rates shows a decline, but looking at how many Individual Expected Goals (ixG, a measure of shot value based on location, type, and other factors) and shots on goal Matthews was generating on a per-hour basis at both 5-on-5 and on the powerplay, and you see a relatively similar player to previous years. The biggest difference was in how many were going in, as evidenced by his 12.2 shooting percentage. That number would be a blessing for most top forwards who create a lot of shots but is significantly lower than his 16.4% over his career prior to last year.
So what explains that? A lot of signs point to a wrist injury that Matthews played through throughout this year, which he played through and managed on the fly all the way to the end of the playoffs. Matthews has had wrist injuries before, and there's always going to be a little bit of lingering concern there as each one takes a little more out of him, but he's also come back stronger after extended rest on those occasions.
Toronto has added some offensive weapons around him as well, in Tyler Bertuzzi, Max Domi, and John Klingberg. These three aren't core pieces, but they will supplement the team's depth and opponents having to respect their creativity could potentially make Matthews' minutes a little more friendly to success – both through spacing when they share shifts and matchups that they could peel away on other lines.
Auston Matthews Player Props
Available props involving Auston Matthews include:
Regular Season Goals, line of 51.5 (over -120, under -110)
To Score 50+ Goals in Regular Season (-150)
To Score 60+ Goals in Regular Season (+450)
Going to the above point about Matthews' continued shot and shot quality generation, and how he may have been held back by injury, there's a very strong case to be made for him going on another goal-scoring run this year. In the previous three seasons, Matthews' goal-scoring paces sat at 55, 63, and 67 over a full 82 games, and league scoring is at the highest it's been in a generation.
With that in mind, I would be pretty confident in another 50+ goal pace, and likely one that clears the line of 51.5 as well. Once you get to 60 you're in rarified air – while we've seen it happen more in the past two years than we did in the previous 20+, the trio of Matthews, Connor McDavid, and David Pastrnak includes a player who has been one of the best goal scorers in history to start his career, a player who has been one of the best overall players to ever lace up the skates to start his career, and a high-end superstar on a team where everything went right last year, in historic fashion. The feat may be a bit more typical of late, but it shouldn't be taken for granted.
I would only consider a 60+ bet for Matthews – or anyone, really – if you believe fully in their health. Matthews has missed time in all but two of his seven seasons and has averaged about eight games missed per year. A sixty-goal season over 82 games would lose about 5 or 6 goals if pulled back to 74 games, so keep that in mind.
Auston Matthews Awards Bets
Auston Matthews currently has odds available for them to win the following awards:
Matthews has experience with two of these awards already, winning both the Rocket Richard (twice), and Hart (once). The Rocket Richard is a counting award, given to the league's goal-scoring leader, while the Hart Trophy is a voted-on award for the league MVP.
Matthews is a mainstay in the Rocket race as long as he plays enough games, finishing top three two other times on top of his wins. He is also frequently in the MVP conversation, finishing as a second-place finalist in 2021 and getting votes in all but two seasons of his career so far. Even with last year being below his standards, Matthews finished 16th in voting.
As well, Matthews finds himself on the Selke Trophy shortlist, though I'd be a little weary of any betting market on this award. The Selke, which is awarded to the best defensive forward, doesn't really have a set-in-stone voting pattern, besides "when in doubt, vote for Patrice Bergeron", which has been a fair method for the last decade and change now but is no longer applicable with the Bruins captain retiring this summer.
How voters will approach the award this year is unknown, given the subjectivity of it. There are some factors that voters tend to like that Matthews excels at – winning faceoffs and stripping pucks, for example – but also others that he doesn't have, like regular time on the penalty kill. The latter was a big factor in teammate Mitch Marner landing himself a finalist spot for the award last time, despite many sharper eyes preferring Matthews in defensive situations.
For my money's worth, I'd look to the Rocket Richard as Matthews' best awards bet, as a rebound seems likely with good health, and I do wonder if Connor McDavid focuses on a new asset of his game to grow this year now that everyone saw that he can fill the net as well.