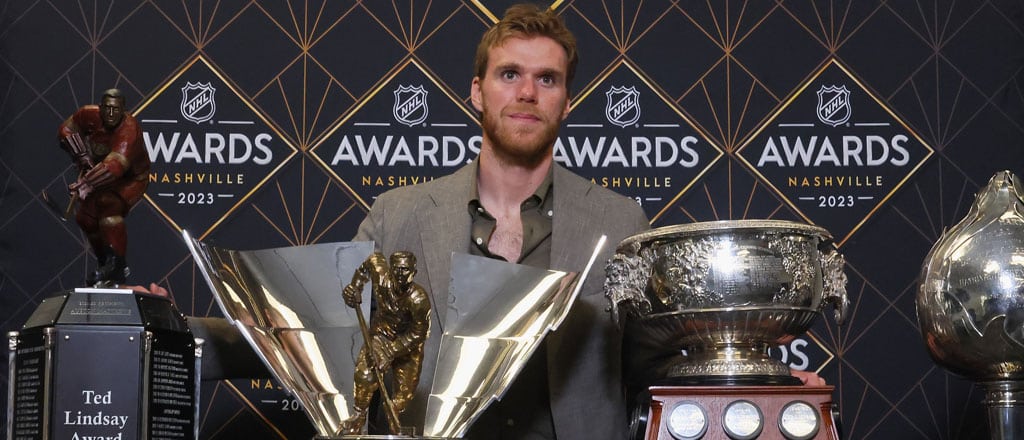 We still have nearly three months until the puck drops in the 2023/24 NHL season – much closer to the previous year than we are to the next. If it feels like just yesterday when the NHL Awards were given out for last year, you'd not be far off, as it was just two and a half weeks ago. Nevertheless, you can already find the top Canadian sportsbooks, like our friends at bet365, laying down early futures odds for five of the most popular trophies. Today, let's take a look at how the market has opened and what might be worth keeping an eye on.
Hart Memorial Trophy (MVP)
It should come as no surprise that Connor McDavid tops this list out of the gate. The 26-year-old further separated himself from the pack this year with what was arguably one of the best offensive seasons ever, potting 64 goals and adding 89 assists for a total of 153 points, the highest mark since Mario Lemieux scored 161 in 1995/96. This was 27 more than the next-highest point total (Leon Draisaitl), and 40 more than the next-highest who wasn't on his team (David Pastrnak).
With that said, voter fatigue is a real phenomenon in all the major pro sports, with voters not wanting to give out too many repeat trophies, either because they think it looks uncreative, or because they have weird concerns about giving guys legacies. It's not impossible that McDavid wins again, with Alex Ovechkin (2008, 2009), Dominik Hasek (1997, 1998), and Wayne Gretzky (1980 through 1987) being some of history's most recent repeat winners, but he'll be working uphill by default.
A name that jumps out at me on the above list is Jack Hughes (+1800), with the Devils continuing to soar up the league ranks and a leap to a 99-point clip last year. I also wonder about Cale Makar (+2200), who missed a quarter of last season and will be bearing a lot of responsibility with Gabriel Landeskog and Valeri Nichushkin's careers up in the air.
For a long shot, the Pittsburgh Penguins were a buy-low team for us in our early Stanley Cup Futures Preview, and Sidney Crosby's 93 points on a struggling version of the team last year shows he's still got a bit left in the tank. One last push from him would make for a great narrative, and he's available at +8000 right now.
Weirdest Options: You can get Sam Montembeault, Montreal's tandem goalie with a career save percentage of .896 over 103 games, on the market right now at +40000. Why? Well, I suppose if he pops off and Montreal climbs up the standings, he's someone you can point to. But at the same time, it would take an all-time leap for both him and his team to get him close to this conversation.
Jack Adams Award (Best Coach)
The Jack Adams Award is always a difficult one to figure out, because it's very nature makes it hard to measure, especially from the voters. Essentially a panel of broadcasters has to decide who the best coach was in a given year? How do you measure that, especially when you have so much more to focus on during game nights?
Well, you typically just give your vote to the coach of a team that exceeded your expectations, or a coach who came in early in a season and turned a struggling team around. In a lot of ways, it ends up being an award for having the most juiced shooting and save percentages, but that's how we've always done it, and that's how we'll probably keep doing it.
With that in mind, if you are going to bet on this early, you'll want to target teams that can make regular season jumps. The most obvious answer here is Don Granato (+1000), who coaches Buffalo. Also fitting the bill are Mike Sullivan (PIT, +2800), Ryan Huska (CGY, +2800), and Spencer Carbery (WSH, +4000). Rick Tocchet (VAN, +2200), and DJ Smith (OTT, +1600), are outside possibilities, but not ones I'd lean into – particular Smith, who seems just as likely to be the first coach let go.
Weirdest Options: bet365 has all 32 coaches on their list so there technically can't be any weird ones. I guess I'll give some pause at Mike Babcock (CBJ, +2800) being reasonably middle of the pack – Columbus has a lot of work to do and with the controversy surrounding his last exit, it doesn't seem likely that he'll win his first Jack Adams off the hop, unless his interpersonal turnaround exceeds even the most optimistic of expectations and Columbus has a meteoric rise. I guess stranger things have happened.
I'd also be recommend skipping a Jim Montgomery repeat at +2000. The award has only been won back-to-back once in its history (Jacques Demers in 1987 and 1988), and it's unlikely to happen again, short of Boston somehow repeating it's record-setting regular season.
Norris Trophy (Best Defenceman)
The Norris Trophy result this year was a bit controversial, as Erik Karlsson took home the trophy for the third time in his career and the first time since 2014. While many pointed to the lack of an elite defensive prowess, Karlsson leveraged his offensive strengths this year to give the San Jose Sharks their best chance of winning while he was on the ice, scoring an unbelievable 25 goals and 101 points from their blue line. Karlsson's offence was so potent that he led all skaters – not just defencemen, but forwards too – in even strength points, and this ultimately set him apart in voting for this season.
At the same time, it was very much a "stars aligning" year for the 33-year-old, in a perfect situation to maximize that part of his game while posting his first healthy full-length season in over half a decade. While everyone is salivating over gossip of him being traded to a contender, he has the ninth-shortest odds at +1600.
Cale Makar, who has been a finalist in three consecutive seasons, even with 22 games missed last year, remains the odds-on favourite at +175 and that seems fair. I wonder about the pair in fifth and sixth – Quinn Hughes (+1000) was fantastic for the Canucks this year and you wonder if he finds another gear with a more stable blue line around him, and Charlie McAvoy (+1400) will be relied upon more than ever in Boston and after years of being in the conversation, this could be the time he gets his due.
Weirdest Options: Luke Hughes (NJ) being at +5000, tied for 14th-shortest odds on the list, has to be people confusing him with his older brother Quinn, right? He's played two games in his career and is unlikely to take over the New Jersey mantle from Dougie Hamilton in one fell swoop. Tony DeAngelo being available, albeit at +30000, also feels weird; he's expected to move to back to the Carolina Hurricanes imminently, but with them already having Brent Burns and possibly being in on the Karlsson trade sweepstakes, I'm not sure DeAngelo will get the offensive minutes he needs to get him even to fifth-place-vote territory.
Rocket Richard Trophy (Most Goals)
Finally, something nice and objective. There's no voting on the Rocket Richard Trophy – the players do the voting by filling opponents' nets with pucks. Simply put, we're looking at who will score the most goals next year.
As such, the top 3 makes a lot of sense. McDavid's 64 goals last season were the most by anyone since Alex Ovechkin hit 65 in 2007/08, which remains arguably the best goal-scoring season in modern history compared to league averages. David Pastrnak was just behind him at 61, and ranks third on the list, while Auston Matthews scored 60 the year prior. Matthews had a down season while playing through a grocery list of nagging pains, but leads the league in goals since he joined the league (299 in 481 games), and has a noticable lead when it comes to even-strength and 5-on-5 goals.
My money here would probably be on Matthews as a result; last year feels like an aberration and when your aberration is still in the top 15 of the league, that's very encouraging. I wonder about Edmonton's power play being better matched up against this year and how that could draw away from McDavid, especially now that he's proven that he can finish if he wants. If you want a long shot, Ovechkin is going to be 38 going into this year, but we've counted him out before only to see him rise back up, and until he gets to 895 on his career (73 away now!), you know that the Capitals are going to keep handing the puck off to him.
Weirdest Options: Both are awesome players, but I want to meet the person who thinks that Mitch Marner (+25000) or Zach Hyman (+15000) will end up the primary goal scoring options on their teams, let alone leaders of the league.
Vezina Trophy (Best Goaltender)
Lastly, maybe the most unpredictable player award in the sport – the Vezina Trophy. With every year, we get better at understanding the baseline for goaltending, but figuring out who is going to be elite every season is a crapshoot. Last year's winner was Linus Ullmark of Boston, who posted an incredible .938 save percentage and a goals-against average of just 1.89, to go with an insane 40-6-1 record. Ullmark has been an interesting goalie for several years now, but we'd be lying if we said that such a jump was expected of him – as proven by the fact he's already been pumped down to a distant seventh in the odds race to repeat.
The top five goalies on this list are the five who have been the safest bets to sustain success in recent years – Sorokin (+500) has basically never looked less than elite in his pro career, nor has Saros (+600). You can argue that last year was just okay by Shesterkin's (+600) standards, but he was still 10 save percentage points above the league average. Andrei Vasilevskiy (+750) is in a similar boat, but has a lot of miles on his body from three consecutive deep playoff runs, so I could see him coming back stronger this year with some rest.
The guy I'm really interested in, however, is Connor Hellebuyck. The biggest factor here is going to be what team he plays for – he's reported to want to move on from the Winnipeg Jets, who he's been excellent for over the past eight years, and if he's able to land on a team that has true Stanley Cup ambitions (hello, New Jersey), that would be a massive boost to his hopes.
Weirdest Options: If Craig Anderson, who retired on April 13 and is 41 years old, finds a way to win the Vezina Trophy this year at +25000, I will release a cover of The Weakerthans' "One Great City!" in honour of my failed Hellebuyck pick.