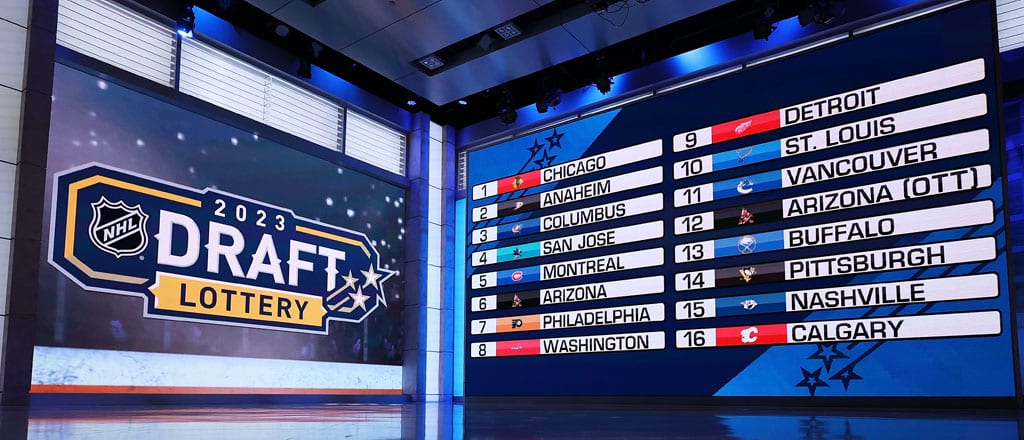 There is no better way for the National Hockey League to get a fresh start on an upcoming season than by introducing a new generation of players to the fold. Yes, the 2023 NHL Draft is just a day a way from beginning in Nashville, and there is all sorts of speculation as to what teams will decide to do from here, be it through trades, contract extensions, or most obviously, with their draft boards.
This draft also comes with the opportunity to mix in some action with the sportsbooks. In particular, we've noticed that Betano has covered the market quite well, and we've taken a look at how the rankings mesh with its lines, along with some straight up hockey talk mixed in.
Going First Overall…
Needless to say, there's very little debate about who is going first overall on Wednesday. Yes, both Adam Fantilli and Matvei Michkov would be first overall calibre talents in other drafts and under other circumstances, but there's a lock at the top of this ladder, and it's Connor Bedard. The North Vancouver native looks to have a generational scoring touch, posting 71 goals and 143 points in just 57 games with Regina of the WHL this year.
So, perfect time to make a bet, right? Easy money? The good news is that Betano will take your bet – not many others will – but the bad news is that Bedard is -100000. Let's put it this way – if you wanted to throw $10 on this, you'd get a penny back. If you wanted to throw $1000 on this, you'd get a dollar back. The sportsbooks simply don't want you wagering on this market because it's such a definitive outcome.
So yeah, this one is essentially there if you want to sweat it out for no good reason. But you can take it! The real odds start taking hold at No. 2 overall, where Fantilli is still a borderline all-but-certain call, but at a more fruitful (but rising) -909.
Coast to Coast: Draft Edition
The seven Canadian teams combine for five first-round draft picks going into Wednesday. This can change if teams start to make moves to recover futures, or use their picks to load up further, trade up or down, or any of the like. But as it stands, these are the five we'll focus on.
For those curious, the rankings I'll be referencing the most belong to Elite Prospects (both their staff rankings and their consolidated rankings, which combine 16 other rankings into one blended result), Bob McKenzie of TSN (who ranks for predicted order rather than top upside), Chris Peters of Flohockey, and McKeen's Hockey. There are lots of other great outlets out there, but these are the ones I trust.
Pick No. 5- Montreal Canadiens
As mentioned in my offseason thoughts post about the team, the big x-factor for Montreal at No. 5 is if Russian phenom Michkov is still on the board. Michkov, who is still a few years away from crossing over to North America, is at worst the second-best talent in this draft, and at times, before his current KHL contract came to light, there were serious discussions about him being up there with Bedard.
Montreal is in a pretty comfortable spot here. If Michkov falls to five, you take him and you sort out the rest later. If someone takes him prior, you're likely left with Will Smith. Not the Fresh Prince, and not one of the baseball players, Smith has excited many in his time with the US National Development team with his ability to move pucks, create space with his stickhandling, and his strong hockey sense. At the same time, the power-forward capabilities of Ryan Leonard might be tantalizing, as might the raw thinking ability of WHL forward Zach Benson.
This pick is the only one in this discussion that Betano is carrying odds for, with eight players on the board, but for realism's sake, we're not considering Leo Carlsson or Fantilli to drop this far. For the above chart, which focuses on predicting who gets drafted and not who the fifth-best player is, we'll stick to McKenzie and the Consolidated chart as our reference points.
Pick No. 11 – Vancouver Canucks
Fast forwarding a bit, we head into the territory where draft boards run the risk of crumbling. That is to say, if a player starts to fall, they instantly become the main topic of conversation here. If someone mentioned in the above race is somehow available down here, the teams' options likely change, as will be the case as we go down.
Assuming things go relatively status quo, options for the Canucks include physical Swiss right-shot defenceman David Reinbacher, elite skater and American centre Oliver Moore, tough finisher Colby Barlow, and bright playmaker Gabe Perreault. Hard to go wrong with any of those guys, who would all add layers to a Canucks team that has denied itself the true virtue of patience in recent years.
Pick No. 16 – Calgary Flames and Pick No. 18 – Winnipeg Jets
Moving down, we've got two teams picking in relatively similar spots in the lower-middle of the pack. Calgary ends a gap for Canadian picks at 16. If the Flames are hoping for someone a little safer, but still potentially impactful with leadership qualities, they might be looking for WHL forward Nate Danielson to drop. Besides him, it could be the shifty Swedish defenceman Axel Sandin Pellikka, Moose Jaw Warriors sniper Brayden Yager, or the big-framed, WHL-developed Slovakian centre Samuel Honzek.
Winnipeg being in the same general pick range means it'll likely be geared on a similar list. Andrew Cristall's tantalizing raw skill could make him an option at this range. Eduard Sale, the lone Czech first round projection in most rankings, becomes a serious option around here. Swedish defenceman Tom Willander's strong skating ability has helped him climb in many of the most trustworthy draft rankings in recent months as well.
Pick No. 28 – Toronto Maple Leafs and Pick No. 31 – Montreal Canadieens
From here, we're zooming to the bottom of the first day of the draft, and zeroing in on players projected here is a real "all bets are off" scenario. By this point you almost definitely have fallers to consider, and you also have a greater willingness to go off the consensus board and take your own swings.
Toronto would be a fun fit for the previously mentioned Cristall, who McKenzie's rankings put 27th, or potential power forward Quintin Musty, who comes in at 25th, but looking to the likelier-to-be-there sphere, you begin to find names like all-around winger Gavin Brindley, sharp playmaker Gracy Sawchyn, or WHL power-play wizard Riley Heidt.
Other intriguing names, whose potential positions also start to bleed towards Montreal's second first-round pick, include savvy and steady shutdown defenceman Oliver Bonk, and straightforward and dot-connecting forward Ethan Gauthier, both of whom have former NHLer fathers (Radek and Denis, respectively). Both of these are seen as more higher-floor picks rather than major upside ones.
Update: Montreal has traded the 31st and 37th overall picks to Colorado in exchange for Alex Newhook as of Tuesday afternoon.
Fun Props
Betano also has a healthy share of prop bets available involving where players are expected to go, some head-to-head matchups, who goes first scenarios, and certain demographics that go a certain amount of times in the first round, be it positions, nationality, or where they play.
The best reference points for these ones will probably be McKenzie's rankings, which aim to project where players are likely to be taken rather than the total upside of the player. The consolidated rankings are also effective at evening things, especially for the larger sample pools.
Here is where Betano is setting its lines based on playing position of drafted first-round picks
Forwards and defencemen may be too close to call here. Goaltending will likely depend on how teams feel about Czech USHL goaltender Michael Hrabel, who ranks 35th on the consolidated rankings and doesn't quite have the upside package for teams that are swinging hard for a franchise goaltender, but could show up somewhere if they deem the fit to make sense.
You can see some movement has already occurred on these odds as rankings have come to light, most obviously with respect to the Russian and US lines. As weird as it sounds given the state of unrest across the pond, and the increasingly longer odds, the Russian over might still be the best path to a healthy win here. All four players (Michkov, Simashev, But and Gulyayev) all rank at 23 or higher on McKenzie's rankings, so for this to bust would require two of them to drop 10-plus spots, which while not impossible, seems unlikely.
Everything else straddles the line just enough that you'll find yourself sweating the end of Wednesday night, so look to those if you're aiming for entertainment first and foremost.
Lastly, we have Canadian Hockey League (WHL, OHL, and QMJHL players). This seems like a prop with some untapped potential, with both the consensus rankings and McKenzie rankings lining up with an over hit. Both are decently close, but picks 33-37 also feature two CHL players for both, meaning that barring any big swings, you're unlikely to see a dramatic drop in numbers.
Day Two
Moving on to day two, you're not going to find a lot of action on the betting front. You might with your team, though, depending on what draft capital they've harvested! Going into Tuesday morning, the teams' day two inventory for rounds two through seven appears as follows:
Calgary Flames – Picks 48 (2nd), 112 (4th), 176 (6th), 208 (7th)
Edmonton Oilers – Picks 56 (2nd), 184 (6th), 216 (7th)
Montreal Canadiens – Picks 69 (3rd), 101, 110, 128 (4th), 133, 144 (5th), 165 (6th), 197 (17th)
Ottawa Senators – Picks 108 (4th), 140 (5th), 204, 207, 215 (7th)
Toronto Maple Leafs – Picks 153 (5th), 185 (6th)
Vancouver Canucks – Picks 75, 89 (3rd), 105, 107, 119 (4th), 171 (6th)
Winnipeg Jets – Picks 82 (3rd), 146, 151 (5th), 210 (7th)