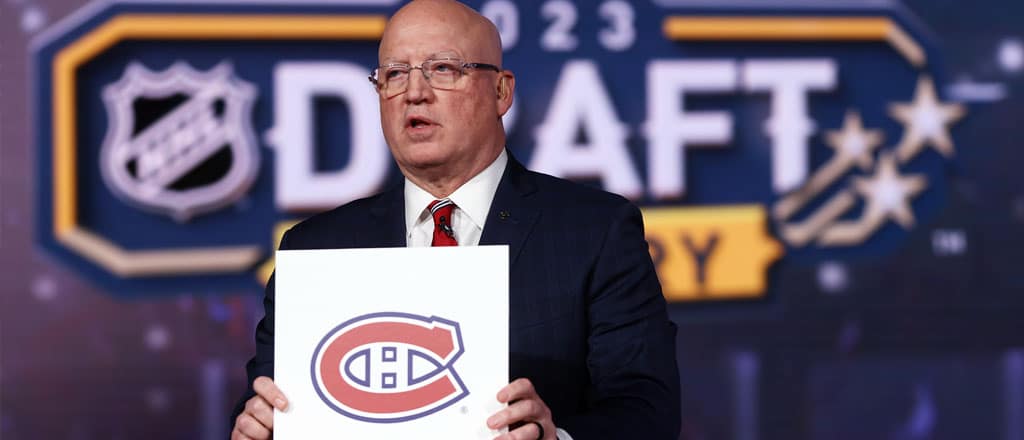 The NHL offseason is now in full swing for all 32 teams, and it's a pretty important summer ahead for several of the teams representing Canada. Over the next week and change we'll make some stops around the landscape to evaluate team needs, starting with the Montreal Canadiens, whose most franchise-altering decision comes in just a few days.
The Fifth Overall Pick
The biggest decision for Montreal, by far, is what comes at the draft board next Wednesday. Their draft depth this year is frankly quite massive, with picks at 31, 37, 69, 101, 110, 128, 133, 144, 165, and 197 sure to bolster organizational depth, but the most transformative of the bunch will take place in the fifth position.
The big question on everyone's mind right now is whether Montreal will be the team that makes the top of the draft's biggest gamble should it be available. I am, of course, talking about Russian phenom Matvei Michkov. The December 2004-born forward is considered to be a transformative talent, one who can arguably go blow for blow with sure-fire first overall pick Connor Bedard on pure talent, but a contract in the KHL that takes him to 2025/26 and a reluctance to meet with many NHL teams on their terms has people concerned about not getting what they paid for with a high pick.
With that said, in Montreal's position, I would be willing to take the risk if he fell to five. No, not because I think there is something special about the Habs that make them a preferred destination for him, but more because a player of his calibre will likely end up coming over to the NHL eventually at which point Montreal will either get a prime talent on an entry-level contract (similar to Kirill Kaprizov in Minnesota), or have an incredible trade chip. If he does have a preferred team, you could also leverage that fifth pick now to get a great return to trade down a few spots (looking at you, Washington).
If a team ahead of them picks him and you end up with Leo Carlsson or Will Smith, you're probably not too upset, but if he's on the board, it makes more sense to swing for him than to look to options in the next tier below the top five.
The Dubois Dilemma
I don't think there's a bigger open secret in the NHL today than the fact that if the Montreal Canadiens want to acquire Pierre-Luc Dubois, they have a pathway to pull it off. The 24-year-old is looking to be moved from the Winnipeg Jets, and it's well known that Montreal is a preferred destination for him.
At this point, the debate is mostly whether Montreal should look to acquire the player now, or wait until free agency, being aware that there's a risk of his desired destination being less desired a year from now. With teams like the Nashville Predators and Los Angeles Kings rumoured to be kicking tires on the 2016 third-overall pick, it's possible he ends up in a new spot and likes it enough to stay.
Ultimately, this will come down to cost. Dubois would make a very good second-line centre for the next five or six years, but with other teams involved in trade negotiations likely to pump the asset cost, and his ask for an extension already potentially being in the $9 million range, it might be a safer bet to let things play around around them.
Measure Up Between The Pipes
While decisions like the above could dictate what kind of team Montreal is next year – an NHL-ready top draft pick and a Dubois add could significantly shore up the team's depth, for example – the biggest impact for a team going from the bottom to at least the middle of the standings usually comes in goal.
In terms of security, Montreal has a tandem in place in Jake Allen and Samuel Montembeault that is already secured for next year, along with a year after that for Allen. While the duo is cost-effective at a combined $4.85 million cap hit, their .891 and .901 save percentages leave a lot to be desired, and at ages 32 and 26, respectively, neither is exactly being groomed to be a goalie of the future. If the plan is one more year in the back half of the standings, the duo is likely palatable until at least the trade deadline, but if bigger moves happen with the skaters, they may suddenly become a team to watch out for in the trade and free agent goaltending markets.
Assess Market For Veterans
If the Habs decide they want to be sellers and gap out for one more year before pushing upward, they still have a few good pieces to tinker with. Josh Anderson's four years remaining at $5.5 million aren't exactly brilliant for a 29-year-old that produces at a 35-40 point clip and has struggled with injury, but they are likely more palatable than ever given the way the Stanley Cup playoffs went and the appetite many teams now have for a power forward archetype. Brendan Gallagher has struggled with injury as well over the past several years and his no-movement-clause probably makes things tougher for them, not to mention the impact of losing a locker room leader, but if someone calls on the player with four years remaining on his deal at a $6.5 million AAV, you have to listen.
Perhaps easiest to sell might be Joel Edmundson, a left-handed defenceman who can play both sides and has a year remaining on his deal at $3.5 million per season. The 29-year-old, once again, has his share of health issues, with just one season with fewer than 10 games missed in his career, missing 21 last year and 58 the year prior, and his on-ice results are typically on the poorer side. But teams love big, "defence-first" appearing players, and with Vegas winning with size on the back end, I wonder if they can find a market in the coming weeks for him.
Look to Maintain Flexibility
The point of all of these moves all kind of ties together into a core point – Montreal has an opportunity to make this year a flexible one. If the Canadiens can shed off pieces that they don't feel are long-term fits and trust their process for one more year, instead of slamming the gas now, they can take advantage of a weird spot in the salary cap. With the ceiling set for $83.5 million this year, we are going through yet another season of minimal movement. The NHLPA's escrow gap with the team owners is expected to finally close this season, allowing for the ceiling to finally start catching up to the actual 50/50 revenue share, which at the moment projects a "normal" cap at $93.75 million.
This all goes to say that we're about $10 million behind right now, and those numbers are expected to grow by about 5% per year until the gap is bridged. The first big leap will come next summer, with two or three more likely to follow in the years after that. Until then, though, there are a lot of teams up against the ceiling and looking to upgrade. Montreal remains in a good spot here to absorb a few bad contracts in exchange for sweeteners, or maybe even pounce on some sell-low players of quality if teams have no choice. The team has some flexibility now with about $9.3 million in pseudo-space after Carey Price is placed on Long Term Injured Reserve, but the more the Habs can free up, the more calls they'll have leverage in come the later weeks, and into the depths of next season. Ultimately, though, this depends on the direction that the above factors put the team in – will they be on the last lap of harvesting, or the first of pushing forward? We'll get a better look soon.