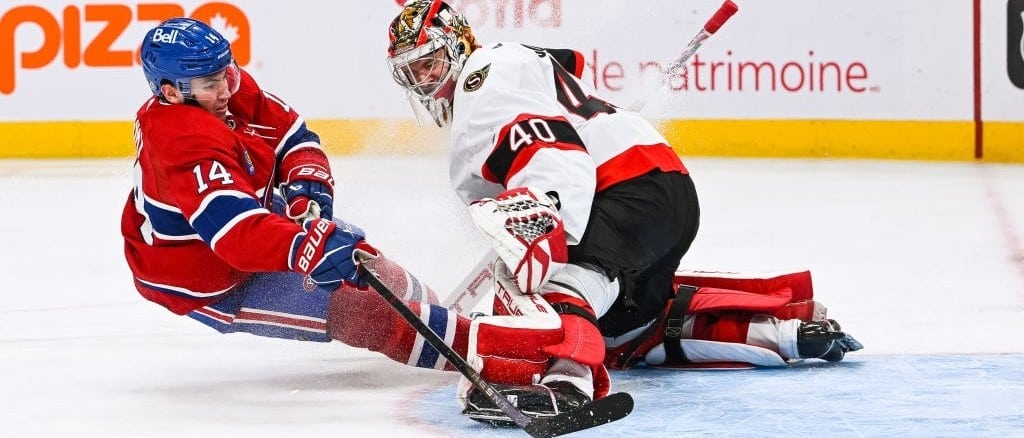 With the NHL regular season concluding on Friday, many bettors will be reflecting on the season point totals wagers they placed last summer and fall.
The final week of the season is always filled with drama as teams make their final playoff pushes, but it's also a time when bettors have to sweat out their season-long wagers. And with just a handful of games remaining, seven teams — including the Toronto Maple Leafs, Montreal Canadiens, and Ottawa Senators — still have their season point totals in jeopardy.
Will they finish over their initial season projections? Or will they fail to meet the expectations of oddsmakers? Here's a look at each of the seven teams that have something to play for from a season-long betting perspective this week featuring odds from BetMGM:
Toronto Maple Leafs
Current point total: 105
BetMGM season point total: 107.5 (Over -115, Under -115)
Remaining schedule: @ Panthers, @ Lightning, @ Rangers
Bettors that took the over on this projection will be hoping the Maple Leafs can snatch three points over their last three games (all on the road). However, Toronto is already locked into a first-round playoff matchup with the Tampa Bay Lightning and the Leafs have secured home advantage in that opening series. It makes sense for Toronto to rest some of its superstars throughout the week, which could frustrate bettors that are holding over tickets.
Monday's game in Florida has serious playoff implications for the hungry Panthers, who can clinch a playoff berth with a win and some help from the Washington Capitals. Toronto then has a quick turnaround and will play the Lightning on Tuesday before concluding the regular season in New York on Thursday. Three games in four nights won't be easy for the Leafs to close things out, and keeping everyone healthy for the playoffs will be the priority.
Montreal Canadiens
Current point total: 68
BetMGM season point total: 71.5
Remaining schedule: @ New York Islanders, vs. Bruins
Oddsmakers set the bar pretty low for the rebuilding Habs this season, and they're in full tank mode for the best odds of landing consensus No. 1 draft pick Connor Bedard. You have to like the chances of Montreal playing under this projection for that reason, and also because the Canadiens have a date with the Islanders, who are clinging to the final Eastern Conference Wild Card spot and are desperate for points down the stretch.
Ottawa Senators
Current point total: 83
BetMGM season point total: 86.5
Remaining schedule: vs. Hurricanes, @ Sabres
This was supposed to be the year that the Senators vaulted back into playoff contention, but they've fallen just short of that goal. Ottawa will need two wins in its final two games to cash over tickets, but it won't be easy. The Carolina Hurricanes are still battling to secure the Metropolitan Division crown, and as of Monday, the Buffalo Sabres are still technically in the playoff hunt. Had Ottawa not been plagued with injuries in the crease all season long and not lost second-line centre Josh Norris to a season-ending injury, the playoffs would've been a reality in Canada's capital city.
Philadelphia Flyers
Current point total: 71
BetMGM season point total: 73.5
Remaining schedule: vs. Blue Jackets, @ Blackhawks
It looked like the Flyers would easily eclipse this point total a couple of weeks ago, but seven straight losses have now put over tickets in jeopardy. Philadelphia's last two opponents are tied with 56 points apiece for the worst mark in the NHL, and neither team will be playing to win down the stretch with the hopes of obtaining the best odds in the draft lottery. Sorry, over bettors. This one hurts.
New York Islanders
Current point total: 91
BetMGM season point total: 93.5
Remaining schedule: @ Capitals, vs. Canadiens
Snatching at least three points over the final two games of the season is definitely possible for the Islanders, who as previously noted are battling for a playoff spot. The Capitals are in the perfect spot to play perennial spoilers here, while the Habs will likely roll over and let New York take two easy points from them. Bettors will be sweating this one out right to the bitter end.
Detroit Red Wings
Current point total: 80
BetMGM season point total: 84.5
Remaining schedule: vs. Stars, @ Hurricanes, @ Lightning
The Red Wings have earned points in five of their last seven games, but don't really have any incentive to finish strong with the playoffs out of reach. This team is already looking ahead to next season and its next two opponents are battling to secure or improve playoff seeding. Grabbing five of a possible six points to cash over tickets down the stretch seems very unlikely.
Minnesota Wild
Current point total: 100
BetMGM season point total: 100.5
Remaining schedule: @ Blackhawks, vs. Jets, @ Predators
It's hard to imagine the Wild not exceeding their posted point total. Minnesota has clinched a playoff berth, but can still finish as the top seed in the Central Division, or as low as the third seed in the division. With so much left to play for, the Wild should finish somewhere between 102-104 points.
How did the other teams stack up against projections?
The biggest overachiever this year in regards to season point total projections is the Boston Bruins, who enter play Monday with a whopping 131 points. BetMGM set the over/under on points at 96.5 this season for Boston, which has already surpassed the previous NHL record of 62 wins, which the 1995-1996 Red Wings set.
| | | | |
| --- | --- | --- | --- |
| Team | BetMGM season point total | Points as of April 10 | Games remaining |
| Anaheim Ducks | 79.5 | 58 | 2 |
| Arizona Coyotes | 66.5 | 69 | 2 |
| Boston Bruins | 96.5 | 131 | 2 |
| Buffalo Sabres | 77.5 | 85 | 4 |
| Calgary Flames | 102.5 | 90 | 2 |
| Carolina Hurricanes | 102.5 | 109 | 3 |
| Chicago Blackhawks | 67.5 | 56 | 3 |
| Colorado Avalanche | 111.5 | 104 | 3 |
| Columbus Blue Jackets | 79.5 | 56 | 3 |
| Dallas Stars | 93.5 | 102 | 3 |
| Edmonton Oilers | 102.5 | 105 | 2 |
| Florida Panthers | 105.5 | 91 | 2 |
| Los Angeles Kings | 96.5 | 100 | 2 |
| Nashville Predators | 97.5 | 88 | 3 |
| New Jersey Devils | 89.5 | 108 | 2 |
| New York Rangers | 99.5 | 106 | 2 |
| Pittsburgh Penguins | 101.5 | 90 | 2 |
| San Jose Sharks | 76.5 | 60 | 3 |
| Seattle Kraken | 81.5 | 98 | 3 |
| St. Louis Blues | 95.5 | 81 | 2 |
| Tampa Bay Lightning | 103.5 | 96 | 2 |
| Vancouver Canucks | 92.5 | 79 | 3 |
| Vegas Golden Knights | 97.5 | 107 | 2 |
| Washington Capitals | 94.5 | 77 | 3 |
| Winnipeg Jets | 87.5 | 91 | 3 |