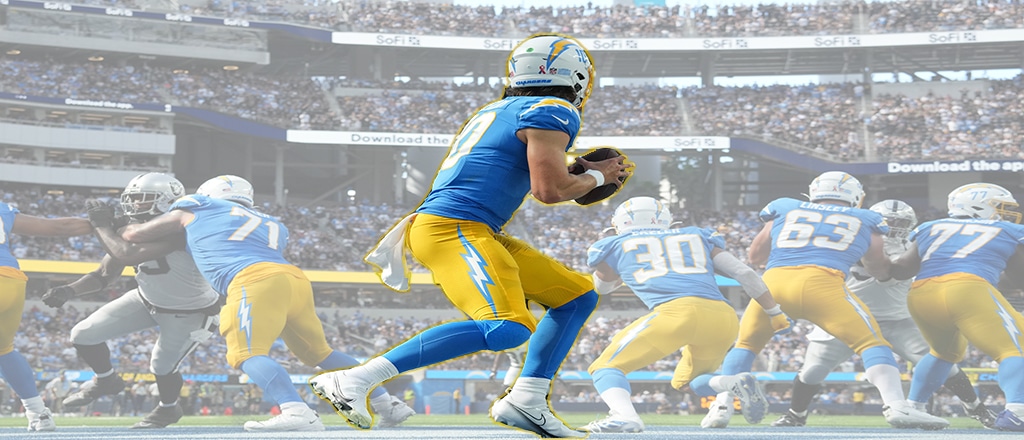 The Los Angeles Chargers and Kansas City Chiefs are set to battle it out this Thursday and we're going to take a look at some of the best betting lines to consider ahead of the game. Football is back in full force with Week 1 all wrapped up and now it's on to Week 2.
Both teams are considered powerhouses in their own right, so you should expect to see a lot of high-powered offensive plays making an appearance. It isn't always a sure thing though and despite the fact that Kansas City looked great in Week 1, the Los Angeles Chargers can still swoop in and steal a win.
Thursday Night Football Betting Odds
Betting on Thursday Night Football is ideal as there is only one game to watch. It's a "primetime game" because it's the only one slated to be played throughout the day/night. Every single person who loves football will be tuning in to catch the action whether they are fans of the teams or not.
Have a look at some of the most popular lines for the upcoming game. There's always money to be made on Thursday nights, so do a little bit of research and see what bets you can come up with.
Thursday Night Football Betting Odds – Top Contenders
It seems as if there are always a few players that stand out more than the others, especially when it comes to Thursday Night Football. The Kansas City Chiefs and Los Angeles Chargers are full of talent, but which ones are going to come out on top?
Anytime Touchdown (Travis Kelce and Austin Ekeler)
The two names you should be looking at for Anytime Touchdowns are Travis Kelce and Austin Ekeler. Austin Ekeler is the starting Running Back for the Los Angeles Chargers and will be carrying the ball quite a bit throughout the game. As such, he has one of the best odds to score a touchdown at any point. If they get into the red zone early on, you can almost guarantee that Ekeler is going to get a carry (and hopefully score a touchdown).
Travis Kelce is the starting Tight End for the Kansas City Chiefs and has grown into one of the best receivers in the game. Tight Ends used to be bigger players that were used to block in running plays, but now they are touchdown-catching machines. Travis Kelce also has Patrick Mahomes throwing the ball to him, and when you pair that up with his natural talent, it's obvious why he's got one of the better betting lines to score an anytime touchdown.
You're in good hands regardless of who you go with here, so bet with your heart and stick with it!
Passing Props (Justin Herbert and Patrick Mahomes)
Patrick Mahomes is clearly one of the better quarterbacks in the NFL right now. When you talk about someone who can lead their team to victory single-handedly, this is the kind of player that you're talking about. Although he doesn't have the same level of talent around him, if anybody is capable of passing for over 301 yards, Mahomes can do it. You could even consider stacking this bet alongside an anytime touchdown with Travis Kelce, as the pair are more than likely going to connect at one point. Then again, this is football and nothing is for sure.
Justin Herbert has a bit more to work with when it comes to talent on the offensive side of the ball. He has more receivers and even a few tight ends that are considered talented, so some of you may choose to lean on Herbert this upcoming Thursday for your passing prop bets. In any case, you're likely going to be fine regardless of who you decide to bet on.
Don't Miss Out on the Action!
Make sure you're comfortable and prepared to watch the game this Thursday, as it's going to be a stellar one. Two of the most potent offenses in the NFL will clash and we think there will be plenty of points put on the board.
Then again, there are many times where we feel like it's going to be a barn burner – only to be left disappointed when the game finishes 7-10.