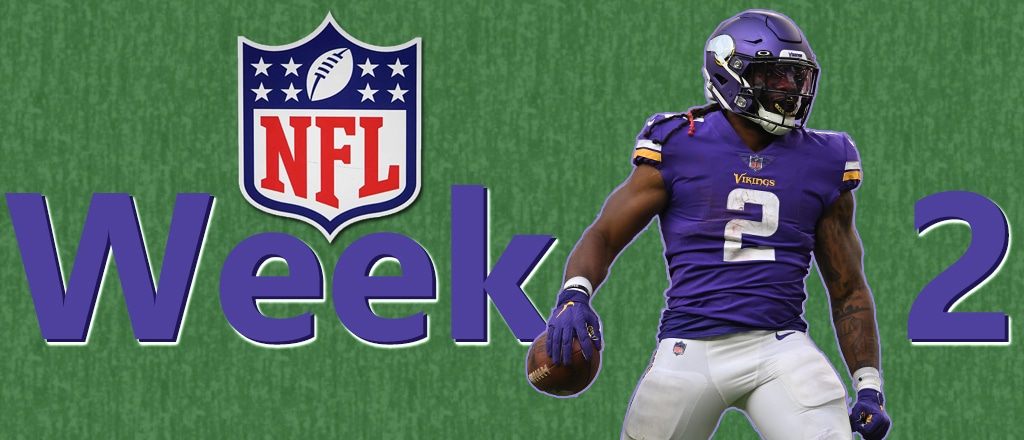 Alright! Week 1 of the NFL season is in the books and I gotta admit we did pretty good. The first week of the season is always a dicey affair and 2022 continued the trend. Justin Fields outdueled the 49ers and ignited some long dormant Bears hype. The Cowboys self owned themselves in ways we couldn't even anticipate, more on that later. There was a gawtdang Tie (which is of course how Indy and Houston was gonna end and I fell right in the trap).
Week 2 promises all sorts of interesting story lines and even more interesting over reactions to the first week's results. As always if you're new to Against the Spread (ATS) betting in football you can refer back to our Week 1 page for a quick primer.
Week 1 Record: 9-7 / Season Record: 9-7
Without further ado, on to the Week 2 picks against the spread.
Skip Around to Any Week 2 Game Here:
Thursday Night Game
Kansas City Chiefs (-3.5) vs. Los Angeles Chargers
I underestimated the Chiefs in Week 1 and maybe over estimated Arizona a bit. Patrick Mahomes looked like his prime self and will return to his home base for Week 2's tilt with the Chargers.
Justin Herbert looked great against the Raiders but will be without fave target Keenan Allen in this one. Allen left last week's tilt with a hamstring issue and wont be healthy enough to go on a short week.
All things considered this is gonna be a fun game to watch on Thursday. Expect LA to hang in there and look good in the process but come up short in the end.
Pick: Chiefs Cover
Sunday Afternoon Games
Indianapolis Colts (-4) @ Jacksonville Jaguars
Man oh man, the Colts. My gut told me they'd let me down last week but my head didn't listen, shame on me.
Back in the Andrew Luck era, Indy used to do this thing where they'd pretend to be the worst team in the league for nearly 3 quarters only to yell "surprise!" and orchestrate a miraculous comeback in what seemed like an impossibly short amount of time. Well Matt Ryan's Colts looked like a tribute act in Week 1. Getting bodied to the tune of 20-3 after three quarters, the Colts woke up just in time to salvage a tie with a rebuilding Houston squad.
Listen here Indy, this is not sustainable. You have a very capable defence. Enough weapons for Ryan to pepper targets to all game long (not just in the 4th quarter) and an all world back in Jonathan Taylor that has run roughshod over the Jags in recent years. This is not complicated, act like the superior team you're supposed to be.
Pick: Colts Cover
Tampa Bay Buccaneers (-3) vs. New Orleans Saints
If any team has given Tom Brady fits during his tenure in Tampa it's the Saints. With Brees or without, Brady and the Bucs have not been able to solve New Orleans in any definitive way.
Much like the Colts in Week 1, the Saints found themselves down by a considerable margin after three quarters before finally waking up to put 17 points on the board in the final frame. Jameis Winston passed the ball well and Michael Thomas caught two touchdowns in the 4th. The offense needed some time to shake off the rust but in the end the rust was shook.
Expect this one to go down to the wire and bet on the Saints owning beach front real estate in Brady's head to be the x-factor.
Pick: Saints Beat the Spread
Saints 21 – Buccaneers 19
New England Patriots (-1.5) vs. Pittsburgh Steelers
As the line indicates, this is a tough one to pick. The true identities of both these squads lies somewhere in the middle of their performances in Week 1.
Pittsburgh pulled off the shock OT win over Cincinnati on the back of some punishing defence that had Joe Burrow seeing ghosts all day. That punishment may have come back to bite the Steelers however as star pass rusher T.J. Watt will be sidelined with injury.
Meanwhile New England looked brutal against a fast, skilled Miami team. In the muggy confines of South Florida, Mac Jones and the rest of the Pats offence weren't able to move the ball effectively. Jones himself is now nursing a back injury and though he says he's good to go, it doesn't bode well.
In the past it would have been folly to bet against the Pats in a game that will likely be won on the ground. However I'll wager that New England is closer to the team we saw in Week 1 than the Steelers are. That is to say, pretty bad.
Pick: Steelers Beat the Spread
Steelers 21 – Patriots 17
Cleveland Browns (-6) @ New York Jets
The good news for the Jets? Zach Wilson is ramping up his workouts as he inches closer to returning to the squad. The bad news? The Jets won't start trending upwards as long as Joe Flacco is under center.
The Browns accomplished job 1 of the 2022 season when they beat Baker Mayfield and the Panthers. A testy affair made closer by the emotions attached. In Week 2 their task should be much simpler. Attack a porous Jets front and pressure a less than mobile Flacco and run the ball down New York's throats with their killer tandem of Nick Chubb and Karrem Hunt.
Cleveland understands the assignment and should depart MetLife Stadium with straight A's.
Pick: Browns Cover
New York Giants (-2.5) @ Carolina Panthers
As mentioned above, Baker Mayfield and the Panthers were denied victory over the Browns by a thin margin in Week 1. Mayfield was driven by emotion and thoughts of revenge and still didn't come away looking all that great. He wont have the benefit of emotional x-factors this Sunday against the Giants.
The Giants meanwhile won a well contested game against the Titans. A game that saw a vintage Saquon Barkley emerge from hibernation to put Big Blue on his back and make every fantasy football manager who wasted a first round pick on him in the last two years scream in to the void.
New York feels overwhelmingly like the play here as I'd prefer to bet on Saquon and Daniel Jones over Mayfield in a game that doesn't matter as much to him.
Pick: Giants Cover
Baltimore Ravens (-3.5) vs. Miami Dolphins
Very tough one to pick. Both teams looked pretty good in Week 1 but against pretty bad teams. Both teams also struggled to establish the run, which should be their strength.
Add to all that some newly minted Lamar Jackson drama, as the Baltimore QB reportedly turned down a 6 year extension worth in the neighborhood of 290 Million Dollars.
Here's where this matchup gets a bit juicy. Dolphins QB Tua Tagovailoa hasn't quite done enough in his 2 seasons of work to convince fans and the team alike that he's the man long-term. He's had moments of brilliance and moments of mediocrity in equal measure. Jackson meanwhile, just so happens to be a Florida native, growing up about one hour from Miami. The Ravens QB has MVP caliber skills as we know (winning the award in 2019) but has yet to take the Ravens to the next level.
Could Jackson try to coax a move to Miami (much like newly arrived WR Tyreek Hill) to solidify the position and make a legitimate contender in the Dolphins? Or can Tua show enough consistency to make the point moot? Pretty fun stuff to speculate on and what are sports if not riddled with wild speculation?
Both QBs are playing for their futures. Both are playing for good teams. Both give us plenty of reasons to root for them.
In what is practically a coin toss, I'll back Tua and the Dolphins. Ultimately I can't bet on a guy in the middle of a contract dispute.
Pick: Dolphins Beat the Spread
Detroit Lions (-2.5) vs. Washington Commanders
Am I a Lions fan now?
Honestly after watching them claw their way back into the game and give a very good Eagles squad a big scare I might just be.
D'Andre Swift continues his climb up the RB charts and Amon-Ra St. Brown is proving to be one of the more exciting young wideouts in the league. The Lions have a strong enough arsenal on offence that Jared Goff just has to be steady to give them a chance.
Meanwhile the Washington Commanders looked pretty good in their own right. We saw the best version of Carson Wentz on display but despite that, they still had to leave it late against an inferior Jags squad.
I'm gonna ride the Lions hype until they crush it like they have so many of their fans' and also I don't see Wentz putting together two good games in a row.
Pick: Lions Cover
Sunday Afternoon Games
San Francisco 49ers (-10) vs. Seattle Seahawks
San Fran returns to the west coast licking their wounds. In an embarrassing opening game in Chicago, 49ers pivot Trey Lance couldn't get settled.
Seattle meanwhile has to be smiling after winning their first tilt in the post Russel Wilson era, against Wilson himself no less.
The emotional toll will be felt on both sides here as the 49ers shift to a simpler, run heavy game script to help ease their young QB into the season and ensure they don't get off to an 0-2 start. A careful, cautious San Francisco wins this one in the end but not by the 10 plus points needed to cover.
Pick: Seahawks Beat the Spread
Los Angeles Rams (-10.5) vs. Atlanta Falcons
Welp. Last week I said never bet on Atlanta, so I didn't and it burned me.
So I'm here this week to say; Don't bet on Atlanta! Again!
The Falcons hung in with the Saints in large part due to Marcus Mariota's scrambling. Though not terrific in the air, the 2014 Heisman Trophy winner did enough to keep his team in the game. This will not be the case on Sunday.
The Rams are coming off a tough loss to the Superbowl favorite Bills. They allowed over 30 points at home for only the 2nd time since moving into SoFi Stadium and they will be pissed. Mariota will not be able to scamper around like he did in Week 1. The Rams will be hungry and looking to shut down any nonsense early. They will not go down 0-2 to start their championship defence, certainly not starting with 2 in a row at home.
Pick: Rams Cover
Denver Broncos (-10) vs. Houston Texans
Picking the Texans to beat the spread this week may seem like a pretty sexy choice. I mean they tied the Colts, a team they were given no chance against and it made a lot of people take notice as a result. Add to that the fact that their rookie QB and RB had gained a lot of pre-season praise and it would be hard to blame someone for staking them this week.
In a vacuum, that makes sense but let's consider the implications of exactly how they managed to tie Indy. They managed the tie them by blowing a 20-3 lead with 15 minutes to play and getting absolutely torched in the final quarter when the Colts' alarm clocks must have all gone off.
Houston is not as capable as that tie indicates and the Broncos are not as bad as their opening loss to Seattle would have us believe.
Chalk that up to Russel Wilson continuing to learn his offence, the receivers and coaches learning Russ and maybe a bit too much pressure to go into Seattle and dominate.
Denver will regroup and win their home opener in convincing fashion, righting the misconceptions generated by Week 1.
Pick: Broncos Cover
Las Vegas Raiders (-6) vs. Arizona Cardinals
I'll admit that I expected the Cardinals to look a lot better than they did in Week 1 and to be perfectly frank, they stunk. As such it's hard for me to put as much faith in them this week, especially on the road in Las Vegas.
In Week 1, the Raiders played a tight contest against a very good Chargers team, even if they were guilty of trying to force the ball to new toy; Devante Adams. Expect them to make adjustments and come to this one with some better ideas on how to spread the love.
This has the makings of a very high scoring contest but in the end the Raiders are good enough to win it running away.
Pick: Raiders Cover
Raiders 38 – Cardinals 30
Cincinnati Bengals (-8.5) @ Dallas Cowboys
Oh Dallas, what otherworldly gods did you cross?
The Cowboys were predictably thumped by Tom Brady and the Bucs as it seems that over hyped Superbowl window was merely drawn on the side of the wall, Wile E. Coyote style. To make matters worse, Quarterback Dak Prescott suffered a thumb injury which required surgery and will sideline him for 4-6 weeks plus. Dak's replacement; Cooper Rush did not fare any better sending Cowboys faithful online to drum up scenarios to right the ship. Names like Gardner Minshew, Cam Newton and (the recently retired) Ryan Fitzpatrick have been floated, but it seems unlikely even some Fitzmagic can save the Boys in the short term.
As for their opponents this week, they've got some hand wringing of their own to deal with. The Bengals lost their first game of 2022 in overtime to Pittsburgh and while that isn't totally shocking (the Steelers will be a tough out all year), they looked pretty anemic in the process. To compound, WR Tee Higgins is in concussion protocol and is iffy to play in this one.
At the end of the day Bengals fans are a bit nervous, while Cowboys fans have downright lost faith. The line for this one keeps on climbing in favor of Cincinnati as belief in a Cowboys bounce back craters. It's something to watch but I think Cinci has the talent to cover as long as it's 10 and under.
Pick: Bengals Cover
Sunday Primetime Game
Green Bay Packers (-10) vs. Chicago Bears
Did no one watch Justin Fields and the Bears handle the niners last week? Hey I know weather played a factor but spotting the Packers 10 points seems awfully generous.
The Bears are gonna be a popular pick this week and I can see why. While I absolutely think the Packers will win this game (I said last week they'd lose 2 of their first 3, that second loss will come next week against the Bucs), I also think this will be a more methodical, run heavy affair. Chicago will take their lessons from Week 1 to heart and continue to make strides in a losing cause.
Pick: Bears Beat the Spread
Monday Night Football
Buffalo Bills (-10) @ Tennessee Titans
Now this is a 10 spot I can get on board with. Unlike the Packers, the Bills earned every bit of this line. They showed the world who they are in the season opener, under the bright lights of SoFi.
The Titans meanwhile have been a plucky crowd pleaser for a couple years now. Ryan Tannehill was not supposed to turn this thing around after they gave up on Marcus Mariota, but turn it around he did and good feels were had by all. Now the shine has come off, the cracks are showing and week by week we will give them less and less respect. If this game were occurring in Week 10, I daresay the line would be 20 points in favor of the Bills.
Pick: Bills Cover
Philadelphia Eagles (-2) vs. Minnesota Vikings
This might be the toughest game to pick this week so of course they saved it for last. Both teams looked great in Week 1. Philly took a quarter or so to wake up, but wake up they did putting 38 over on Detroit when it was all said and done.
Minnesota meanwhile made hated rivals Green Bay look silly and Aaron Rodgers look downright pedestrian. On top of they're impressive defensive performance, we were treated to heaping spoonfuls of WR Justin Jefferson (possibly the best WR in the league) and Davin Cook (who averaged 4.5 yards per carry in the game). Kirk Cousins has a bit of a rep for not getting it done in big games, but with weapons like those? I'm pretty sure I could suit up and beat the Eagles.
The Vikes win a close and entertaining contest between two great teams. Oh and if you still need convincing? The Eagles are 0-5 in Week 2 over last 5 years.
Pick: Vikings Beat the Spread