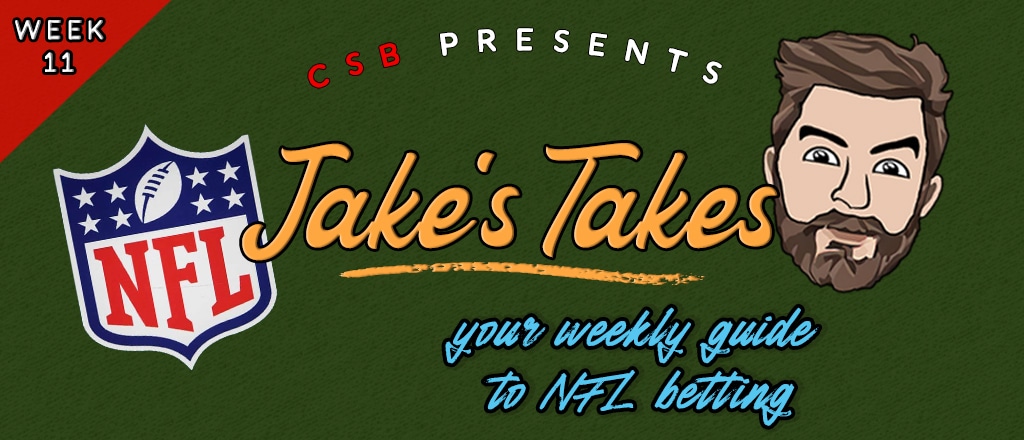 Welcome one and all to Week 11 in the NFL!
Before we get to the numbers let's recap an eventful Week 10 in football. First off, I gotta talk about the Bills. I'm sorry Buffalo fans, I'm sure that life as a Bills fan has already been hard enough without me dragging their failures out into the light every week but how can I not. The Bills lost to the Broncos on Monday Night Football (somewhat predictably) and fell to 5-5 on the season. Sitting in 10th in the AFC after 10 weeks, Buffalo fired it's offensive coordinator, Ken Dorsey, on Tuesday. Dorsey was replaced on an interim basis by QBs coach Joe Brady, and while that sounds like an odd jump, keep in mind that Dorsey himself was elevated from the same role in 2022.
As lacklustre as the offence has been, the Bills have ultimately been undone by turnovers. Their ineffective run game has forced Josh Allen to do to much and it's showing on the scoresheet. Buffalo suffered four turnovers (two INTs, two fumbles) against Denver and sits at 18 turnovers on the year, tied for second-most league wide. The rational observer would say that the Bills have the talent to turn things around, but quite frankly that talent's underwhelming production thus far has led to this record as it is. Buffalo plays host to the Jets this week, who are doing a fair bit of offensive sputtering themselves but will be propelled by the memories of their Week 1 comeback victory over the Bills. A loss to New York may send this franchise into a full tailspin, but a win would calm things down enough, at least for one more week.
Outside of the Bills' output we were treated to an inordinate amount of high-scoring games in Week 10. Marquee matchups didn't fail to deliver as the Browns topped the Ravens, 33-31, after trailing by as much as 14 points. That uplifting news was of course offset by bad, as is tradition in Cleveland, as Browns fans found out this week that QB Deshaun Watson is having season-ending shoulder surgery. This is especially biting considering Watson orchestrated a masterful fourth quarter in sealing the win, and was probably the best we've seen him thus far in Cleveland. In the biggest surprise outcome of the week, the Houston Texans pulled off the upset win over the high-flying Bengals, 30-27, as C.J. Stroud continues to elevate his game to otherworldly levels and make every Carolina Panthers fan curse his existence. The Lions and Chargers shot the lights out in L.A., culminating in a 41-38 win for the now 7-2 Detroit squad. This is the best start for the Lions since 2014, but defensive performances like the one last week need to be curtailed if they hope to be true contenders come playoff time.
Despite Bill Belichick's best efforts, the Patriots had a Germany-sized letdown in Week 10, mustering a measly six points in a losing effort against the Colts. This is the third time this season that New England has produced six or fewer points and this power outage may well lead to a shakeup. The Patriots (along with the Colts, Falcons, and Saints) get to lick their wounds a little during their Week 11 byes.
With a lot to chew on from Week 10 we can safely dissect the odds ahead of us and make some choice Week 11 picks!
---
All odds courtesy of bet365
* = Home Team
Underdog
---
Week 11 lines to bet NOW
Cincinnati Bengals– Moneyline: +170
The AFC North hotbed will be on full display in Week 11 as the Bengals visit the Ravens and the Browns host the Steelers. Right now the Ravens sit perched atop the division while the Bengals look up at them from the bottom, but I think we have to consider some salient factors that led us here. Namely, Joe Burrow's early struggles with a calf injury that hindered the entire Cincinnati team out of the gate. The Bengals lost three or their first four games to start the year, which included a 27-24 Week 2 loss to these same Ravens. That game was played in Cincinnati, but this week the Ravens will home advantage. Last week, I talked about Baltimore's poor record within the division (which now sits at 6-10 since 2021) and I've got some more stats to compound the doubts I have about the Ravens taking this one. Baltimore has had a hard time putting away teams in the latter stages of games, particularly teams with offences that can orchestrate stellar second halves like the one in Cinci. The Ravens have led the game in the fourth quarter in every one of their 10 games thus far this season and have squandered fourth quarter leads in all their losses. Since the 2022 season, Baltimore leads the league in double-digit leads blows with six. Since the 2021 season, they have blown nine fourth quarter leads of seven or more points. In a game that everyone assumes will come down to the wire, can we really trust a team that can't shut down good teams when it matters most? I certainly can't.
Minnesota Vikings– Moneyline: +110
The Broncos are gonna get a ton of juice this week due to their primetime Monday Night Football win over the Bills. The Broncos have beaten the Chiefs and Bills in back-to-back games (with a bye in between) and are suitably buzzworthy. But as I did in Week 10, I still believe in the Vikings' buzz, and namely the Josh Dobbs buzz, just a little bit more. Since taking over in Week 9, Dobbs has taken a dreary fan base in Minnesota (reeling from the injuries to franchise cornerstones Justin Jefferson and Kirk Cousins) and re-energized it. The prospect of Dobbs leading a rag-tag bunch of Vikings to the playoffs is a real one, and his patchwork offence is aided tremendously by Minnesota's underrated D corps. Denver scored 24 points in each of its notable wins, enough to beat a Chiefs team it caught sleepwalking and a Bills team that can't get anything going on offence at the moment. Twenty-four points wont be enough to beat the Vikings who have scored 31 and 27 points, respectively, since Dobbs took over at pivot. The Broncos defence has shown marked improvement of late but is still a league-worst squad that wont be able to hold off the Minnesota attack enough to take this one. The reason I like this line right now? The prospect of a Jefferson return could push the line towards Minny, so jump on the Vikings early.
Pittsburgh Steelers– Moneyline: +110
I bigged up the Browns last week to great success, and although they had to leave it late, I ended up correct in my pick for them to beat the Ravens. Now poised to host another AFC North rival in the Steelers, I'm less hot on Cleveland. With Watson out for the rest of the year with impending shoulder surgery, it's hard to view the Browns in the same way. It's no stretch to say that they simply would not have won that game over the Ravens without Watson. Watson led Cleveland to a 22-point second half and went 7-for-7 for 81 yards and a touchdown in the fourth quarter to seal the victory. We wouldn't be celebrating them this week were PJ Walker at the helm, and hell, they probably wouldn't even be favoured in this game. Now Walker is at the helm for the foreseeable future and that bodes extremely well for the Steelers, who have won four of their last five and have very quietly put together a 6-3 record. What's led to and perhaps enhanced that success is their renewed focus on the run game which makes for fewer mistakes, fewer turnovers, and allows for the pass rush to take risks and really put pressure on opposing QBs. Walker and the Browns will be in for more than they bargain for this week and Cleveland joy will be followed by Cleveland pain, as is tradition.
Week 11 lines to bet LATER
Los Angeles Rams– Moneyline: -105
No one in the betting world seems to know what to make of the Sunday afternoon matchup between the Seahawks and Rams and that's why we've got such a razor-thin line to work with. With that in mind, I'll keep this one pretty simple. Matt Stafford is returning to the fold for the Rams at home and with Kyren Williams' imminent return in Week 12 to look forward to, can set right the Rams' season with a victory. Should the line move far enough away from L.A. to make the juice worth the squeeze, drop the hammer.
Bet on Seahawks vs. Rams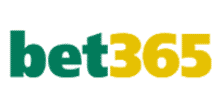 SEA -115
LAR -105
Week 11 line that makes me go hmm…
Philadelphia Eagles– Moneyline: +125
This week we get treated to a primo Thursday Night game AND a stellar Monday nighter as well. Picking this one is a murky prospect as both the Chiefs and the Eagles are emerging from a bye week. The action is going KC's way for obvious reason but maybe more because of the play of (probably injured) Jalen Hurts thus far. The Eagles QB hasn't looked himself so far this season and has clearly been hindered by a bum knee. The good news for Philly is the two weeks' rest Hurts has gotten to enjoy heading into this marquee clash. Both defences have been stellar but for different reasons. The Eagles' ability to stop the run is offset by the Chiefs' top-notch pass defence. I think this combo bodes well for Philadelphia, more than it does for the Chiefs. If Hurts can be at his best and win the ground battle, keeping the KC offence off the field, then I like the Eagles' chances. What's more, when the Chiefs do take the field, Philly's pass rush and strong contain should be able to limit Patrick Mahomes' ability to scramble. I don't see this shaping up like the Super Bowl did, in a 73-point shootout, but rather a testy affair where the defences are the stars of the show. If Hurts limits mistakes and uses his legs as he can, advantage Eagles.
---
Betting mismatches of the week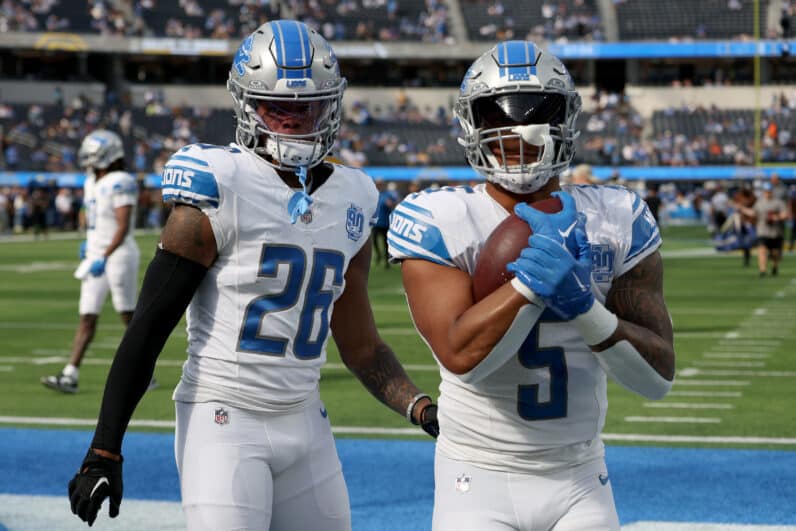 David Montgomery & Jahmyr Gibbs vs The Bears' Defence
Lost in the shuffle of the high-powered Lions offence, and the mere fact that the Lions are very good in general, has been the play of their running back tandem of David Montgomery and Jahmyr Gibbs. When healthy at the same time (which hasn't often been the case) the two-headed monster has propelled the Detroit attack to new heights. In their Week 10 win over the Chargers, Montgomery and Gibbs powered the engine to the tune of 193 combined rushing yards and three touchdowns. Provided the pair is able to stay healthy together, the veteran Montgomery and rookie upstart Gibbs will continue to terrorize opposing defences.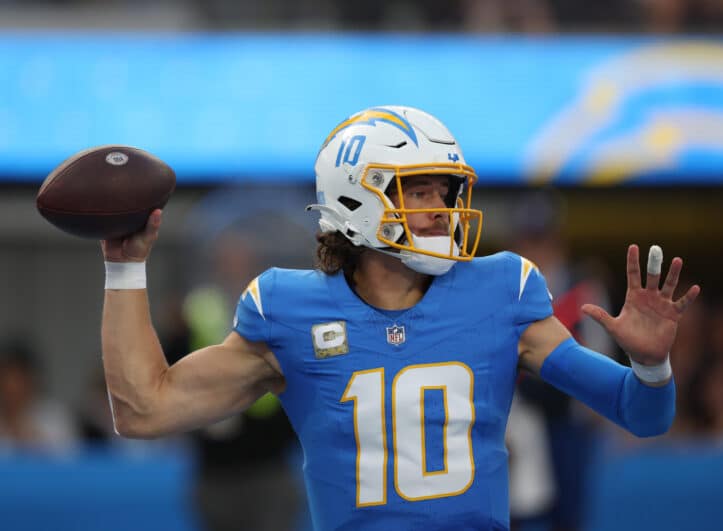 Justin Herbert vs The Packers' Defence
It's a real shame that Justin Herbert has to play on the same team as his defence, I mean a real shame. He's a special talent that should be up there in the discussion as best in the league, but his defence puts him in impossible win scenarios week in and week out. Herbert is forced to shoot the lights out to give the Chargers any chance to win, and to his credit, he does just that, week in and week out. Herbert compleed 27 of his 40 pass attempts for 323 yards, four TDs and an interception last week against the Lions in a losing cause, which is often the case. This week, he takes on a Packers team who, defensively at least, sits right where Detroit does. With his ability to use old standbys Keenan Allen and Austin Ekeler as dependable target soaks, even the Green Bay weather shouldn't be able to derail Herbert's stellar run of play.
Bet on Chargers vs Packers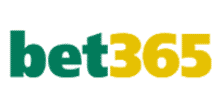 LAC -160
GB +140
Betting trends of the week
Here are a few trends to keep in mind when placing your bets this week:
TheCincinnati Bengalshave hit the moneyline in 14 of their last 22 games 🔥
TheBaltimore Ravenshave scored last in seven of their last 19 games 🧊
TheLas Vegas Raidershave scored last in 11 of their last 18 games 🔥
TheMiami Dolphinshave scored first in eight of their last 18 games 🧊
ThePittsburgh Steelershave hit the moneyline in eight of their last nine away games 🔥
TheChicago Bearshave only hit the moneyline in four of their last 20 games 🧊
---
Player props to play in Week 11
Here's a few player props I love this week:
Player Passing Yards Milestones – 300 Yards – Joe Burrow: +235
Burrow has eclipsed the 300 mark in three of his last five games, and came awfully close to four with a 283-yard performance against the Niners in Week 8. In what will be a matchup with major implications for both the Bengals and Ravens, expect the best of Burrow on Thursday Night, and that means (among other things) over 300 yards passing.
Player Rushing Yards Milestones – 50 Yards – Lamar Jackson: +115
Other side of the coin from Burrow, Lamar Jackson will be fully cognizant of the gravity of Thursday Night's game. He put up 41 yards on the ground against the best defence in the league last week and will be at his best in a game that will take a full four-quarter effort from him.
Player Receiving Yards Milestones – 100 Yards – CeeDee Lamb: Odds currently off the board, but check back soon.
Honestly, how can I not go back to the well again, AGAIN with CeeDee Lamb. Our Lamb props have been cooked to perfection for two straight weeks and I aim to make it a third. The Cowboys are currently enjoying a decidedly cushy phase of their schedule and it shapes up nicely for CeeDee to play us some more beautiful music.
⭐ Gold Star Pick ⭐
Last week our three-way parlay was undone by a surprising Bengals loss, so why not make it a four-way! I'll package three no-doubters with the Washington Commanders who get the lucky distinction of playing the dismal Giants this week.
4-Way Parlay – Moneyline – DAL Cowboys, DET Lions, SF 49ers, WAS Commanders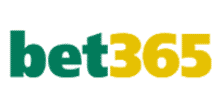 +103
---
2023 NFL Season FAQ
What NFL Teams Have a Bye Week in Week 11?
Week 11: Falcons, Colts, Patriots, Saints
What is the 2023 NFL Bye Week Schedule?
Week 5: Browns, Chargers, Seahawks, Buccaneers
Week 6: Packers, Steelers
Week 7: Panthers, Bengals, Cowboys, Texans, Jets, Titans
Week 8: None
Week 9: Broncos, Lions, Jaguars, 49ers
Week 10: Chiefs, Rams, Dolphins, Eagles
Week 11: Falcons, Colts, Patriots, Saints
Week 12: None
Week 13: Ravens, Bills, Bears, Raiders, Vikings, Giants
Week 14: Cardinals, Commanders
What are the 2023 Week 11 NFL Power Rankings?

San Francisco 49ers
Kansas City Chiefs
Baltimore Ravens
Dallas Cowboys
Buffalo Bills
Miami Dolphins
Philadelphia Eagles
Los Angeles Chargers
Cincinnati Bengals
Detroit Lions
Cleveland Browns
Jacksonville Jaguars
Los Angeles Rams
Minnesota Vikings
Seattle Seahawks
New Orleans Saints
Pittsburgh Steelers
Houston Texans
Tampa Bay Buccaneers
Green Bay Packers
Indianapolis Colts
Atlanta Falcons
Denver Broncos
New England Patriots
New York Jets
Chicago Bears
Washington Commanders
Tennessee Titans
Arizona Cardinals
Las Vegas Raiders
Carolina Panthers
New York Giants

(Per ESPN Power Index)
What is the 2023 Week 11 NFL Schedule?

Thursday, November 16, 2023
Cincinnati @ Baltimore 20:15

Sunday, November 19, 2023
Pittsburgh @ Cleveland 13:00
Chicago @ Detroit 13:00
Los Angeles @ Green Bay 13:00
Las Vegas @ Miami 13:00
New York @ Washington 13:00
Dallas @ Carolina 13:00
Tennessee @ Jacksonville 13:00
Arizona @ Houston 13:00
Tampa Bay @ San Francisco 16:05
New York @ Buffalo 16:25
Seattle @ Los Angeles 16:25
Minnesota @ Denver 20:20

Monday, November 20, 2023
Philadelphia @ Kansas City 20:15

What is NFL Against the Spread betting?

If you're new to ATS betting in football, check out our convenient primer on Point Spread Betting and take a look at our new and improved Parlay Betting Guide should the mood strike to combine some of these picks!

When are the next week's NFL Lines set?
Typically oddsmakers will set the next week's Game Lines after the Sunday slate of games. NFL Odds will evolve as bets are made throughout the week and NFL Picks made too early may lack vital information. The NFL Point Spreads are set with a somewhat unclear picture and NFL predictions become more informed as the games get closer.