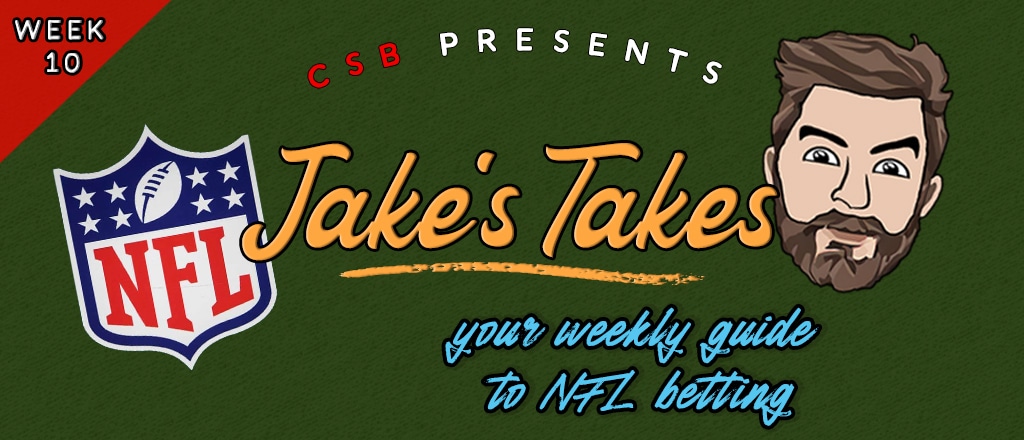 Welcome all to Week 10. We've officially reached double digits as the football season and the season in general begins its rapid descent into winter. But just because you hear Mariah Carey in every retail store on earth and maybe in the retail store of your mind, that doesn't mean the NFL action is cooling off anytime soon.
We've got a spicy German affair on tap between the Colts and Patriots as the second week of Frankfurt games kicks off. If the news out of New England is to be believed, Bill Belichick might not have a seat on the team flight back should the Pats lose this one.
In far hotter climes than these, the Jaguars host the rested, but still reeling 49ers, losers of three straight games prior to their bye week break. The Cardinals welcome the Falcons in what is expected to be Kyler Murray's return to action. The Arizona pivot has been on the shelf for 335 days since his ACL tear and subsequent knee surgery. Can he lead the 1-8 Cards on an unlikely run to salvage the season? Stranger things have happened, and considering the NFC West is currently being led by the aforementioned 5-3 Niners, anything is possible.
How about Joshua Dobbs in Minny? Dobbs was quickly scooped up by Minnesota after the season-ending injury to Kirk Cousins to back up rookie QB Jaren Hall. After Hall left Week 9's game with an injury, Dobbs, who had yet to throw a pass in practice and didn't even know the names of his teammates, proceeded to orchestrate a win over the Falcons which culminated on the very last drive. Dobbs threw for 158 yards, two touchdowns and rushed for 66 yards and another score. The Passtronaut, as he's been affectionately named, is quite literally a rocket scientist in addition to being the Vikings' hero of the moment. Dobbs will have a week of practice under his belt before he starts for Minnesota in Week 10's tilt against the visiting Saints.
To teams closer to Canadian hearts, the post-bye week Lions travel to L.A. to resume their 2023 season. The 6-2 Detroit squad has high hopes for the latter half and besides the absolute shellacking suffered at the hands of the Ravens in Week 7, have had very few blips thus far. The same can't be said for the Buffalo Bills whose loss in Week 9 puts them at 5-4, a record that asks far more questions than it answers. The Bills won't enjoy a rest week until Week 13, so they must forge ahead as they play host to the Broncos on Monday Night Football.
With some choice storylines in tow, let's get to the numbers and make some picks!
---
All odds courtesy of bet365
* = Home Team
Underdog
---
Week 10 lines to bet NOW
New England Patriots– Moneyline: +100
Going with the technical "home" team here (what's German for Foxborough?) and with the coach/GM with the most to lose. But that isn't the only reason I see the Pats pulling this one out and giving Bill a stay of execution. Belichick himself is 3-0 in games played in Europe and he'll surely have his players on a tight leash in Germany. What's more, European games tend to be low-scoring, testy affairs which suits New England perfectly. Gardner Minshew has never faced Belichick before and he'll probably be seeing ghosts, or seeing geister if you will. This is the highest stakes matchup these two teams have played since the Brady vs. Manning days and I think the Patriots pull out a German-sized W.
Minnesota Vikings– Moneyline: +125
This one may be kinda obvious but how can I not roll with Dobbs and the Vikes at home. The Saints have been playing good football and the offence is humming along, but my football betting radar is calibrated to pick up emotion and momentum edges when I see them. The Vikings are a good team, a playoff team under Cousins, and there's no reason to think Dobbs can't squeeze some of that juice, at least for a while. Look, I know he's a journeyman and the journeyman hero stories in the NFL rarely last more than a few games, but this one is in prime hero territory. Minnesota will rally around Josh as long as it can and with an underrated defence to boot. The Vikings will take it to the Saints in a big way this Sunday.
Arizona Cardinals– Moneyline: +105
The Cards have got to have the best vibes of any 1-8 team, maybe ever, as Murray's return to action this week marks the "real" start to their season. The franchise has been on pause for all intents and purposes since the injury to Murray and the new coaching staff has been waiting patiently to utilize him since being hired in the off-season. Head coach Jonathan Gannon, and perhaps more importantly offensive coordinator Drew Petzing, have been waiting patiently to draw up plays for a Murray-led Cardinals squad. What's more, RB James Conner has been designated to return from IR after missing a month with a knee injury. Though not a sure thing to start this week, Conner's imminent return paired with Murray's makes for enough positive vibes to build a win on for the home team Cardinals.
Week 10 lines to bet LATER
Despite the up and down, injured not injured drama that has been Deshaun Watson's tenure in Cleveland, and despite losing their best offensive threat in Nick Chubb for the season, the Browns have somewhat quietly put together a 5-3 season thus far. Their divisional rivals in Baltimore will get most of the attention this week and for good reason, Lamar Jackson is playing like an MVP and the defence has been so good it gives Cleveland's a run for its money as league's best. All that being said, this just feels like a game the Browns show up and win or at the very least, make for a very close encounter. As it stands, if the playoffs started today, all four NFC North teams would be in (Baltimore, Pittsburgh, Cleveland, Cincinnati) and divisional games are always gonna be hotly contested. History also sides with the Browns here, as the Ravens are 6-9 within the division since 2021. Should the line get more intriguing, or the spread creep farther away from the Browns, I'd jump on that action immediately.
Bet on Ravens vs. Browns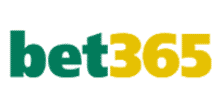 BAL -270
CLE +220
Week 10 line that makes me go hmm…
Denver Broncos– Moneyline: +280
Sorry Bills fans, but I gotta go there. I mean, I'm sure you've all thought the same thing, this is the same Broncos team that beat the Chiefs prior to their bye and are winners of two straight heading into this one. You get the sense that Denver is starting to figure things out, and that whatever Sean Payton is preaching is starting to sink in. That's potentially bad news for an inconsistent Buffalo team and especially bad news when trying to work out those inconsistencies on Monday Night Football against a rested Broncos squad. Life as a Buffalo fan is never easy, but, you already knew that right?
---
Betting mismatches of the week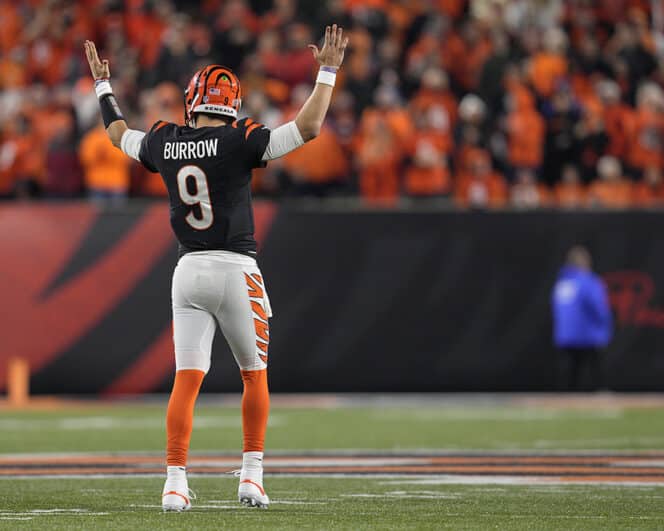 Joe Burrow vs The Texans' Pass Rush
Joe Burrow lives on another plane of existence right now. Long gone are the early days of the 2023 season when Burrow was plagued by a pre-season calf injury and his play with it. Over the last five weeks, the Bengals QB has been the best quarterback in the NFL. In that span, he boasts the league's highest passer rating and has thrown 10 touchdowns while maintaining a 75% completion rate. Only one QB in history has maintained the same numbers over the same amount of games and that's Peyton Manning in his 2013 MVP campaign. His opponents this week are also able to trot out a pretty stellar QB in their own right in C.J. Stroud. They won't, however, be able to boast as stellar a pass rush. The Texans have managed to sack the opposing QB only 17 times this year, which puts them as the fourth-worst unit in the league. What's more, six of those 17 sacks came against the Panthers and their struggling rookie QB Bryce Young. Burrow will get to enjoy minimal pressure and maintain his stellar stretch this week in a game that promises to have a ton of collective passing yards.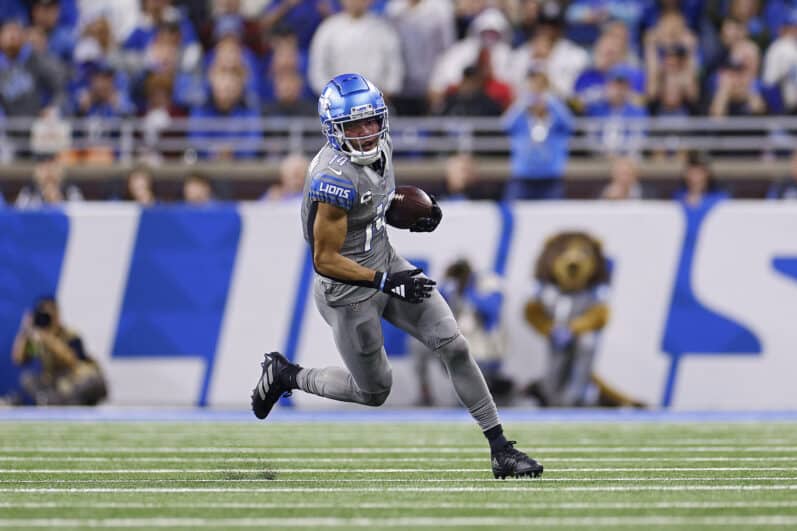 Amon-Ra St. Brown vs The Chargers' Secondary
It's no secret that Amon-Ra St. Brown is the Lions' best weapon on offence, and it's also no secret that the team he's facing this week in the Chargers struggles mightily to keep opposing offences off the board, especially when it comes to wide receivers. L.A. ranks dead last in the league in pass yards allowed and can't seem to help making opposing QBs look good, with an average QB rating of 96.6. St. Brown will be counted on heavily this week and the fact that he's already eclipsed the 100 yard mark in five of his seven games played this year can't be understated. Look for him to feast in favourable conditions.
Bet on Lions vs. Chargers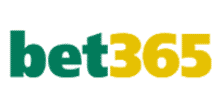 DET -150
LAC +130
Betting trends of the week
Here are a few trends to keep in mind when placing your bets this week:
TheCarolina Panthershave hit the Team Total Over in six of their last nine away games 🔥
TheChicago Bearshave only hit the Moneyline in three of their last 20 games 🧊
TheGreen Bay Packershave hit the Team Total Over in six of their last eight away games 🔥
ThePittsburgh Steelershave only hit the Game Total Over in six of their last 20 games 🧊
TheDetroit Lionshave hit the Moneyline in 15 of their last 20 games 🔥
TheNew York Giantshave scored first in five of their last 20 games 🧊
---
Player props to play in Week 10
Here's a few player props I love this week:
Player Passing Touchdowns Milestones – 3 – Joe Burrow: +250
In his last four games, Burrow has thrown three TDs, then two, then three, then two again last week. It stands to reason then that he'll throw three again this week. And with the Texans' league basement pass rush, there's no reason to think he won't.
Player Passing Touchdowns Milestones – 2 – Joshua Dobbs: +230
Dobbs has thrown two TDs in each of his last two games between Arizona and Minnesota. It stands to reason he'll do it again this week especially considering the fact that he did it in less than a full game in Week 9 and has tons of momentum behind him heading into this one.
Player Receiving Yards Milestones – 100 Yards – CeeDee Lamb: +215
I'm going back to the well with Lamb this week, someone I featured in this spot one week ago. CeeDee's play of late can't be ignored and he's eclipsed 100 receiving yards in three straight games.
⭐ Gold Star Pick ⭐
Gonna parlay a couple teams I've talked up and one I haven't, cause frankly there's really no point in talking up the Cowboys in an absolute wash of a game. But let's take advantage and package what I consider to be the three likeliest outcomes this week.
3-Way Parlay – Moneyline – DAL Cowboys, DET Lions, CIN Bengals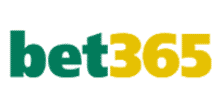 +139
---
2023 NFL Season FAQ
What NFL Teams Have a Bye Week in Week 10?
Week 10: Chiefs, Rams, Dolphins, Eagles
What is the 2023 NFL Bye Week Schedule?
Week 5: Browns, Chargers, Seahawks, Buccaneers
Week 6: Packers, Steelers
Week 7: Panthers, Bengals, Cowboys, Texans, Jets, Titans
Week 8: None
Week 9: Broncos, Lions, Jaguars, 49ers
Week 10: Chiefs, Rams, Dolphins, Eagles
Week 11: Falcons, Colts, Patriots, Saints
Week 12: None
Week 13: Ravens, Bills, Bears, Raiders, Vikings, Giants
Week 14: Cardinals, Commanders
What are the 2023 Week 10 NFL Power Rankings?

Kansas City Chiefs
Baltimore Ravens
Buffalo Bills
San Francisco 49ers
Miami Dolphins
Dallas Cowboys
Philadelphia Eagles
Los Angeles Chargers
Cincinnati Bengals
Jacksonville Jaguars
Detroit Lions
Cleveland Browns
Los Angeles Rams
New Orleans Saints
Seattle Seahawks
Tennessee Titans
Pittsburgh Steelers
Minnesota Vikings
Houston Texans
Tampa Bay Buccaneers
Indianapolis Colts
Atlanta Falcons
Green Bay Packers
New York Jets
Denver Broncos
New England Patriots
Chicago Bears
Washington Commanders
Arizona Cardinals
Las Vegas Raiders
Carolina Panthers
New York Giants

(Per ESPN Power Index)
What is the 2023 Week 10 NFL Schedule?

Thursday, November 9, 2023
Carolina @ Chicago 20:15

Sunday, November 12, 2023
Indianapolis @ New England 09:30
Houston @ Cincinnati 13:00
New Orleans @ Minnesota 13:00
Green Bay @ Pittsburgh 13:00
Tennessee @ Tampa Bay 13:00
San Francisco @ Jacksonville 13:00
Cleveland @ Baltimore 13:00
Atlanta @ Arizona 16:05
Detroit @ Los Angeles 16:05
New York @ Dallas 16:25
Washington @ Seattle 16:25
New York @ Las Vegas 20:20

Monday, November 13, 2023
Denver @ Buffalo 20:15

What is NFL Against the Spread betting?

If you're new to ATS betting in football, check out our convenient primer on Point Spread Betting and take a look at our new and improved Parlay Betting Guide should the mood strike to combine some of these picks!

When are the next week's NFL Lines set?
Typically oddsmakers will set the next week's Game Lines after the Sunday slate of games. NFL Odds will evolve as bets are made throughout the week and NFL Picks made too early may lack vital information. The NFL Point Spreads are set with a somewhat unclear picture and NFL predictions become more informed as the games get closer.