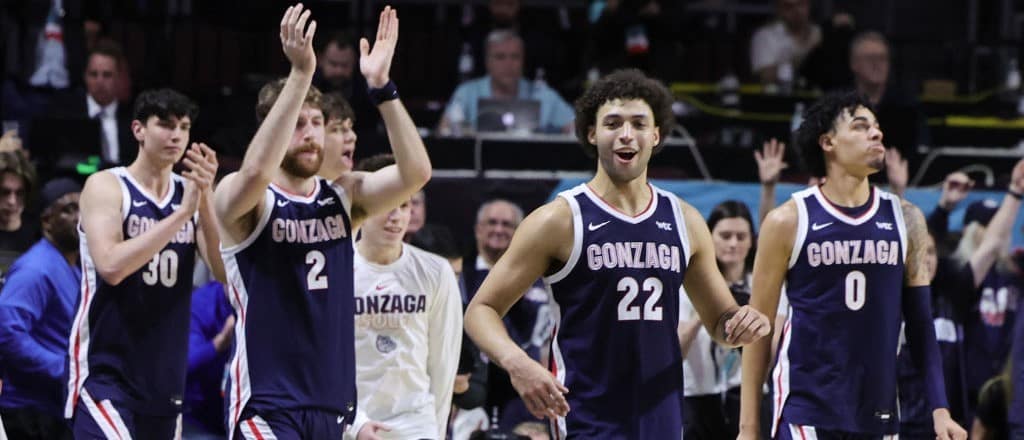 It's time to Dance! And that means Canada Sports Betting's editors will be putting their reputations on the line by recommending a few March Madness wagers for casual bettors.
Do as you will with these picks. You can tail them, fade them, or simply glance over them and forget them. Betting on the wacky NCAA Tournament is all about having fun (responsibly, of course).
So, if you're on the fence but want to throw down a wager or two on March Madness, hopefully you can walk away with a good betting nugget, or two.
Greg Warren's picks
Furman to Make Sweet 16: +900
Let me be frank: This is a longshot but hear me out.
Nearly 21% of No. 13 seeds have won their opening-round games vs. the No. 4 seed since the tournament expanded in 1985. If Furman, the No. 13 seed in the South Region, can knock off No. 4 Virginia, it would run into San Diego State (5) or Charleston (12) in the Round of the 32. Neither of those opponents are unbeatable.
According to BetMGM's March Madness betting trends email on Tuesday, Furman, a 5.5-point underdog (and +195 on the moneyline) in its opening game against Virginia, has attracted 73% of the total bets and 82% of the handle against the spread, making the Paladins one of the most popular upset predictions in the first round.
Furman boasts the top two-point field-goal percentage (59.1%) in all of Division 1 college basketball and it also ranks in the top 20 in several other team statistical categories, including assists per game (sixth), points per game (11th), overall field-goal percentage (11th), and made three-pointers per game (19th).
And yes, those numbers should be taken with a grain of salt as Furman plays in the Southern Conference with generally weaker competition when compared to some of the other marquee conferences. However, it's very apparent this team can score and score quickly.
The Paladins will be making their first March Madness appearance since 1980, which could add even more fuel to the fire to make some noise at the tournament.
Texas to Make Elite 8: +160
Many bracketology experts are high on Texas and believe the team can advance to the Final Four, or even claim the national title this year.
The longhorns, the No. 2 seed in the Midwest, are +1600 to win it all at bet365 and will enter their opening-round game as -13.5-point favourites over No. 15 Colgate.
Texas also has a favourable bracket should it advance through its first two games, unlike No. 1 seed Houston, which could run into tough matchups with Indiana, Auburn, Miami, and Iowa, among others.
Oh, and the Longhorns have some serious momentum after destroying Kansas (the No. 1 seed in the West Region) by a score of 76-56 in the Big 12 Conference Championship.
And from a Canadian perspective, it will just be fun to root for guard Marcus Carr, who hails from Toronto, Ontario. He's one of the top Canadian players that will be featured in this year's tournament.
At +160, Texas to advance to at least the Elite 8 seems like decent value and a solid wager to me.
Jake Dee-McKoy's picks
I like two No. 10 seeds to get out of the first round this year. Utah State and Boise State both have really, really good chances to upset their opponents. Most notably Utah State, which is ranked far higher than better-seeded schools by many officially recognized metrics including the NCAA's NET rankings.
You can't hope to have a stellar bracket without staking some upsets, and I think these are going to be popular moneyline picks, so get on them while you can.
Utah State to beat Missouri: -125
Boise State to beat Northwestern: +105
Another pick I'll be making is Purdue to win it all, but that has more sentimental value than pure stats to back it up. Canadian sports fans are about to get a major introduction to emerging star Zach Edey, who drives the bus for the Boilermakers.
Edey hails from Toronto, is 7-foot-4 and has had a tremendous season, averaging 22.3 points and 12.8 rebounds over 33 games. He's a finalist for the John R. Wooden Award for the NCAA's Most Outstanding Basketball Player (the college Basketball equivalent to the Heisman) and tops many lists as the main player to watch at the tournament. It's always more fun for me to have a rooting interest for March Madness, and what's better than having a Canadian star to cheer for. And although Purdue is not the outright favourite, it's a No. 1 seed and a worthy pick regardless. 
NCAAB Championship – To Win Outright – Purdue: +1100
Jeff Veillette's picks
I'm going to level with everyone here. College basketball and March Madness are huge blind spots for me. Hockey? I've got your ins and outs. Soccer? You bet. Baseball, football, and the NBA? Surprisingly, a lot more than I used to know.
Here, though, I'm lost. My March Madness experience in my life mostly comes from video games. So I'm going to be that annoying person in your bracket pool that makes a couple picks off vibes, and somehow goes on a little run. If we're using our brains, scroll back up to Greg and Jake (but even that may be questionable – proceed with caution), but for those of us relying on guts and vibes…
Firstly, I guess I should pick a game result, right? Well, I'm looking at tomorrow's games, and see that Oral Roberts faces Duke just 10 minutes before Colgate faces Texas. I refuse to believe these two mouth-based schools playing after each other is a coincidence. Both of these games have clear favourites, especially the latter. But four out of five dentists agree that the spread is a good way to back an underdog, and that's good enough for me.
Oral Roberts – To beat the spread (+6.0) against Duke: -110
Colgate – To beat the spread (+13.5) against Texas: -110
Next, I'm taking Gonzaga to win it all. I decided this immediately upon being asked about doing this, based solely on the fact that my NBA 2K21 MyCareer player had a stop through there on his way to glory in the association.
As it turns out, the Bulldogs also happen to have the sixth-highest odds to win the whole thing, making them not the worst pick. Oddsmakers have them more likely than not to get into the Sweet 16, and some experts argue them to have the best offence in the country – as someone known for wanting to "Abolish Defence" in hockey, basically always vouching for the team that reliably wins scoring matches rather than the ones who try to slow the game down, this speaks to me on another level.
So sure, let's go Gonzaga. Make me proud, make "MP" proud, and give me a pick that doesn't seem like a safer fade than Michael Jordan in the playoffs.
NCAAB Championship – To Win Outright – Gonzaga: +1400