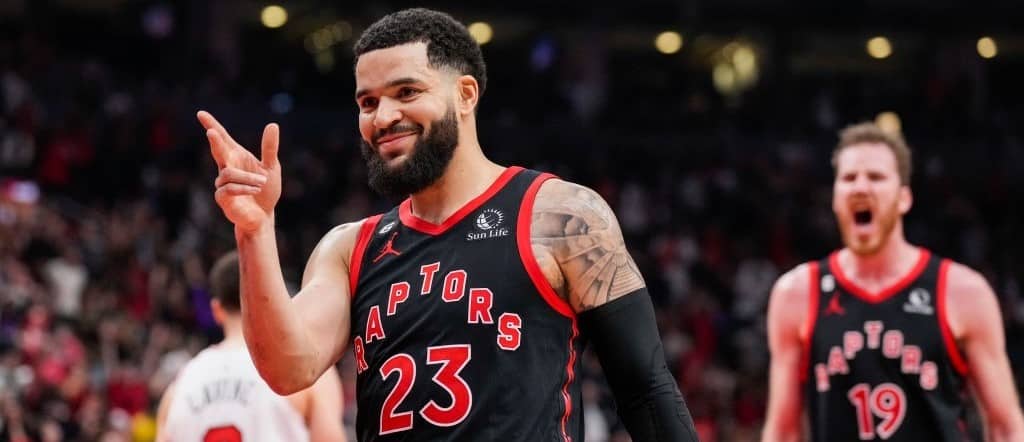 Online sports betting has recently exploded in popularity, especially now that bettors can access their favourite sportsbooks with just a few taps or clicks. The most popular bet types are on game outcomes, with moneylines, spreads, and totals being the most common selections.
But if you like to make things even more interesting, novelty and prop bets are the way to go. Right now, there are a few fun novelty bets that FanDuel Ontario customers can take advantage of exclusively. With the NBA and NHL seasons complete, these kinds of bets can keep you in the action during the slower summer months on the sports calendar.
NBA: LeBron James to retire
LeBron is a living legend in every sense of the word. You name it and he's done it at the NBA level. He has won four NBA championships, winning MVP every time. He has four regular season MVP awards, 19 NBA All-Star selections, 19 All-NBA first/second/third team selections, and far more that can't fit into this space.
Following a sweep at the hands of the eventual NBA champion Denver Nuggets, there has been some speculation about LeBron's future. He has hinted on social media that he's considering retirement, but not many are taking this talk at face value.
FanDuel has him not retiring as the overwhelming favourite (-1050). He's truly a longshot to hang up his shoes (+600), especially with the question of a fifth NBA title in mind. Sure, he's 38 years old and will turn 39 during next season, but LeBron is either the greatest or second-greatest player of all-time depending on who you ask, and still looks like he has plenty to give.
With Lebron's son, Bronny James Jr., only a few years away from likely playing in the NBA, a lot of signs point to the legend waiting until he gets the chance to play with his son before retiring.
MLB: Vladdy Jr.'s first Rogers Centre home run
Heading into this MLB season, many people had high hopes for not only the Toronto Blue Jays as a whole, but also for Vladimir Guerrero Jr. Vladdy, of course, is a team and fan favourite and one of the best young players in the majors.
The Jays are still playing above .500, but haven't quite delivered on high preseason expectations. Likewise, Guerrero Jr. isn't quite where he and the fanbase hoped he'd be. While his 42 RBIs are tied for 26th in the league, he has just nine home runs so far (tied for 80th), including a big fat zero at home. That's right, he still hasn't hit a home run at Rogers Centre yet this season!?
So, when will Vlad finally go deep for the home fans? FanDuel's oddsmakers believe his best chance will come against the Oakland A's in the series beginning June 23 and ending June 25. The A's are the worst team in baseball by a mile and are in the midst of drama surrounding their relocation to Las Vegas. He's +340 to break the drought on June 23, +460 on June 24, and +600 on June 25.
NFL: DeAndre Hopkins' next team?
Hopkins, universally considered one of the best receivers in football, was released by the Arizona Cardinals recently. The team is rebuilding and Hopkins had expressed a desire to go to a contender. With apparently no trade partners, a release was the only option.
Initially, it seemed as though the Buffalo Bills (+1500) and Kansas City Chiefs (+1500) were the favourites. Both made other moves to improve their respective teams and now two new definitive favourites have emerged. The Cleveland Browns (+360) have a clear need at the position and (on paper) an elite quarterback.
But the favourites are currently the New England Patriots (+230). Hopkins has already scheduled a visit with the team and getting to play for Bill Belichick is something that he will likely take into serious consideration. However, there are still questions about whether the Patriots are really contenders and just how good Mac Jones can be at quarterback.
There is plenty of value to be found in this betting market as there are several destinations Hopkins could land this summer.
NBA: Where will Fred VanVleet end up?
The Toronto Raptors are in a tough position right now. They aren't so bad that they can clearly begin tanking to start shooting for top draft picks, but the team, as it's currently constructed, is incredibly mediocre. Fred VanVleet has opted out of the final year of his deal, which also complicates matters.
Set to become a free agent, the speculation begins as to where he'll go. Despite opting out, the Raptors are the current favourites (-160) to re-sign him in the offseason. He could come back at a more team-friendly number, giving both the player and team some financial flexibility moving forward while allowing the Raptors to acquire supporting pieces. However, with the news Tuesday that guard Gary Trent Jr. will opt in to his $18.5 million player option next season, Toronto's front office won't have as much wiggle room to retain Fred's services.
The Raptors are still talented enough to be a playoff team and VanVleet is a focal point. The only other team that is even seemingly in the mix is the Houston Rockets (+340), but even they seem to be a distant second to Toronto as a destination according to FanDuel Ontario at this time. The Los Angeles Lakers (+900), Orlando Magic (+1000) and Phoenix Suns +1100 could also be potential landing spots for VanVleet.
MLB: Ronald Acuna Jr. to join the 40/40 club
Every season, storylines emerge that make things even more interesting. Ronald Acuna Jr. has been one of the best players in MLB for the last few years (when healthy) and he's off to a blistering start this season. As a matter of fact, he has a chance to join a very unique club.
Acuna Jr. has the chance to join the uber-exclusive 40-homer, 40-steal club (-500 no, +350 yes). There are only four players to ever do it – Alfonso Soriano, Alex Rodriguez, Barry Bonds, and Jose Canseco – with the last coming back in 2006.
Acuna Jr. already has 30 steals on the year, giving him plenty of leeway to hit the 40-steal plateau. The real question is whether he can swat 40 home runs. He has 15 in 72 games so far this year, which puts him slightly behind where he needs to be to hit the mark. Updated ZiPS projections have the Braves outfielder finishing the year with 32 homers, while his Steamer projections have him ending up with 34 blasts.
He also has a history of injuries, so just finishing the season without missing at least a few games will be a major feat. But if he can manage to hit 25 more home runs and steal 10 more bases, Acuna Jr. will have a season for the ages.