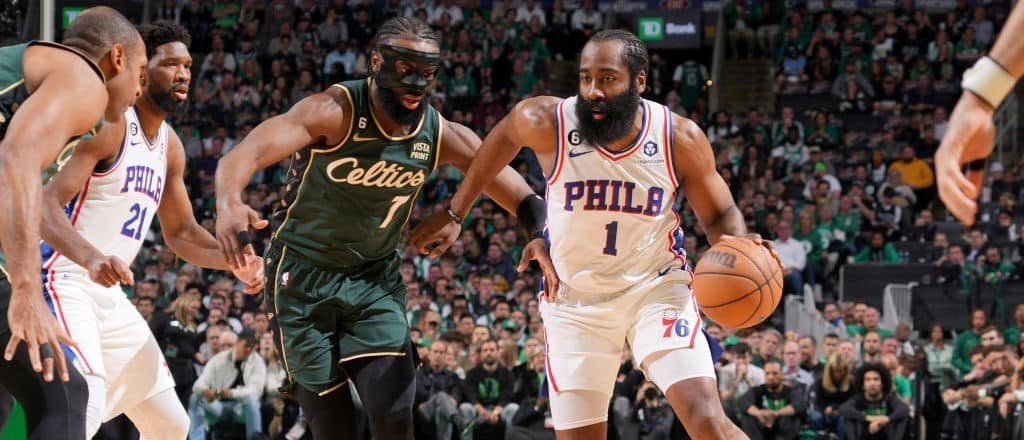 It's the first elimination game of the second-round series between Philadelphia and Boston on Thursday night as the 76ers enter the game with a 3-2 series lead.
After surprisingly clawing back late in Game 4 to tie the series at two games apiece, Philly mostly controlled the pivotal Game 5 on Tuesday night, winning handily 115-103.
The Sixers are now in position to reach their first Conference Finals for the first time since Allen Iverson won MVP in 2001. Philly is 0-6 in the second round since that memorable run and will need to hold off a Celtics team that was favoured to win the series.
Here's a breakdown of these teams heading into Game 6 with some keen betting trends and analysis.
Celtics vs. 76ers odds
Series history
Five games into this series and it's still really anyone's guess who emerges victorious although the momentum is pointing Philadelphia's way and Celtics fans are losing hope. Philadelphia came into Boston and stole Game 1 and with it home-court advantage putting the NBA on notice that it was not to be trifled with. Games 2 and 3, however, were easily won by the Celtics who regained control of the series.
Game 4 was also mostly going Boston's way, but a late push by James Harden and the Sixers sent the game to overtime where the Sixers edged the Celtics, 116-115. The Sixers then proceeded to play their best game of the series Tuesday night, winning by 12, and firmly putting the Celtics up against the wall.
They will find themselves at home for Game 6, where they are 3-1 this postseason against a Celtics team desperate to not end their season.
| | | | | |
| --- | --- | --- | --- | --- |
| Date | Home Team | Spread Odds | Result | Total |
| May 9 (Game 5) | Boston | Celtics -8 | 115-103 Sixers | 213.5 (over) |
| May 7 (Game 4) | Philadelphia | Celtics -1 | 116-115 (OT) Sixers | 214 (over) |
| May 5 (Game 3) | Philadelphia | Celtics -2 | 114-102 Celtics | 214 (over) |
| May 3 (Game 2) | Boston | Celtics -7.5 | 121-87 Celtics | 215.5 (under) |
| May 1 (Game 1) | Boston | Celtics -10.5 | 119-115 Sixers | 215.5 (over) |
About the Celtics (6-5 SU, 6-5 ATS, 8-3 o/u)
The Celtics are entering this road game with their own future path uncertain. There's surely some soul searching going on in the Celtics locker room from the coaching staff to the players. First-year head coach Joe Mazzulla, who had his interim tag changed to permanent over the All-Star break, came under fire with his ability to coach at this level questioned.
There were the usual roster questions as well over who besides Jayson Tatum and Jaylen Brown can create and make big shots or simply avoid costly plays. The Celtics defence, second this year in the NBA, is struggling in the postseason ranking next-to-last among the remaining playoff teams. Tatum and Brown have played excellent, but the team has looked lost at times during crucial stretches of recent games.
Boston needs to figure out what worked for it in Games 2 and 3, both convincing victories, and figure out how it's going to defend Philadelphia. The Celtics weren't able to make effective adjustments Tuesday night in Game 5, and if that repeats, that should be the end of their playoff hopes.
About the Sixers (7-2 SU, 6-3 ATS, 5-4 o/u)
Joel Embiid can smell it. The Process is on the cusp, again, of reaching the Eastern Conference Finals and getting one step closer to a berth in his first NBA Finals. He probably wouldn't be at this exact point if he hadn't gotten some major help from his teammates.
Harden has had his characteristic playoff letdowns already this postseason, but he's played great more often than not and is a big reason Philadelphia finds itself in a series-clinching position. He's averaging 26.4 points per game, 6.6 rebounds per game, and eight assists per game this series. He erupted for over 40 points in the big Game 1 and Game 4 victories.
Tyrese Maxey came through in Game 5 with 30 of his own points. The 76ers had a top-10 defence in the regular season and the team has also been better on that end as of late.
That combination, behind Embiid's dominating presence, has been the Sixers at their best all year. If they can carry how well they played in Game 5 into Game 6 to close out this series, they may have just finally flipped the switch on this latest iteration of the Embiid-Harden Sixers.
Notable injuries
Embiid (knee) is listed as questionable for Game 6, although it would be shocking if he didn't play. He's been playing through the injury.
Betting trends
Philadelphia is 8-3 ATS over its last 11 games.
Sixers are 9-2 in their last 11 straight-up.
Boston has played over the total in eight of its last nine games.
Celtics are 6-4 ATS in their last 10 as favourites.
Player prop trends
Normally superstars are the only dependable options when it comes to most player props but when it comes playoff time, there are a few names to be wary about. Avoiding Harden points and three-pointers totals should be a cardinal rule. However, he's been averaged 10 assists a game over his last three so look for him to surpass that total once again. Even if he's not scoring, he will try to set others up. The line is set 8.5 assists (-120 over, -110 under).
Monster game incoming for Tatum. He's the one guy on the Celtics that consistently doesn't shy away from the big moments and wants to be that guy. Expect him to try and carry this team on his back and have a huge game. Think over on points, assists and rebounds currently at 44.5 (-115) at bet365.
Wagers to consider
After how the Celtics played in Games 2 and 3 and most of Game 4, they are very capable of even dominating Philadelphia. This is a gut-check time for a very experienced team with a lot of pride. Those don't fall too easy when backed into a corner. Taking the Celtics (-2.5) and the over (212.5 points) is the play.
There are other bets to consider too if always sticking to the basics gets boring. For this series, you can look for patterns. In the Celtics' two victories, they outscored the Sixers in every single quarter except one, which they lost by a point. They've also won four of the five fourth quarters played, including every time since Game 1. Look for them to exert the same kind of dominance in this must-win Game 6, lead at halftime (Celtics -1, -115), and win the fourth quarter (-0.5, -115), all of which can be wagered on at bet365.
Other NBA games on Thursday