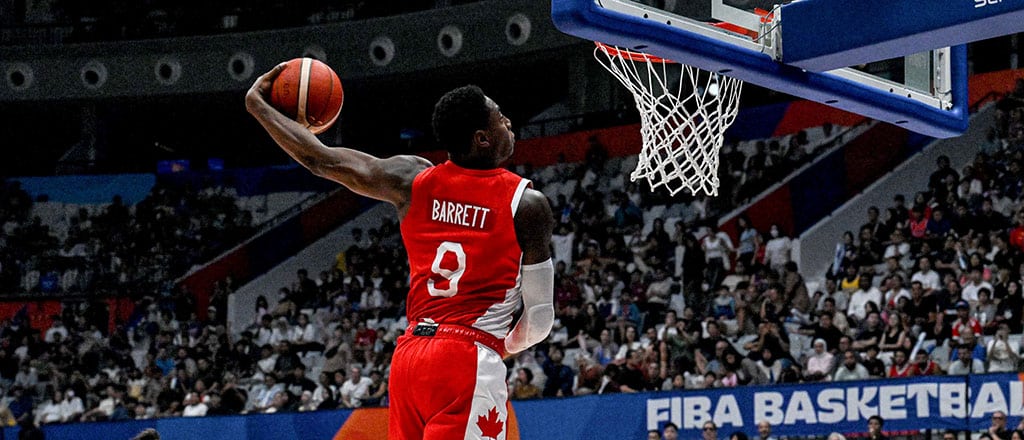 Heading into the FIBA World Cup, there was a bit of debate around how high the Canadian national team could soar. On paper, this was one of the best teams that Canada has ever brought to this tournament, or any tournament at the men's level. But the last second withdrawal of Denver Nuggets star Jamal Murray pulled the team's odds down from second-best to fourth-best across the books, and left a seed of doubt among the national discourse.
That doubt is gone. With decisive wins against France (95-65), Lebanon (128-73), and Latvia (101-75), the red and white haven't just advanced out of the group stage, they've done so without a loss. They will also likely exit the group stage with the best point differential in the tournament, outscoring their three opponents by a whopping 111 points to this point. Heading into the second round, we revisit our first look at Canada's FIBA World Cup futures odds, and see how things have progressed since.
Ahead of Canada in the odds race on opening day was the United States, France, and Australia. The fortunes of these three nations have all been pretty different. Unsurprisingly, the USA haven't had much trouble with their group games, handily controlling their contests against Greece (109-81) and New Zealand (99-72). They've still got one more game to play before they can outright claim their group and an undefeated record, but given that the last game comes against 0-2 Jordan, they should be fine.
France, who shared a group with Canada, flamed out of Group H in embarrassing fashion. Canada blew them out by a whopping 30 points in the opening game, while Latvia put a dagger into them with an 88-86 buzzer-beater on Sunday. France did get to leave on a slightly positive note with a win against Lebanon Tuesday, but the damage was already done. Australia lands in the middle-ground – an 85-82 loss to Germany on Sunday ended their chances of winning Group E as favoured, but wins against Finland (98-72) and Japan (109-89) secured them a spot in the second round.
Bold group results are locked-in positions. Italics represent eliminated teams. Canadaboosted from +400.
SGA chasing MVP
Tournament MVP – Shai Gilgeous-Alexander (+1000 -> +300)
Going into the tournament, the expectation was that the team would only go as far as Shai Gilgeous-Alexander took them. Now, to the rest of the team's credit, they've all stepped up, and head coach Jordi Fernandez has them all on the same page. SGA's dominance has been undeniable. Producing at nearly a point-per-minute clip while also getting boards (mostly on the defensive end) and setting up his teammates, he has easily been Canada's most well-rounded player in the tournament. Needless to say, the 25-year-old has confirmed his shift to superstardom at the NBA level was not a flash-in-the-pan moment.
| Game | Minutes | Points | Rebounds | Assists | +/- |
| --- | --- | --- | --- | --- | --- |
| vs. France (Aug 25) | 27 | 27 | 13 | 6 | +31 |
| vs. Lebanon (Aug 27) | 17 | 12 | 5 | 5 | +34 |
| vs. Latvia (Aug 29) | 31 | 27 | 6 | 6 | +11 |
| Total | 76 | 66 | 24 | 17 | +76 |
| Average | 25.2 | 22 | 8 | 5.7 | +25.3 |
As a result, SGA's odds of winning Tournament MVP have skyrocketed, both because of his own play and because individual rewards like this still require the players' team to hang around, and his Canadian teammates are doing everything right at the moment to make that happen. No player near the top of the charts has seen their MVP odds rise higher than Shai has, going from tied for the fifth-shortest odds at +1000 at the start of the tournament to the second-shortest odds at +300. Part of this is also the favourite effect, where a crowd of United States players were in the mix to start but eventually, a clearer picture of which one would represent his nation's best odds would become clear – in this case, it's Minnesota Timberwolves star Anthony Edwards who has separated himself from the pack.
SGA has also seen his odds improve for the top scorer's honours, though it seems like this will likely be Dallas Mavericks and Slovenia megastar Luka Doncic's award for the taking. This makes sense – Slovenia relies on him to a much greater degree, playing him 25% more and having him take 30% more of the shots, including many more three-pointers. Doncic also draws nearly triple the amount of free throws. It's the combination of being a world-class player on a team that doesn't have the depth that is going to make Doncic likely to carry the top scorer's crown, though SGA staying in the mix is impressive in it's own right.
*Shai Gilgeous-Alexander boosted from +300
To win Group H – Canada (+110 -> WIN!)
Despite dropping from favourites to win the group to the second-shortest odds just before the start of the tournament, Canada was able to easily secure Group H. Part of that is the absolutely shocking fall of France, but it's hard to say that the red and white didn't seize their moment, given how handily they won all three games. Only briefly at the start of Tuesday's matchup did it ever feel like there was doubt in any of their results, so anyone who believed in this group will reap the rewards.
Looking Ahead
For those unfamiliar with how the FIBA World Cup works, Canada will not jump straight to the knockout stage from here. Essentially teams that advance out of the first group stage are then re-seeded into another four-team group, where they face the top two teams from another group. In Canada's case, their opponents will come from Group G.
| | |
| --- | --- |
| Canada's Upcoming Schedule | Date |
| Canada vs. TBD | Sept. 1 (9:30 a.m. ET) |
| Canada vs. TBD | Sept. 3 (9:30 a.m. ET) |
All of Canada's games will be broadcast on Sportsnet.
With the final two games in Group G being Spain vs. Iran and Brazil vs. Cote D'Ivoire, and Spain having a point advantage over both of the other games' combatants, it is guaranteed that Spain will be one of Canada's two opponents in the second group stage, though whether they'll face them on Friday or Sunday is up in the air. If Spain beats Iran, which they likely will, they'll be the Sunday opponent. If they lose, they'll be the Friday opponent. The winner of Brazil vs. Cote D'Ivoire will get the other game.
Of the potential opponents, Spain will be the toughest (+1200 to win the tournament), while Brazil (+8000) and Cote D'Ivoire (+50000) will be long shots. Latvia will also be in this new group, though Canada does not have to face them again in the second round.
Needless to say, the seas of opportunity have opened for Canada to take a real run at this. We'll keep you in the loop with how things progress as we root for our boys to have their best finish ever at the tournament – a reality that's now very much in their sights!