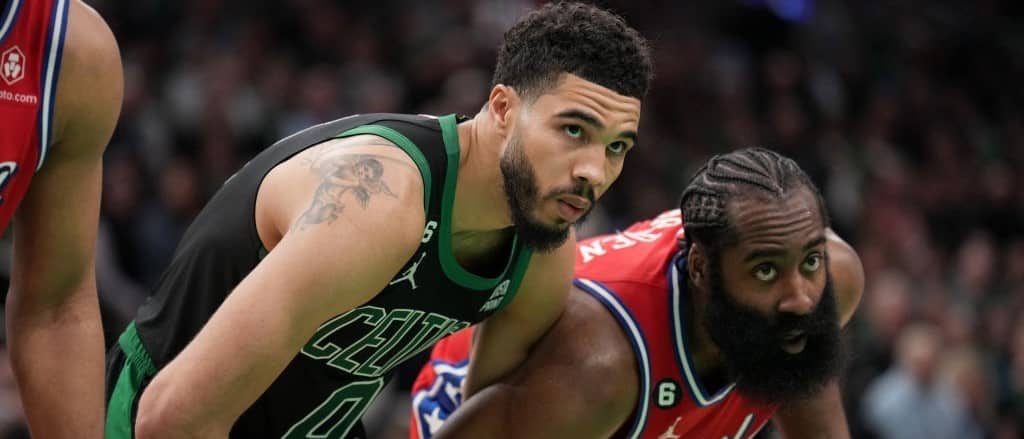 One of the most storied rivalries in the Eastern Conference continues after a surprising Game 1 upset by a Philadelphia 76ers team missing league MVP Joel Embiid.
Perhaps even more surprising was how well James Harden, of the underwhelming postseason reputation, played, tied a playoff career-high 45 points to lead the 76ers to a 1-0 early series lead. The Celtics literally gave the game away Monday night and must respond sharply to avoid going down 2-0 in a series they once held home-court advantage in.
Let's take a look at Game 2 of these Eastern Conference semifinals taking place Wednesday night with some game and player breakdowns and where to look for a betting edge.
76ers vs. Celtics odds
Previous meeting
Game 1 took place Monday night and the Philadelphia 76ers won 119-115. Tyrese Maxey added 26 points while Embiid's replacement, Paul Reed, had a very solid 10 points and 13 rebounds. For the Celtics, Jayson Tatum had 39 points and 11 rebounds while Jaylen Brown added 23, but they were a combined 0-2 from the field with three points scored late in the game. The Celtics must do better in crunch time in this series if they want a chance to win.
Boston did win the season series three games to one and also both head-to-head postseason matchups between the two teams in the last five years. At this time, Embiid is expected to return from a sprained right knee to play in Game 2, which could spell bad news for Boston. The spread moved from Celtics -9.5 to -7.5 after news of Embiid's impending return broke.
About the 76ers (5-0 SU, 4-1 ATS, 2-3 o/u)
The Sixers have had a great playoff run so far. They're the only team in either conference to sweep a series in the first round, and they haven't lost yet this postseason. Their Game 1 upset notwithstanding, few, if any, gave Philly a chance without its MVP big man, Joel Embiid. He injured his right knee in Game 3 against the Nets back on April 20, but appears poised to return on Wednesday.
The big story on Monday night was the breakout game from James Harden, who showed he could carry the 76ers for at least one game without Embiid, and it couldn't have come at a more opportune time. Harden's infamous playoff reputation has been rooted in never reaching The Finals and not showing up when it mattered the most. For him to have his best overall playoff performance to date bodes well for Philadelphia's chances this year against Boston. Even with the potential return of Embiid, Harden will still need to do some heavy lifting in order for the Sixers to prevail in the series.
About the Celtics (4-3 SU, 4-3 ATS, 5-2 o/u)
The Celtics may have come into this series a little overconfident as the top remaining seed in the Eastern Conference after Milwaukee was upset by Miami. Losing to Philly without Embiid is an eye-opener and surely cause for concern for the organization and fans alike.
But Boston is the defending conference champion and has been to two of the last three conference finals. The Celtics been here before and they're not scared. Boston had the third-best defensive rating in the NBA this season and the second-best offensive rating. After defeating the Atlanta Hawks in six games, longer than most expected, Boston is not without questions.
In the postseason, the Celtics' offence has done fine, but their defence has struggled, ranking 12th out of the 16 playoff teams. Giving up a head-to-head season high to the 76ers without their best player is indicative of that. But as long as Boston makes the right adjustments, and can get better play in the final quarter from its two best players, it should be able to compete with anyone.
Injury concerns
Joel Embiid is still officially listed as doubtful despite news of his potential return- right knee sprain.
Marcus Smart is listed as questionable – chest contusion.
Betting trends
76ers have won 15 of their last 17 outright.
Philadelphia is 6-1 ATS over its last seven games.
The over is 5-0 in Boston's last five games.
Boston covered in all four regular-season matchups.
Player prop trends
James Harden has been an assists machine this year, leading the league in the category with just under 11 per game. But he only had six against Boston in Game 1 while pouring in 45 points. Those numbers should go up in Game 2. Watch for Boston to try to make it difficult for Harden to score and to let the other Sixers try and beat them. The over on Harden assists seems like a strong possibility here. Best odds: over 8.5 assists +100 (DraftKings).
Jayson Tatum has been unbelievably consistent this season, with excellent points and all-around stats. He should get close to matching his number from Game 1 in Game 2, which means he's likely to get more than his 29.5 current point total. Over 9.5 rebounds and three 3-pointers also seem like solid wagers. Best odds: Tatum over 29.5 points -115 (BetMGM)
Wagers to consider
It would be surprising if Philadelphia was to get a repeat of Game 1 and beat Boston for a second straight time at TD Garden. It's also not likely that Harden will play as well, or that the Celtics make as many mistakes down the stretch. But right now the lines seem to favour Boston at -7.5, and after Boston's shaky performance in Game 1, taking Philadelphia against the spread still seems like an appropriate strategy. Best odds: Sixers +8.5 (-118, PROLINE +)
The over/under is going to be tricky for this series. Three of the four regular-season meetings hit the under and both teams play good defence. But Boston hasn't been making enough stops in the playoffs, and its last five games all hit the over, including Game 1. However, given both teams' defensive capabilities, the expected regression from Harden, and the uncertainty around Embiid's health and/or effectiveness, the under seems like the right play for Game 2. Best odds: under 218 (-108, Pinnacle).