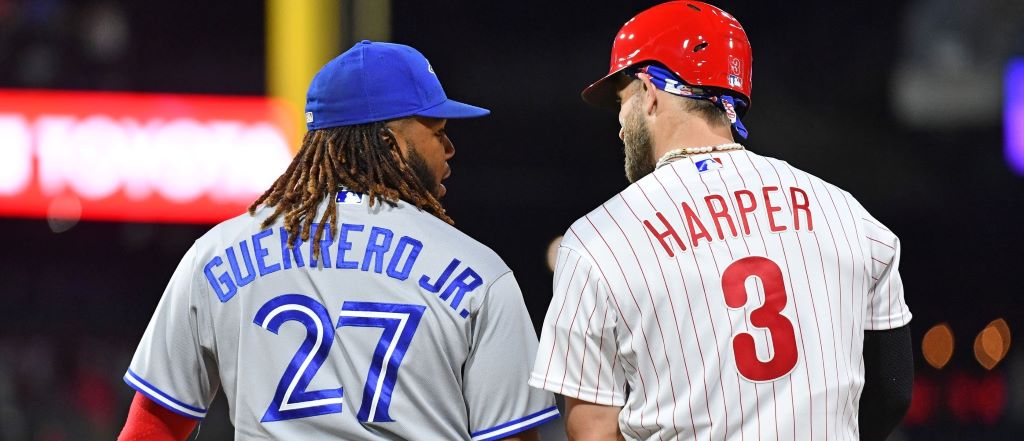 Pitchers and catchers have officially reported for Spring Training in Florida and Arizona, and that means the MLB season is just around the corner.
It's been a busy offseason with many marquee players changing jerseys ahead of the 2023 season, and online sportsbooks have posted their regular season win totals.
This year, for the first time ever, each MLB team will go up against each of the 29 other teams during the regular season. As a result of this major change, the number of divisional games for each team will decrease from 76 to 52 and the number of interleague games for each team will increase to 46 from 20. These notable schedule changes are very important to consider while handicapping season win totals this year.
Here's a look at three teams that are being undervalued and three teams that are being overvalued based on their season win totals.
All odds in this article are courtesy of bet365.
Three teams that should exceed their posted win totals
Toronto Blue Jays – over 91.5 wins (-125)
The Blue Jays went 92-70 last year to claim a Wild Card berth, but the team should be even better this year after adding starting pitcher Chris Bassitt, outfielder Kevin Kiermaier, and catcher/outfielder Daulton Varsho this offseason. They'll also get a full season with second baseman Whit Merrifield, who was acquired last August from the Kansas City Royals.
Toronto added to its bullpen by trading away outfielder Teoscar Hernandez for right-hander Erik Swanson and the team also signed Chad Green to a two-year deal. Green, who recorded 11.6 strikeouts per nine innings in six years with the New York Yankees, is coming off Tommy John surgery, but he should contribute in the second half of the season.
Third baseman Matt Chapman is in a contract year and he could be poised to put up huge numbers at Rogers Centre, which has been renovated this offseason to make Toronto's home ballpark even friendlier for hitters.
This should be the year that the Blue Jays become legitimate World Series contenders, and less games against other powerhouse teams in the American League East this year should lead to a few more wins than last season.
New York Yankees – over 94.5 wins (-125)
New York snatched 99 wins last year to claim the AL East crown thanks to an incredible season from slugger Aaron Judge, who clubbed 62 homers and collected 131 RBIs. The Yankees prioritized re-signing Judge and first baseman Anthony Rizzo in the offseason, while also adding lefty Carlos Rodon, who collected 14 wins and posted a 2.88 ERA for the San Francisco Giants last year, to their already loaded starting rotation that also includes Gerrit Cole, Nestor Cortes Jr., Luis Severino, and Frankie Montas.
The only hole in the Yankees' lineup appears to be in left field after Andrew Benintendi left for the Chicago White Sox, but that's a void the Bronx Bombers can easily fill via trade at some point during the season.
New York hasn't tasted World Series glory since 2009, but the expectations are sky high in 2023 after the re-signing of Judge and the signing of Rodon, who was one of the top arms available on the free-agent market. Like the Blue Jays, the Yankees should also benefit from less games against divisional opponents and more contests against some of the weaker teams in the National League.
Philadelphia Phillies – over 89.5 wins (-125)
One year removed from a Cinderella run to the World Series, the Phillies appear to be locked and loaded again in 2023. Last year, Philadelphia barely snuck into the playoffs after an 87-win regular season, but caught fire in October and came up just two wins shy of a World Series title.
With the team seemingly on the cusp of a World Series championship the front office went out and signed elite shortstop Trea Turner, right-hander Taijuan Walker, and lefty Matt Strahm this offseason. Turner, a two-time All-Star and the 2021 NL batting champion, could be the final piece of the puzzle to get this team over the top.
Bryce Harper will on the shelf for the first half of the season as he recovers from Tommy John surgery, but this lineup has enough pop to continue to cruise without him.
Perhaps no team will benefit more from the schedule changes this year than Philadelphia, which has to compete in a loaded NL East Division with the Atlanta Braves and revamped New York Mets. With less games against those two aforementioned powerhouse teams this year, and a roster boost with the addition of Turner, the Phillies should soar past 90 wins and claim a playoff spot.
Three teams that should fail to hit their posted win totals
Boston Red Sox – under 77.5 wins (-110)
The Red Sox appear to be on the verge of a complete rebuild around third baseman Rafael Devers, who the team signed to an 11-year, $333 million contract extension this offseason. Several key players from the 2018 World Series team have now moved on including Xander Bogaerts, J.D. Martinez, Nathan Eovaldi, and Matt Barnes, leaving this roster with serious depth issues at nearly every position.
Shortly after Bogaerts signed a massive deal with the San Diego Padres, it was announced that the team's big offseason signing last year, shortstop Trevor Story, needed elbow surgery. He'll miss a major portion of the 2023 campaign, and there are serious question marks around whether or not he'll have the arm strength to continue playing shortstop. This likely means Adalberto Mondesi and Kike Hernandez will be counted on to cover off the position for the majority of the season and both of those players represent a serious downgrade from Bogaerts and/or Story.
Boston's starting pitching is also questionable. Chris Sale is being counted on to regain his ace form, but he's only appeared in 11 games over the past two seasons due to injury. Nick Pivetta and veteran Corey Kluber will fill in behind Sale and they'll be joined by young, unproven starters like Garrett Whitlock and Brayan Bello in the rotation.
Boston's major offseason splash was the signing of Japanese import Masataka Yoshida, who is projected to be the team's everyday left fielder. FanGraphs' Steamer projections have Yoshida hitting near .300 and bashing19 home runs, so he's no Shohei Ohtani but should be a solid everyday big leaguer, if his skills translate to the North American game. Veteran closer Kenley Jansen also joined the Red Sox on a two-year deal, but who knows how much he still has left in the tank.
The Red Sox fanbase was already letting owner John Henry hear it at the team's Winter Weekend fan event in January after the team had a relatively quiet offseason.
A projection of 77.5 wins for this depleted roster seems high. Everything will have to go right in Boston this year in order for the team to finish even close to .500.
Texas Rangers – under 82.5 wins (-105)
There's no question that the Rangers drastically improved their pitching staff this winter after adding Jacob deGrom, Andrew Heaney, Jake Odorizzi, and Eovaldi to the fold, but this team was a total flop last year (68 wins) after signing Marcus Semien and Corey Seager to incredibly overvalued contracts ($500 million combined!).
Texas finished 12th in the AL in runs allowed last year, and the improvements to the starting rotation should move the team to at least the middle of the pack in that statistical category in 2023. However, all three of the starting pitchers acquired this offseason by the Rangers are on the wrong side of 30 and have durability issues. There's no question that, when healthy, deGrom is the best pitcher in baseball, but he hasn't thrown more than 100 innings in each of the past three seasons due to injury concerns. Heaney and Odorizzi have also been plagued with injuries over the past three seasons and haven't been able to produce a normal starter workload.
Although this team looks drastically better on paper, don't be fooled. This aging roster still has plenty of holes and potential injury concerns. There are way too many things that need to go right in order for the Rangers to finish the season over .500 and compete for a postseason spot. They will not record 15 more wins than they did last season.
Detroit Tigers – under 70.5 wins (-115)
The lowly Tigers have been suffocated by Miguel Cabrera's terrible eight-year, $240 million contract for the last several seasons. Although he's beloved in Detroit, his production the past few seasons has been horrendous and the team will finally have the chance to move on at the conclusion of the 2023 season when it can buy out Miggy's option years in 2024 and 2025 for $8 million.
Detroit's front office is likely also regretting signing shortstop Javier Baez and left-hander Eduardo Rodriguez to long-term deals, but both of those players have the ability to opt out at the end of the 2023 season, making their contracts very tradeable this year.
It's going to be another very long year for the Tigers, who basically did nothing to improve the club this winter, and their focus will be on development. Promising young pitchers Tarik Skubal and Casey Mize both underwent Tommy John surgery late last year and likely won't pitch this season, which is also a huge blow to the club.
This team is no better than the 66 wins it posted a year ago as it continues to rebuild.